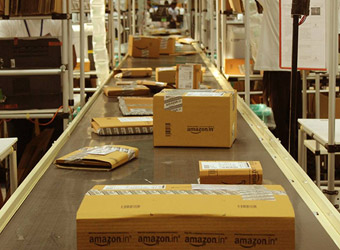 Ecommerce major Amazon has sought the Indian government's approval to open food-only physical outlets combined with an online platform to sell locally produced food items.
Citing a person who saw the application submitted to the government by Amazon Corporate Holding Pvt. Ltd, The Economic Times reported that Amazon wants to enter the food space in India by opening brick-and-mortar stores to sell food products (produced or manufactured in India) through multiple channels, including offline and online.
Singapore-based Amazon Corporate Holding Pvt. Ltd holds 99% of the proposed entity and the remaining 1% is owned by Amazon.com Inc, Mauritius, the report said.
The US ecommerce giant plans to invest Rs 3,500 crore (around $522.3 million) in the proposed entity over the next five years. The new business unit would sell third-party or its own private labels of locally produced and packaged food products.
Amazon's first brick-and-mortar grocery store, under the brand name Amazon Go, is scheduled to be launched soon in Seattle, US. It already runs a number of physical book stores across the US.
The Amazon Go stores are designed without checkout lines and cashiers. Shoppers just need to scan their Amazon app when entering the store, go on to shop items while its proprietary 'Just Walk Out' technology would track users' virtual cart and the payment is automatically facilitated through customers' Amazon.com accounts.
It's not clear if Amazon would bring the same concept to its proposed physical stores in India.
If the government approves the proposal, India would be the second country to host the internet giant's physical stores.
An email query sent to Amazon India did not elicit an immediate response.
Amazon plans to open a number of concept stores across Indian metros to introduce the concept to local users. This is likely to give the ecommerce firm—which considers India as a key market after losing out to Alibaba in China—a huge competitive advantage against home-grown Flipkart that currently holds the leadership position.
The US-based company, which started operations in India in June 2013, has already invested $2 billion here. Even as its two major competitors—Flipkart and Snapdeal—struggle on their home turf, Amazon infused over Rs 7,000 crore (around $1 billion) into its India unit through 2016. In June last year, founder and chief executive Jeff Bezos committed to spend another $3 billion in India, taking total investments in the country to $5 billion.
Its seller base grew 160% to 140,000 in 2016 and the company is adding 180,000 products per day. Besides, it has also deepened its India play by offering services beyond ecommerce. It ventured into the beauty services segment, launched a video-streaming service, Amazon Video Prime India, and even introduced a programme for startups, Launchpad, to market their products to Amazon customers across the country.
---