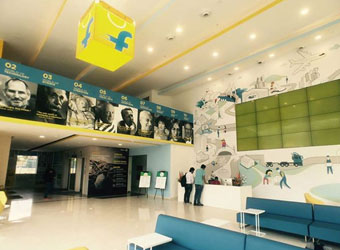 Flipkart's chief operating officer Nitin Seth has allayed fears that employee rationalisation, which has been rearing its head in the country's e-commerce sector, will engulf the company as well.
"We had to go through that phase last year but with the growth we saw in the last quarter and January, and with February shaping up well, our growth cycle is back. We saw a significant uptick in gross merchandise volume last quarter and don't see any need for rationalisation," Seth told reporters on the sidelines of the Nasscom India Leadership Forum in Mumbai on Friday.
Seth's comment assumes significance in the light of rival Snapdeal's plans to downsize its workforce by 30%. Flipkart, too, has had its share of workforce rationalisation—in mid-2016, the company had laid off around 700 people citing underperformance.
However, he also added that the company doesn't plan to significantly increase its headcount either. Flipkart currently has around 8,000 permanent employees and an additional workforce of 20,000-25,000 in supply chain work, on contract. "The scale that we have is pretty good for us to pursue our growth ambitions," he added.
Seth played down Flipkart's recent markdown by mutual fund Fidelity Rutland Square Trust II, which lowered the value of its investment in the company by 36%, valuing the e-commerce marketplace at $5.56 billion, nearly a third of its peak valuation of $15.2 billion in 2015. "Markdown headlines are highly distorted. These funds have a very small holding and very limited information. They are mostly theoretical exercises that are unnecessarily blown out of proportion," he said.
'Kalyan, the best man for e-commerce'
Seth dismissed the popular notion that the appointment of Kalyan Krishnamurthy—a former senior executive at Flipkart's main investor Tiger Global—at the helm of the company was an investor-led change. "Kalyan is probably the best person in Asia-Pacific to lead e-commerce. A lot of growth that Flipkart had in the past was under Kalyan's leadership as head of business," Seth said.
As for the current funding drought, Seth said India's largest e-commerce company was well-capitalised for the next couple of years.
---