Exclusive: Jewellery e-tailer Johari Shop goes omni-channel, gets angel funding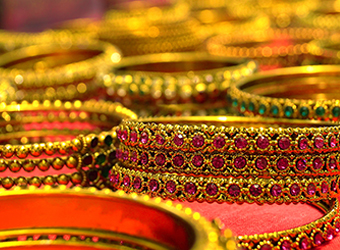 Jewellery e-commerce marketplace Johari Shop has raised $94,000 (Rs 62.5 lakh) from three angel investors, including a diamond exporter and a high net-worth individual, to power its omni-channel efforts.
The company will invest the capital to work on its omni-channel strategy that would start with the launch of its first brick-and-mortar store in Bangalore's VR mall by the end of February, co-founder and CEO Ankit Banthia told VCCircle. He didn't disclose the names of the investors.
Johari Shop, owned and operated by JewelClick Online Pvt. Ltd, wants to expand its physical retail presence to two more cities–Mumbai and Delhi–and plans to open 11 such stores over the course of next one year.

Johari Shop was founded by IIT Kharagpur alumni Ankit Banthia and Vivek Sinha in November 2015. Banthia worked with price discovery company Buyhatke and American industrial firm General Electric while Sinha was associated with e-commerce company Flipkart before turning entrepreneurs.
Johari Shop offers about 75 brands and claims it has monthly gross merchandise value (GMV) of about Rs 60-70 lakh.
Banthia said Johari Shop is different from other online jewellery companies. "While they operate with high margins but offer fewer designs, we take a commission for every purchase and offer a wide range of brands as we are a pure marketplace," he said.

Also, Johari Shop operates stores on a "shared-economy" model with the jewellery brands it features. "Therefore, scaling up would not be a concern for us," Banthia said.
He said the physical stores will showcase all the designs on a unique user interface on its digital platform. Users can either select from in-store products or order from its digital platform.
The online jewellery segment has attracted a lot of investor interest over the past couple of years. The two leaders in the segment are Caratlane and Bluestone. The race for supremacy has tightened with the gap in revenue of the top two players halving in the last financial year. Caratlane posted a 9.5% increase in net sales to Rs 131.8 crore for 2015-16 while Bluestone.com reported a 72% rise in net sales to Rs 100.4 crore.

Last year, BlueStone raised $30 million (Rs 200 crore) in a fresh round of investment led by financial services firm IIFL Holdings Ltd and Accel Partners.
Titan Co Ltd, the Tata Group's watch and jewellery retailing firm, in July last year signed a pact to buy about 62% of Caratlane for Rs 357.24 crore ($53 million).
A number of other jewellery marketplaces have emerged in the last couple of years and some of them have attracted venture capital investments as well.

The latest to get funding was VivoCarat.com, which raised $50,000 in seed funding from a group of individual investors in December last year.
In August 2016, Mumbai-based Joolz raised $500,000 in a pre-Series A funding round led by Powerhouse Ventures and M&S Partners.
Online designer jewellery marketplace Velvetcase.com raised close to $2 million in a second round of funding led by Uniqorn Ventures Fund with participation from angel investors including TV Mohandas Pai and S Somasegar through online deal-making platform LetsVenture.

Another competitor is Melorra, which raised $5 million from venture capital firm Lightbox Ventures in January this year.
Horizontal e-commerce players Amazon, Flipkart and Snapdeal also operate in the field.
---