Seed money was enough for this startup to break even, build a sustainable B2B biz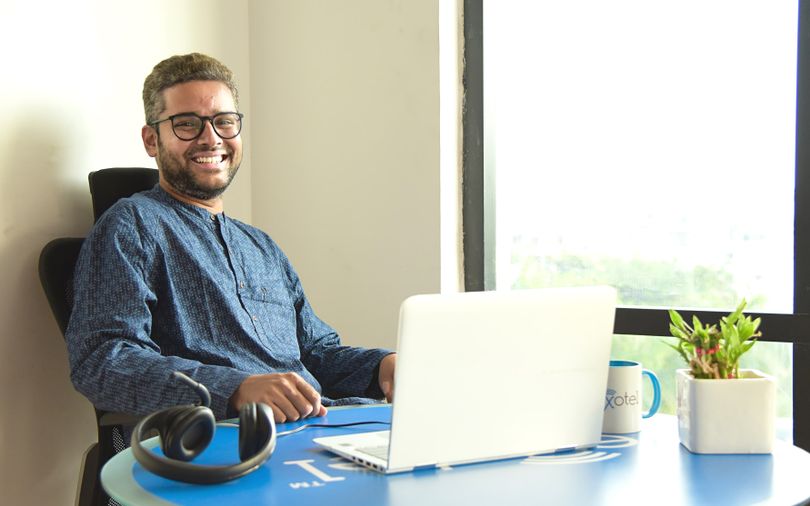 Several startup founders say they can halt growth and become profitable whenever they want. Cloud telephony firm Exotel has gone one step further by making a net profit while recording a standalone revenue growth of at least 50% year-on-year for the last five financial years.
Founded in 2011, Exotel has managed to turn in a standalone net profit for two of the last three financial years - no small achievement considering that most startups still deal in losses.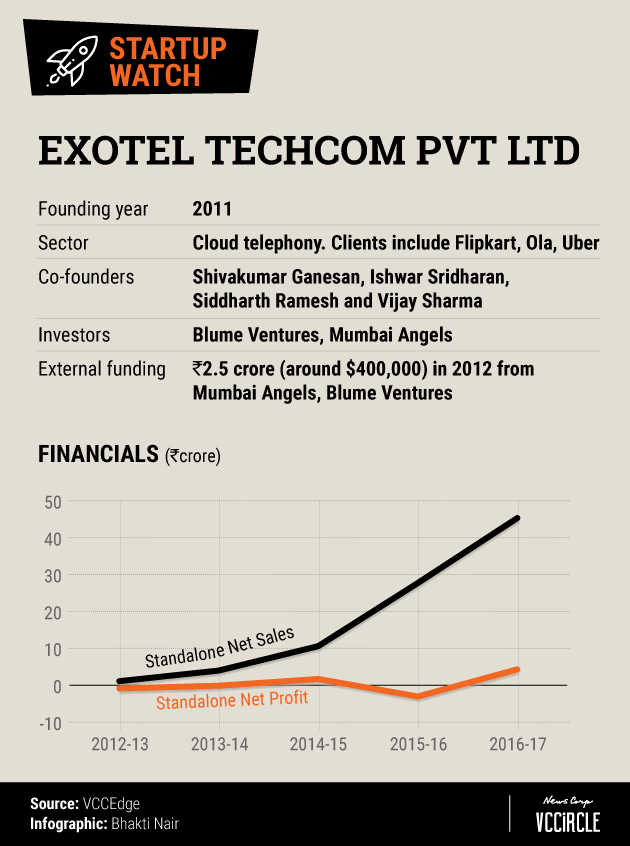 All this despite its last external funding coming nearly six years ago when it raised Rs 2.5 crore (around $400,000) in a seed round from Mumbai Angels and Blume Ventures.
Exotel has thus far acquired two companies - Voyce, a platform that allows businesses to gather customer feedback; and Singaporean voice-based social media startup Croak.it. Both startups generate negligible revenue.
For the financial year 2016-17, the Bengaluru-headquartered Exotel reported a consolidated net profit of Rs 4.3 crore. In the previous fiscal, Exotel had made a loss of Rs 3 crore.

The company's revenue grew 63% to Rs 45.3 crore for the year ending March 31, 2017. Its expenses rose to Rs 39 crore in 2016-17 from Rs 30 crore in 2015-16.
An investor said Exotel's revenue will rise further as it is expected to post a full-year consolidated revenue of around Rs 60 crore for 2017-18.
So what is Exotel doing right?

Conscious approach
Run by Exotel Techcom Pvt. Ltd, the firm was founded in 2011 by Shivakumar Ganesan, Ishwar Sridharan, Siddharth Ramesh and Vijay Sharma, who has since left the company to start recruitment firm Belong.
Exotel traces its roots to Ganesan's previous venture, a business-to-customer (B2C) online classifieds firm called Roopit. Smartphones weren't in everyone's pocket at the time and the company had to communicate via SMS with buyers and sellers.
Ganesan, who was one of the first Flipkart employees, wanted a cheap software and a VoIP-based single number to handle all those interactions. A first cheque from a customer who wanted to use the tool prompted Ganesan to pivot to a business-to-business (B2B) software, which eventually came to be called Exotel.

Cloud telephony, or hosted telephony, is a voice and messaging service which replaces traditional business telephone equipment - EPABX - with a third-party VoIP service. In short, it's a technology that moves your business phone system to the cloud.
Unlike EPABX, cloud telephony does not require heavy capital expenditure. It's also affordable, which is why several Indian businesses have opted for this technology.
Startups in particular are fans of cloud telephony, with Ola, Flipkart, Uber, RedBus and Quikr among Exotel's clients.

However, Exotel has been facing margin pressures of late and cannot afford to keep increasing prices even as rivals such as Knowlarity raise capital ($20 million in 2016) and offer competitive rates.
Blume Ventures, the only institutional investor backing Exotel, recognised this reality and advocated focusing on profitability.
"The idea is to be a far more profitable company and not get into volume business for losses," said Karthik Reddy, Blume's founder and managing partner. "We don't have the luxury of throwing money at sales like some competitors to win volume."

CEO Ganesan did not respond to queries till the time of publishing this report.
In reality, Exotel did not make a conscious decision not to raise funding. Ganesan was earlier quoted as saying that he pursued investors till 2014 but eventually accepted that they were not interested because they felt he could deliver the big returns they wanted. Exotel struggled in the early days, forcing Ganesan to focus on profitability rather than dwelling on funding.
Growth plans
Apart from Knowlarity, which has a global business unlike Exotel, other competitors include Ozonetel and Solutions Infini Technologies.
To sustain a year-on-year growth rate of more than 50%, Exotel is looking to venture into international markets this year. The firm is currently building a virtual customer call centre for companies.
"They are exploring a public listing but there are not enough places for a company of that scale to raise Rs 15-20 crore if you are profitable and growing decently," he said. "That kind of capital would give any company a shot at pushing growth rates to 50-60%."
With growth initiatives, new products in the works and cash in the bank, Reddy is hopeful that Exotel will be able grow at 50% every year with or without external capital.
It's been six years since Blume backed Exotel, and Reddy says it will be another couple of years before he can contemplate an exit.
"We are trying to play the balancing act until the end of this year by looking at other portfolio companies. While the market never validated Exotel to call it a great success for us, a B2B company of that size does have a lot of strategic interests from a lot of companies," he said.
Seven years on, Exotel's success seems to lie in understanding the nature of the B2B market, where sales cycles are long and heavy spending will not necessarily fetch new customers.
Ganesan has previously said that when companies are chasing large enterprises, there are only a few to follow up with and money is not paramount - a realisation that appears to have helped make Exotel an exception in terms of turning in profits.
---