When a startup is desperate for cash, it inevitably meets every investor in town—which is what Flipkart did in its early days. But for almost a year, nobody invested in the company. Then Accel Partners came on board in early 2009. Around the same period, Tiger Global also invested in the company and the rest was history.
"In 2010, they [Flipkart] had revenues of $10 million (those days the platform itself was the seller and gross merchandise value was equal to sales, but still not equal to net sales/revenue), and were looking at $250 million in valuation. We thought it was steep," said a venture capital investor who did not wish to reveal his identity or name his fund for the story.
Ashish Kashyap, founder of online travel agency ibibo Group, who also happened to be Naspers' India country manager, met Flipkart in May 2008. He is believed to have strongly recommended that Naspers invest in Flipkart. When TechCircle reached out to Kashyap, he refused to comment for the story.
However, the South African conglomerate passed on the opportunity since it was too early for internet companies in India. However, Naspers went on to invest in Flipkart in 2012 at a much higher valuation and this week exited with some handsome returns. It sold its entire 11.18% stake in the homegrown e-commerce firm to Walmart for $2.2 billion (Rs 14,797 crore).
Only a handful of venture funds existed in India in the last decade and Flipkart met all of them, and everybody passed up the opportunity.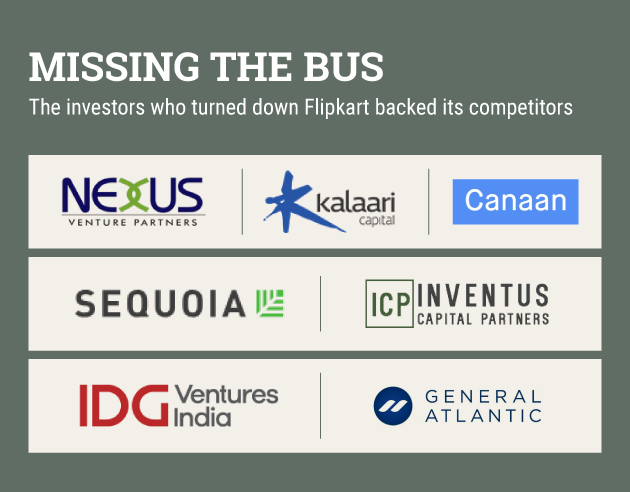 All the VCs listed here were reached for comment. Except for Nexus Venture Partners, none responded to emails and messages from TechCircle.
Sandeep Singhal, co-founder of Nexus Venture Partners, said his firm had interacted with the Flipkart founders in their early days but was unable to strike a deal. "We spoke to Sachin and Binny in the very early days and were very impressed both with their customer first approach and with their traction. We had wanted to work with them but unfortunately we were outbid," he explained.
"Not every venture firm will invest in every other firm," says a former VC. The investors who did consider Flipkart passed up the opportunity because they decided to bet on competitors.
Also, some of Flipkart's investors had backed its competitors. For instance, Tiger Global invested in Shopclues, while SoftBank picked stakes in Snapdeal and Paytm Mall.
"You have to assume companies talk to many investors, and similarly, funds meet many companies! We do not comment on deals that we have done/not done, seen, not seen, etc. We can only talk about companies we have invested in," said Kumar Shiralagi, managing director of Kalaari Capital. He did not say whether Kalaari Capital met Flipkart and let go of the opportunity.
Another investor that passed up the Flipkart opportunity was Inventus Capital. However, the VC firm's founding partner Kanwal Rekhi told VCCircle in an interaction last year that he and John Dougery, Inventus' other founding partner, did not regret missing out on investing in Flipkart and Snapdeal
"They were trying to raise money from everybody. They were burning money. We are a small fund and making a small investment for a very small stake itself was unattractive to us," Rekhi had said.
They were also sceptical of the firms' business models.
"To sell stuff on the Internet, you have to have some advantage. If you are selling commodity stuff which is available everywhere, how do you sell without price disruption? In that model, there is no customer loyalty," he said. "You as an entrepreneur have to have a business model and differentiated value proposition. But [if] you carry inventory like everybody else, you are not going to win the market. Once you carry inventory there is a fundamental issue; the stuff has to move fast. They were expensive and we couldn't figure out how they would make money," Rekhi explained.
In 2011, Flipkart was almost accorded unicorn status, an industry term that refers to startups valued at $1 billion or more. At that time, another investor, private equity firm General Atlantic was close to pumping in $150 million in the e-commerce firm, which would have valued it at $1 billion, but the deal did not see the light of day. There was talk at that time about how such a small firm could command such a high valuation.
However, the following year, it received $255 million from Iconiq, Accel Partners, Tiger Global, and Naspers, which catapulted the company into the elite unicorn club.
In 2015, Canaan Partners exited its India business by selling its portfolio to JP Morgan Asset Management for $200 million.
While most of the VCs listed above missed the opportunity to invest in Flipkart, IDG Ventures and Kalaari Capital did not entirely lose out. The two firms became shareholders in Flipkart following its acquisition of Myntra in 2014 — but would have undoubtedly scored higher returns had they originally invested in the fashion e-tailer's new parent.
---