Implementing successful India experiments in other emerging markets: Google CEO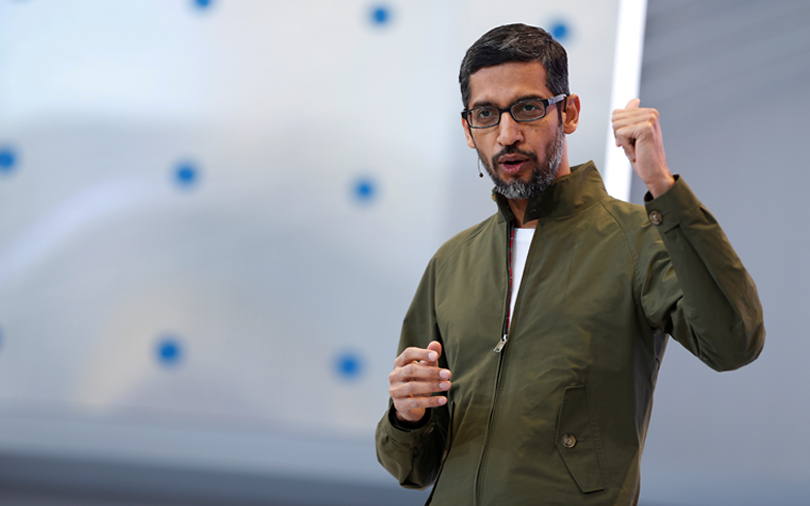 Buoyed by the success of free public Wi-Fi at Indian railway stations and the launch of India-specific payments app Tez, Google is looking to launch similar programmes in other emerging markets, said chief executive Sundar Pichai.
The Silicon Valley-based tech giant is already rolling out free Wi-Fi programmes in Indonesia and Mexico, said Pichai in a call with analysts and investors after the company's quarterly financial results' announcement.
A recent report suggested that Google is looking to expand its Wi-Fi services in India beyond railway stations to public places like malls, universities and cafes. By providing free internet, Google is looking to update its portfolio apps regularly, which serve ads that get the company most of its revenue.

Pichai added that emerging markets, which are different from developed markets, require unique products to keep growing fast. "The user growth there is extraordinary. And we are seeing it across all our products, which have over a billion users each and are all doing well in these markets," Pichai said, adding that the emerging markets drive the company's user growth currently and will continue to do so.
Google had also recently launched motorbike navigation feature on Google Maps in Thailand last week, which was launched for the first time in India last year. It is looking to launch the feature in other emerging markets, it said at the time of the launch in Thailand.
However, to do so, the company needs to develop unique products, Pichai said. "It is an important area of focus. And we do see unique opportunities in these markets, which are different from our more mature markets," he added.

Last year, Google had launched a Unified Payments Interface (UPI)-based payments app called Tez in India. The app has seen good adoption and is among the top five payments apps today in terms of transaction volume on the government-backed UPI platform.
"Beyond just getting our products working better, we are going to be opportunistic; we are investing in talent in these countries. And there is a lot of innovation, which is going to happen from these countries, both for their own markets and for the world beyond. And we want to be in a position to do that well," Pichai said.
Also, to focus on Africa-specific products, Google recently announced the new Google AI research centre in Ghana, with the goal of bringing together top machine learning researchers and engineers to explore artificial intelligence (AI) research and applications in Africa and beyond.

With consistent big user growth in emerging markets, where Android is the most-used mobile operating system, Google is seeing a big adoption of its products like Maps, Pichai said.
"We are building great specialised products for the next wave of people coming online for the first time in countries like India, Indonesia, Brazil and Nigeria, many of whom experience the web only through their mobile phone," Pichai said.
At its recent Google I/O summit, Google highlighted how AI is improving all of its products including Maps, Gmail and Google Photos app with Google Assistant and augmented reality.

Pichai attributed the big growth in usage to the constant improvements to products. "We are continuing to see tremendous growth in Maps, with especially strong growth in countries like Indonesia, India and Nigeria, each of which is growing over 50% year after year," he said.
Through its improvements in machine learning, Google has seen a 25 times increase in its ability to build Maps algorithmically and has added 110 million algorithmically drawn buildings to Maps, since the beginning of this year.
---