Upload your basic information, answer a few personality questions and then be amazed as an artificial intelligence (AI) engine finds your future life partner. Ishdeep Sawhney thinks matchmaking can be that simple and says his startup, a matrimonial service called Banihal, is proving him right.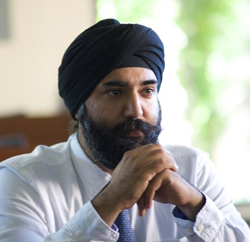 "We have designed an AI system called RAE which can read through users' data and tap into its neuroscience engine in order to make perfect recommendations," Sawhney told TechCircle.
Simply put, the neuroscience engine collects users' data based on personality-related questions that the user answers and then starts helping RAE making matches.
Banihal, which operates on desktop and mobile browsers, has a ring-based system of tagging probability. A diamond signifies a perfect match while three gold rings means the two partners have much in common.
"Nearly 90% of our diamond matches are ending up getting married and this accounts for nearly 50% of the user base we have," says Sawhney. He added that Banihal has thousands of users but did not provide specific numbers.
The service is free for the first three to six months and then is a fee charged after that period.
Founded in 2012 and based out of India and the US, Banihal has a high-profile backer in the form of Stanford University professor David Cheriton, the man who wrote Google its first cheque when it was just starting out.
Sawhney acknowledged that there is plenty of competition in the market but seemed unfazed by bigwigs such as Shaadi.com and BharatMatrimony, which have millions of users and dominate the space. After all, there is a big opportunity to be tapped.
According to a stock-exchange filing by Matrimony.com that cites a KPMG report published in 2017, the unmarried population of India stood at 107 million in 2016.
A BSE filing by Info Edge, which runs Jeevansathi.com, pegged the online matrimonial spend at Rs 650 crore in the financial year 2017-18.
In fact, Sawhney sees contemporary dating apps such as Tinder and Woo as his main rivals.
"The market is changing. While matrimonial services are targeting parents, millennials want to marry a person of their choice. This is where we have a market differentiation," Sawhney says.
Then of course, it wouldn't take much for Shaadi and Matrimony to emulate Banihal's model. In fact, some of these sites already offer compatibility scores.
Matrimony.com uses an in-house intelligent matchmaking algorithm (MIMA) that matches profiles based on criteria provided by users. It also has data analytics algorithms to track consumer trends to assist in driving monetisation of its user-base as the company follows a freemium model just like rivals such as Shaadi and Jeevansathi.
But Sawhney says the copycat model will never work as it will only be an add-on service rather than the core product being changed altogether.
"Another difference is we don't throw up hundreds and thousands of profiles at people. Once a person joins the platform, RAE calculates compatibility based on his personality and then only provides five matches per week. If you decide not to elect any one of those, then RAE waits till more suitable matches come in," Sawhney added.
Banihal currently has an 18-member team. The company had revenues just short of $1 million after starting operations in Bengaluru in 2015 and is now looking to raise a fresh round of funding.
---