Indian co-working market large enough to accommodate 4-5 big players: Awfis' Ramani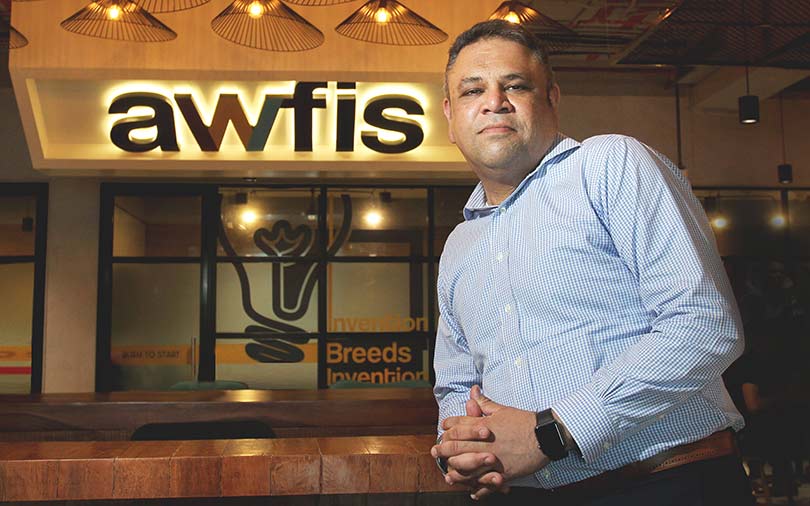 Late last month, co-working venture Awfis raised $20 million in its Series C round of funding from existing backers including Sequoia Capital and The Three Sisters: Institutional Office. Venture debt firm Innoven Capital came on board as a new investor.
Now in its third year, Delhi-based Awfis is the best-funded startup in the Indian co-working segment. But apart from Awfis and a handful of peers such as 91springboard and Indiqube, not many others in the space have been able to catch the eye in terms of significant investment.
In an interaction with TechCircle, Awfis' founder and chief executive officer Amit Ramani discusses why this is the case while offering insights into his company's expansion plans and efforts to diversify into smaller cities.

Edited excerpts:
How much of an operational runway will the latest infusion give you?
It should give us an operational runway of about 10-12 months. Also, our centres have been profitable for a while now. Hence, by October this year, we hope to turn profitable at a company-wide level.

To an extent, this also limits the pressure to raise external funding. While it will not entirely eliminate the need for another external funding round, it will help us fund some part of the growth with our own accruals.
Can you provide more details about how you plan to deploy the funds?
We will go from the current 25,000 seats in about 55 centres to more than 40,000 within the next 10-12 months, translating into a seat capacity increase of 70-80% in this period.

We will also shortly expand into tier-2 cities. Chandigarh will be our first tier-2 centre to go live followed by Kochi. We are also looking at Jaipur, Indore and Bhubaneswar among other cities as the next ports of call.
Some of the investment will go towards expanding our technology platform while some of it will be spent on brand building and marketing.
When we spoke to you a year ago, you were apprehensive about expanding to tier-2 centres. What has changed since then?

Over the past year, a lot has changed with regard to our understanding of tier-2 markets and beyond. We already see a demand for tier-2 centres from our existing tier-1 centre customers. Around 60-70% of our tier-2 demand will come from our existing clients.
Do you see an equally enthusiastic reception for co-working spaces in tier-2 centres?
A tier-2 market like Ahmedabad already has 10-odd local players. It's a similar story in other tier-2 centres such as Kochi, Indore and Chandigarh.

Some of these centres are running at an occupancy rate of about 90-95%. The market is already there. We believe that we will receive the same kind of traction we received in tier-1 centres, adopting the same execution strategy.
What are your expansion plans in terms of the total real estate footprint?
We will add another 1.2-1.3 million sq ft this year to the existing area of 1.5 million sq ft.

Delhi-NCR, Mumbai and Bengaluru are our top markets - with an almost equal footprint. We also have a considerable footprint in Hyderabad and Pune. Kolkata is perhaps our smallest market today. Our Chennai centre will also go live very soon.
In terms of area, what do you think is the scope for co-working spaces in India?
Our goal is to expand to 11-12 million sq ft, which would roughly translate into two lakh seats, over the next four to five years. Even after that, we will still be a fraction of the total 1-1.4 billion sq ft real estate market.
Can co-working spaces become a threat to players in the traditional office space segment?
In 4-5 years, the total co-working space footprint will still be less than 7-10% of the total real estate market. So co-working spaces are not going to overtake and upstage these players.
Barring Awfis and a couple of others, the co-working segment has not exactly attracted big-ticket institutional funding...
With 4-5% year-on-year growth, I firmly believe that there definitely is room for about four-five large players to co-exist in this space in about five years' time. However, it is true that barring us and a couple of others, the co-working space has not really seen much institutional funding.
This could perhaps be attributed to overcrowding coupled with a lack of differentiation. Secondly, a large pool of investors largely focused on technology investments do not necessarily look at co-working spaces with the same lens. Also, the complexity of execution is a key factor.
This space will possibly not see heavy amounts being pumped into 30-50 players, but 4-5 large players will get decent investment.
How does Awfis stand out from the rest?
On the supply side, out of the 25,000 seats, about 10,000 are in straight-lease-asset-light and the rest is through we call 'managed aggregation", which is essentially a combination of joint venture-revenuing sharing and management-operator model.
In terms of the split in our total 1.5 million-sq ft footprint, around one million sq ft accounts for the straight lease model and the rest is a combination of the aforementioned two modes of 'managed aggregation" in a 50:50 split.
Secondly, since we are looking to create a community, scale matters a lot. A typical Awfis centre will have about 400-450 seats. With 2,000-3,000 people in a centre, one cannot create a community. Our co-working spaces are designed more like a central town hall. This becomes a value-driven proposition for investors.
You mentioned that your growth so far has come with positive unit economics. What can you tell us about your customer acquisition costs?
Our consumer acquisition costs have so far been low because we have managed to do a few things differently.
Since we have built a strong digital marketing engine, our consumer acquisition costs from this channel work out to less than 10% of the total contract value.
We are active in the real estate community and hence get a lot of inbound leads from these platforms. Also, our rapid growth has helped the in-house sales and business development team - a 50-member strong unit across the country that acts like a mini-broker channel for us.
Around a quarter of our new deals comes from existing customers who have taken up office spaces in our other centres.
Is Awfis likely to explore inorganic growth opportunities?
We will not be acquiring another co-working space. One of our USPs has been to convert any unshared space into an operational centre within 45-50 days. Hence, for us to go into any micro markets for expansion, I don't think we need to take that route.
However, we continue to improve the technology and alliance platform. We could look at something that would improve technology, workplace productivity and our overall offerings. However, these acquisitions will be more peripheral to our core operations.
---