This Kerala startup is using robots to eradicate manual scavenging in India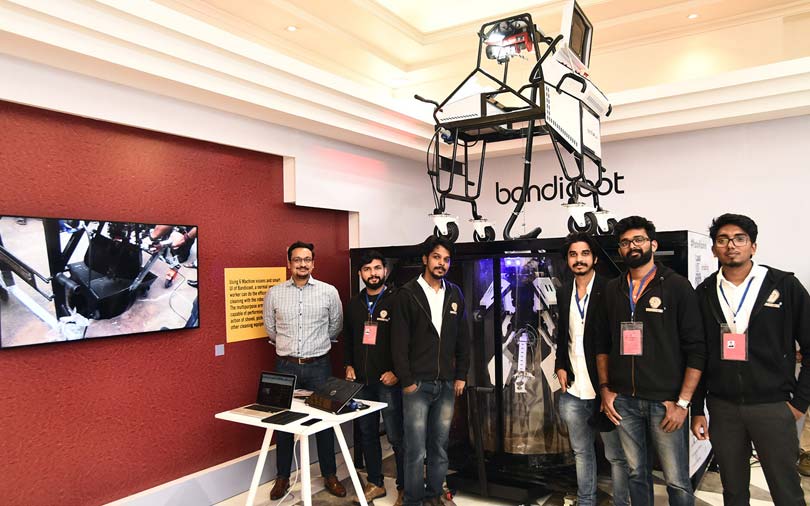 In November 2015, police pulled out the bodies of 32-year old Noushad Karuvissery, an autorickshaw driver, and two migrant workers from a 12-foot-deep sewer in Kozhikode district of northern Kerala.
Karuvissery was trying to pull out the migrant cleaning workers who had fallen into the manhole but in the process, he too fell inside. Various media reports at the time said that there were no supervisors at the spot when the two workers opened the manhole.
When Arun George, Vimal Govind, Rashid K and Nikhil NP read about the tragedy in the newspapers, they did not pay much attention to it. They were just four college students at an engineering college working on a robotics project.

After graduating, they began working jobs that paid their rent. But a chance meeting in late 2016 with Kerala's then Information Technology Secretary of the state M Sivasankar at a startup event in Kochi changed their career trajectories.
Their robotics college project brought them to the attention of the secretary who urged them to develop it further.
What started out as a college project in 2015 became not only a full-fledged venture but also an avenue to address the social evil of manual scavenging in India.

The Iron Man suit
When the four launched Genrobotics, manual scavenging was the last thing on their minds. Aficionados of sci-fi action movies, the four, with the help of some college mates, created an exoskeleton inspired by Iron Man's Tony Stark and Avatar's villainous character Colonel Miles Quaritch.
As students at MES College of Engineering in Kerala, they had registered their startup with the Innovation and Entrepreneurship Development Centre (IEDC) at the college, which is a programme run under the state government's Kerala Startup Mission.

Initially, the four friends created a 10-foot tall pale yellow robotic suit, using mostly scrap materials. Called Generation 1, a person had to place himself or herself inside the exoskeleton to operate it mechanically.
The following year in 2016, they developed an upgraded version—Generation 2—of the suit. This time it was a six-foot-tall red exoskeleton which used a pneumatic feedback system operated by pressurised air. It was made within a budget of Rs 51,000. It could lift materials weighing 60 kilograms and its legs were able to lift things weighing 160 kilograms.
However, a financial crunch forced the founders to halt their college project and they took up jobs offered as part of the college placement programme.

Co-founder George told TechCircle that they always kept in touch with each other and would meet at various startup and tech events in Kochi, and it is at one of these event that their encounter with M Sivasankar took place.
A social cause
Once the government assured them of its support in their venture, the four resigned from their jobs and began working on developing a robot prototype to replace human sewer cleaners.

"With all the technological advancement India has people still use bare hands and shovels to clean sewers which often get blocked by stones, sanitary napkins or plastic and sometimes even medical waste," said George.
In developed countries, workers are given proper safety gear, masks and oxygen cylinders when they venture into a manhole.
"Here in India, they enter a manhole with a towel wrapped around them or in shorts. Most of them drink alcohol before entering a manhole. The health issues they have from alcoholism is another issue," explained George.

According to a report by the National Commission for Safai Karmacharis (NCSK), more than 90 workers have died while cleaning sewers since the beginning of 2017 and more than 650 have died since 1993.
In India, manual scavenging is prohibited by law but the practice still continues as many are forced into it because of their caste, added George.
Rise of the Bandicoot
Set up in 2017 as Genrobotic Innovations Pvt. Ltd, the startup received funding from the Kerala Startup Mission with which they created a prototype, which looked like a spider but with four expandable legs.
After many iterations, Bandicoot was born—a semi-automatic human-controlled robot that could enter a manhole and clean it. The company claims that Bandicoot can perform the work of five human beings within minutes.
Officially launched on 26 February 2018, the robot can be operated manually as well as in automatic mode.
Genrobotics also secured seed funding from Unicorn India Ventures this year.
The company, which has a patent for its technology, has sold five Bandicoots so far—one to local authorities in Kerala, two each to authorities in Tamil Nadu and Andhra Pradesh.
George says 20 robots are under production.
On 2 October this year, the company introduced Bandicoot 2.0 which weighs around 60 kilograms, lighter than the first version, which weighed close to 100 kilograms. The company sells the new version for around Rs 30 lakh.
In September this year, Genrobotics was one of the startups selected for Google's Launchpad Accelerator programme.
"The government has invested heavily in robotics startups under the Make in India initiative and indeed several startups such as Genrobotics have shown that we can find solutions to some of our unique challenges," said Professor Dr Pradeep Pendse, Dean of Academics and chief technology officer at WeSchool, Mumbai.
However, the success of the public services startups like Genrobotics offer will depend on their partnerships with government agencies and municipalities, he added.
"The problem that remains is funding the development of the solution. Here again, the local government must invest in the initial development although the funding should be routed through the same channel as Startup India or Make in India to enable the Centre to monitor the outcomes," he said.
However, Genrobotics believes funding is not their focus at the moment.
"We may look for more venture capital funding, but we don't want to lose the social value of our startup. That is why we are focused more on grants now," explained George.
He envisions an ambitious plan: to eradicate manual scavenging completely by the end of 2019.
---