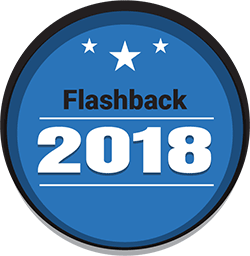 Artificial intelligence and machine learning became popular buzzwords in 2018, thanks in large part to companies adopting the emerging technologies to expand their businesses and acquire new customers. AI-based technologies helped companies add new revenue streams and optimise current ones.
According to an analysis by professional services firm PwC, technological disruption has also impacted the mergers and acquisitions (M&A) or investment strategies of large corporations.
"With larger corporations looking to adapt to technological advancements and revamp their business models, 2018 has seen a number of acquisitions in the new technology space," said Sanjeev Krishan, partner and leader, private equity and deals, PwC India.
"Relevance has become a key element for the survival of any business, and this has made technology expertise a requirement to achieve a competitive advantage in the current market," he added.
Krishan also said that artificial intelligence and data analytics have garnered significant interest from both corporates and funds. According to him, the technology space attracted global investments worth over $30 billion in 2018 across both private equity and M&A together.
From mindshare to wallet share
Coined by computer scientist John McCarthy in 1995, AI and ML came to the fore when Silicon Valley-based tech giants such as Amazon, Google, Microsoft, Nvidia and IBM among others used the technology first to maintain their operations and then later dished out solutions for different sectors.
In the last few years, these companies have invested heavily in AI and ML for business intelligence, helping them expand to new markets and gain dominant shelf space in an individual's life via personal computing devices such as mobile phones, PCs and smart home products. However, when companies opened up their codes, libraries and frameworks, a host of startups took advantage of the freely-available technology and began offering a range of new solutions to a section of the market that was underserved by system integrators and the tech giants themselves.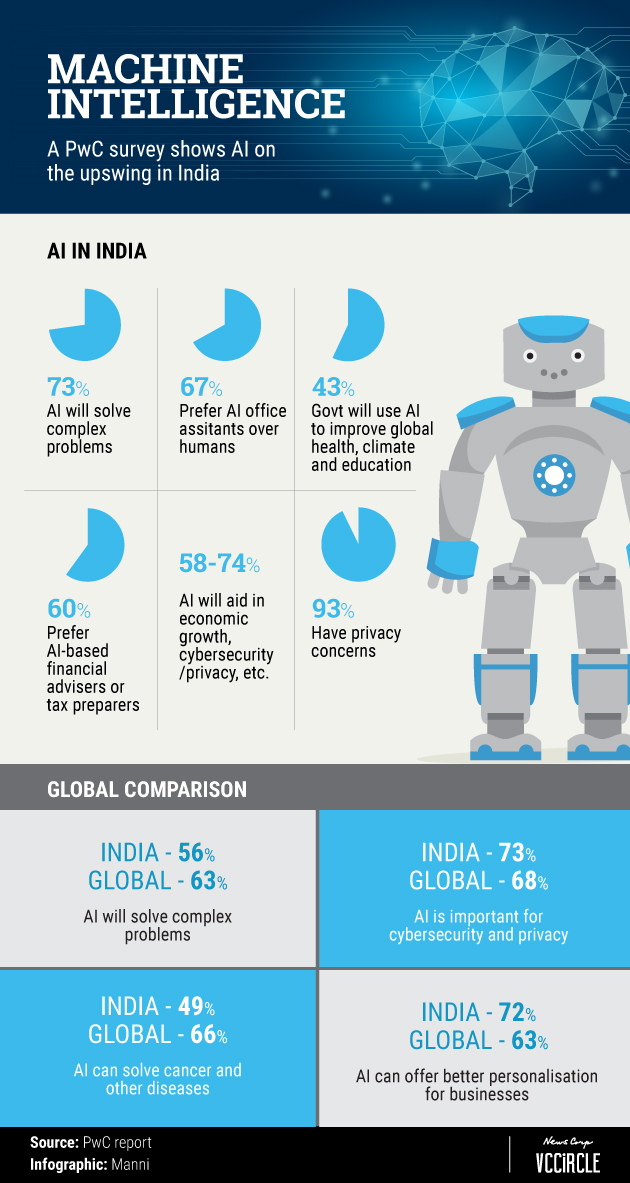 Jishnu Bhattacharya, managing director of Nexus Venture Partners based in Menlo Park, said AI and ML have been gathering momentum in the last couple of years.
"Till around mid-2017, one could say that AI and ML had a lot of mindshare in the industry but largely in 2018, one could say that these technologies have gained wallet share, which is to say they are seeing a lot of investment," Bhattacharya told TechCircle.
He added that horizontal and vertical AI applications will increase as businesses find new use cases to implement these technologies. "One-third of our investments in the last five years have been into AI, analytics and data-related firms as we look at companies who are trying to build a value chain around data," Bhattacharya said.
In fact, out of the six companies that Nexus Venture Partners invested in India in the first half of 2018, four ran on AI-based platforms or offered automation solutions. Analysts also claim that India specifically has been evolving in terms of these technologies.
"It's a rapidly evolving market, and AI/ML tools are witnessing increased adoption across multiple industries," PN Sudarshan, partner at Deloitte India, told TechCircle. "Currently, there is a lot of interest around this technology and multiple applications are being implemented across business use cases, whether to improve operational efficiencies or customer experience."
He said, however, that for India to take maximum advantage of AI and ML, large-scale actionable data needs to be available to train algorithms. The country also needs to develop capabilities, expertise and talent in AI/ML to build custom applications at scale.
"While the ongoing digital transformation of public and private sector enterprises transforms the economy from being data poor to data rich, India's strong talent ecosystem in science and engineering would help us accelerate the adoption," Sudarshan said.
A number of emerging enterprises and startups are providing specialised services in decision sciences, carving out their own niche in the AI ecosystem, he added.
"As per various estimates, there are more than 300 AI startups in India. While it's difficult to quantify the exact number of investments, given that most of it remains unreported, startups in categories such as healthcare and customer experience management have seen good investor interest," he said.
However, Sandeep Parikh, partner for advisory on AI and ML at consultancy firm EY India, said that although IT service providers have rushed to the market with a wide range of AI/ML-based homegrown solutions over the last few months, most of them are unproven and they have been overstating their capabilities, resulting in hype.
"There is still some way to go in terms of creating concrete and end-to-end true differentiation using cognitive solutions, though we have seen some interesting pieces in operations, front offices, finance, human resources and marketing where ML has potentially created small but real impact," Parikh said.
According to him, there is also a lack of awareness in the marketplace of how to apply these technologies in the real world to generate relevant and lasting impact.
Puneet Gupta, chief technology officer at data and engineering service firm GlobalLogic India, said that investment in the research and development of core AI and ML models is scarce.
Sectors adopting AI and ML
Finance, banking, machinery, operations and retail are at the forefront of integrating AI and ML in their businesses.
PwC's Krishan said that the retail sector in particular was at the frontline of technology convergence this year.
"Advancements in technology are driving the constant evolution of consumer behaviour and expectations, compelling traditional retail players to challenge themselves in the race against the growing e-commerce segment," he explained, adding this trend will continue to garner significant interest from both global and domestic players.
Gupta of GlobalLogic said that domains such as education, legal, healthcare and banking in India have adopted AI to solve problems. "The adoption rate is highest in areas like self-service, customer care, assisted automation and assessments," he added.
Deloitte's Sudarshan said that while AI and ML can be used for any application that involves prediction and has proven to be beneficial in areas like medical diagnostics, image recognition, autonomous driving and predictive maintenance in factories.
While companies such as Microsoft, IBM, Bosch and SAP are already working in the healthcare segment, several private banks such as ICICI Bank, HDFC Bank and Kotak Mahindra Bank have invested heavily in these technologies including chatbots for customer assistance.
The chief information officers of the three above-mentioned banks have told TechCircle in earlier interviews that they were using AI and ML largely to improve customer experience, attract young customers for digital credit facilities and to boost customer growth.
Besides finance, the sales, marketing, operations and procurement functions are also seeing increased adoption of the emerging technologies, according to Nexus's Bhattacharya.
Outlook 2019
Experts and analysts believe that investments in AI and ML will continue to increase unhindered in 2019.
Market research firm IDC predicts spending on AI to grow to $52.2 billion in 2021.
"AI and ML are still in the early stages of large-scale market adoption and will continue to witness interest. While businesses will continue to automate some of their workflow processes using AI/ML tools and improve operational efficiencies, there are also interesting use cases emerging in customer engagement and customer experience management," said Sudarsan of Deloitte.
According to him, these functions will use AI and ML to improve the personalised experiences for end consumers.
EY's Parikh said that investments into the emerging technologies will most certainly continue into 2019 and could accelerate if there are real end-to-end solutions that can generate real outcomes and benefits for customers.
Animesh Samuel, co-founder of NLP solutions provider Light Information Systems, expects data sets to converge on a single AI platform in 2019. Till 2018, companies looked for AI solutions in silos such as chatbots, robotic process automation, tools, etc., he said.
"We missed out the real fodder for AI—data! The solutions for 2019 will unite structured and unstructured data to automate entire processes," he explained.
Gupta of GlobalLogic said that enterprises need to focus more on building AI/NLP for local language support and to create domain-specific core models. "This will have a much deeper impact in widespread addition of AI," he said.
He expects investments in both startups and large technology providers to surge.
IBM Research's chief operating officer Dr Dario Gil said that 2019 will see improvements in 'causal modeling' techniques that will push AI from asking 'what happened' to 'what would happen' based on possible actions.
He also said that companies will improve on conversational AI by applying new anti-bias techniques in combination with guidance from in-house and industry ethics advisory groups to make their products and platforms fairer.
---