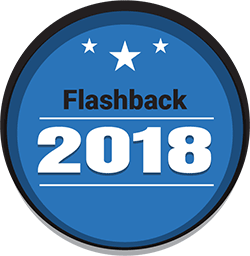 US retailer Walmart's purchase of 77% stake in India's Flipkart was the e-commerce deal of the year, bringing big-bang exits for investors and underscoring the immense potential in the country's consumer internet businesses.
The $16 billion deal in May valued Flipkart at $21 billion, something that could not be imagined for a consumer internet business five years ago. Even the size of $1 billion was considered way too big seven years ago.
And 2018 was not just the year of e-commerce. Social commerce, wherein startups use platforms like WhatsApp to scale up business, too, hotted up with online marketplace for resellers Meesho raising $50 million (Rs 365 crore) in a Series C round of funding in November, and handmade products marketplace Qtrove getting the backing of media conglomerate Bennett, Coleman & Co. Ltd (BCCL), better known as the publisher of English daily The Times of India.
Meanwhile, online grocery delivery app BigBasket inched closer to the unicorn status after $300 million (Rs 1,921 crore) Series E funding led by Chinese e-tailer Alibaba. In fact, BigBasket is barely $50 million away from becoming a unicorn and is targeting $1 billion revenue run rate by March 2019.
The delivery app is also getting increasingly ambitious. In October, TechCircle reported that the online grocer had acquired subscription-based e-grocery startup RainCan as it looked to strengthen its micro-delivery operations. BigBasket rebranded RainCan as BBdaily.
Others like online furniture marketplace Pepperfry raised Rs 250 crore ($38.4 million) in a fresh round of funding from asset management company State Street Global Advisors.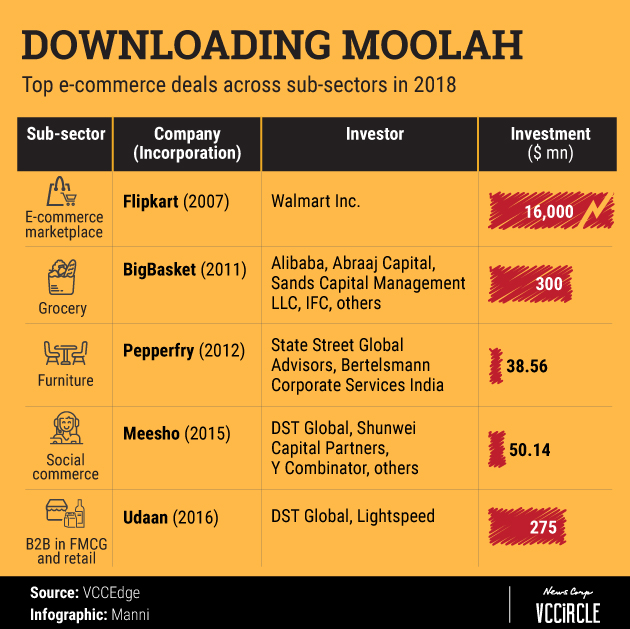 Cross-border players emerge
If you thought that the online fashion world is rocked only by a handful such as Flipkart-owned Myntra and Jabong as well as Amazon, think again. New players that source directly from China such as ClubFactory and SheIn have attracted the attention of the price-conscious customer.
"Cross-border e-commerce players like ClubFactory and SheIn are growing rapidly, especially in Tier-II regions and beyond. It is a deep market but servicing and delivering an experience on a par with Myntra and Jabong will be a challenge. We have also seen a push from larger players to go deeper into these markets through local language interface and investments in offline retail chains for an omni-channel play," says Ujjwal Chaudhry, associate director, consumer internet, RedSeer Management Consulting.
The rise of social commerce
Industry watchers believe that buoyancy is here to stay, especially for social commerce. "Of the 300 million people in India who are on social media, only 110 million are shopping online. There are multiple issues which need to be addressed here -- it could be inability to transact online, trust issues with e-commerce players, and other factors. If social commerce and other models are able to match the experience of a large e-commerce player, they can convert the remaining 190 million into online shoppers," says Chaudhry of RedSeer Management Consulting.
Social commerce is hotting up already. For example, in November, Bengaluru- and California-based Meesho, an online marketplace for resellers, raised $50 million (Rs 365 crore then) in a Series C round of funding from China's Shunwei Capital, Russian billionaire Yuri Milner's DST Partners and RPS Ventures, a fund set up by former SoftBank managing director Kabir Misra.
In another example, in December, mobile storefront and commerce platform provider for sellers, Shop101, raised $11.37 million from Kalaari Capital and Unilever's investment arm, Unilever Venture.
Existing investors Stellaris Venture Partners, Vy Capital and Ramakant Sharma, co-founder of home decor startup Livspace, also put in money.
Vani Kola, managing director at Kalaari Capital, had said then, "Social media as a commerce platform has the ability to disrupt traditional e-commerce players by offering personalised shopping experiences. Given India's diverse population, social commerce will be the next great opportunity to reach new internet consumers." The round of funding came five months after Shop101 raised $5 million (Rs 34 crore then) in a Series A round led by Stellaris Venture Partners.
In August, VCCircle had reported that Wooplr Technologies Pvt. Ltd, which enables social commerce via an eponymous online fashion portal, was in talks to raise up to $20 million from a mix of Indian and Chinese investors.
In March, TechCircle reported that social commerce platform Sagoon would get $5 million (Rs 32.4 crore) from HT Media.
Flexing muscles in grocery
In a sector dominated by the big three -- BigBasket, Amazon and Flipkart -- Milkbasket raised multiple rounds of funding in 2018. In January, it raised $3 million (around Rs 19 crore) from Unilever Ventures, the investment arm of fast-moving consumer goods major Unilever. Existing investors also participated in this round. In May, Milkbasket, owned by Gurugram-based Aaidea Solutions Pvt. Ltd, raised $7 million (Rs 47 crore) in a Series A funding round led by early-stage investor Kalaari Capital. Singapore's BeeNext and existing investors Unilever Ventures and Blume Ventures also participated in the round. In November, Milkbasket raised closed to Rs 10 crore ($1.37 million then) in a fresh funding round from US-based venture capital firm Mayfield Fund. In December, Milkbasket raised $7 million (Rs 49 crore) in an extended Series A round led by Mayfield. Existing investors Kalaari Capital, BeeNext, Unilever Ventures and Blume Ventures also participated in the round.
B2B gets funding, sees shake-up
Business-to-business ventures that focus on fast-moving consumer goods and fresh categories got a leg-up in 2018. For example, e-commerce platform Udaan, founded by former Flipkart executives Amod Malviya, Vaibhav Gupta and Sujeet Kumar in 2016, became one of the fastest Indian private companies to enter the unicorn club with its $225 million Series C round backed by existing investors DST Global, owned by Russian billionaire Yuri Milner, and Lightspeed Venture Partners.
In February, Udaan, owned by Bengaluru-based Hiveloop Technology Pvt. Ltd, raised a $50 million (Rs 324 crore) Series B round from new and existing investors. Existing investor Lightspeed and new investor, Russian millionaire Yuri Milner's Apoletto Fund, led the round. Lightspeed pumped in $30-35 million, while Milner's Apoletto Fund accounted for the rest.
B2B e-commerce platform for small retailers ShopX raised $35 million from Hong Kong-based Fung Holdings.
Agri-products marketplace NinjaCart also raised $35 million in a round led by US-based Accel and Switzerland-headquartered Syngenta Ventures.
Companies which supply industrial goods to small and medium enterprises (SMEs) saw some troughs as Wydr shut down operations and JustBuyLive closed within months of raising $100 million.
In November, TechCircle reported that B2B e-commerce marketplace Industrybuying had slashed its workforce to fewer than 300 -- less than half of what it was a year back.
However, in December, International Finance Corporation-backed industrial goods marketplace Moglix raised $23 million in its Series C round led by existing investors Accel, Jungle Ventures and IFC, the private-sector investment arm of the World Bank, indicating hope for those that want to streamline.
---