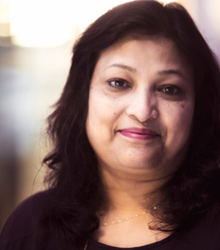 India could emerge as the third-largest market in the Asia-Pacific (APAC) region for IBM's artificial intelligence (AI)-powered workforce automation solution, launched in November last year. The Armonk-based software services giant expects large-sized and mid-sized enterprises from sectors such as banking, insurance and manufacturing to be among the first adopters of the solution.
The solution, dubbed the Talent and Transformation suite of services, is one among several that have come out of IBM's global AI platform, Watson.
"India is one of the largest markets for the solution in terms of opportunity after Australia and Singapore (in the APAC region)," Lula Mohanty, general manager for APAC at IBM Global Business Services, told TechCircle. "Only five per cent of chief executive officers (CEOs) think that they have embarked on a transformation journey, especially when it comes to human resources core functions and only 24% of CHROs (chief human resources officers) think that they have a lot of work to do in terms of improving their core functions. This is a positive change in terms of rising awareness in the country," she added.
Mohanty declined to comment on specific clients that have already signed on for the solution in India. But the company in a statement released in November said that, globally, it had already partnered with clients to complete more than 1,000 human resources transformation projects.
The global roster of clients for the solution includes Ford, EY and Citizens Financial Group.
Before launching the human resources solution last year, IBM had already tried, tested and perfected it internally over a period of five years.
"We have been running the AI for our core human resources operations and we have achieved five times more efficiency or productivity from the time we started," she said. IBM claimed in a statement in November last year that the solution drove more than $300 million in benefits for the company, of which $107 million was derived in 2017 alone.
How IBM's solution is different from rivals' solutions
Mohanty claims that while most rivals' solutions work as automation tools, IBM's solution goes beyond and addresses bottlenecks for the company or the department it is being applied to.
For instance, the Watson-powered AI could take into account intrinsic data such as the employee's social media posts, preferences, performance at work, workplace behaviour and interests, before throwing up a result. Further, the solution keeps on learning about the employee via different forums, checkpoints, social media use and other feedback mechanisms such as 360-degree feedback, etc., in order to create a persona for future references. These personas can be used by the AI in the future as reference points when hiring another employee in the same team or department.
"Based on the employee's performance, self-appraisal, interests, etc., Watson can determine various key metrics such as how much invested the employee is, how much did the productivity vary from one project to another, how entire teams are performing, is diversity having an effect on the team, does the employee need a certain training or orientation, etc.," Mohanty said. This helps companies to not only check attrition but also understand why productivity stops rising at a certain level.
Apart from IBM, there are quite a few startups from India and technology giants such as Microsoft that are working on AI and machine learning-based human resources products and services. Gurugram-headquartered PeopleStrong last year had launched a new product, Alt Recruit, which uses Artificial Intelligence Markup Language (AIML) as a matchmaking tool to suggest possible candidates for job openings at an organisation.
Bengaluru-based Belong, which was incorporated in 2014 and has clients such as Amazon, Reliance Jio, Cisco, and ThoughtWorks, too, offers a predictive hiring platform.
Other startups include Darwinbox, Mettl, Monjin and Edge Networks. These startups are backed by a number of venture capital investors such as Lightspeed Ventures, Kalaari Capital, Blume Ventures and Sequoia.
Darwinbox and Edge Networks possibly come closest to IBM's solution as both the startups look to offer end-to-end human resources solutions. Hyderabad-based Darwinbox, which has clients such as Paytm, Spencer's and Delhivery, offers a suite of services such as core human resources processes, people management, performance management and employee engagement. The AI infusion comes in the form of a recruiting tool that provides a score to all applicants based on the position by matching keywords.
Bengaluru-based Edge Networks' most solutions are AI-based that help not only to identify the right talent but also help in addressing problems such as workforce planning and talent transformation.
Mettl provides an app for testing candidates and Monjin offers a video platform for interviews.
On the other hand, Microsoft's Talent solution offers a series of tools to accelerate hiring and onboarding, upskilling talent and workforce planning.
Interestingly, the Watson AI solution doesn't stop at human resources and can be applied to departments such as legal, marketing, finance and operations, where it can be customised for different work processes.
Go-to-market strategy
However, deploying an AI-based human resources solution to core processes could lead to the need for re-skilling employees in order to make them understand how AI can help in their daily work routines.
IBM is also offering its AI Skills Academy, a service offering and educational programme that will help businesses plan, build and apply strategic AI initiatives across the enterprise, like evaluating AI roles and skills, building necessary skills, and creating an organisational structure in support of an AI strategy.
"Our new AI Skills Academy consists of four integrated components that guide a client through the process of identifying an AI opportunity, prioritising AI projects to pursue based on anticipated business value, learning curriculum designed to address AI skills gaps and increase adoption of AI solutions," Mohanty said.
Speaking about IBM Garage, which constitutes the fourth component of the Skills Academy service, she said that the programme is an agile approach to coming out with AI-based solutions. "As part of Garage, IBM, startups and the enterprise client come together to discuss a problem, launch a proof-of-concept and then dish out a solution," she explained.
The solution could be deployed as a SaaS (Software as a Service) model or could sit either on-premise or public cloud, depending on the requirement of the customer. The revenue model was dependent on the delivery model.
According to a recent report by global advisory, broking and solutions firm Wills Towers Watson, only 12 companies in India believe that their human resources functions are fully prepared for the changing requirements of automation. For example, human resources is least prepared for identifying new ways to re-skill talent (43%), re-designing jobs and identifying which tasks can best be performed by automation (54%), and re-configuration of rewards and benefits for existing and new workforce (31%).
"While our research does indicate that organisations in India are beginning to take small but solid steps to address this paradigm shift, business leaders, people managers and human resources must collaborate to identify and mitigate risks and take full advantage of the many opportunities that the future of work presents," Sambhav Rakyan, head of talent and rewards, Willis Towers Watson India, said as part of the report.
Emily Rose McRae, a senior principal with information technology research and advisory company Gartner Inc., in a report about workforce automation, also said that human resources leaders need to know, given the growth in AI, what skills their company has now, what it will need in the future and how they will prepare for tomorrow's needs.
---