Investments in technology startups surged to $1.2 billion in May on the back of a number of big-ticket growth-stage bets by investors such as Tiger Global Management, Sequoia Capital, SoftBank Group Corp, Accel, Flipkart founder Sachin Bansal and Hyundai Motor Co.
In all, the month saw multiple investors close 51 deals across varying sectors and stages, underscoring a healthy appetite for startup businesses. Dealmaking in May marks a significant rise from April, which saw investors close 37 deals worth $400 million.
Read: Fintech leads dealmaking in April even as Tiger Global lights up agritech
While growth funding dominated dealmaking in terms of dollars put to work last month, early-stage startups were not found wanting in terms of investor attention. As many as 13 startups raised capital at the seed stage and another seven attracted funding at the Series A stage.
In terms of sector distribution, preliminary research by TechCircle indicated that investments in May were spread across 25 diverse sectors that included mobility, logistics, ecommerce, SaaS, agritech, digital content, hyperlocal services and fintech. Mobility, hyperlocal services and fintech together cornered nearly 80% of the total dollars invested.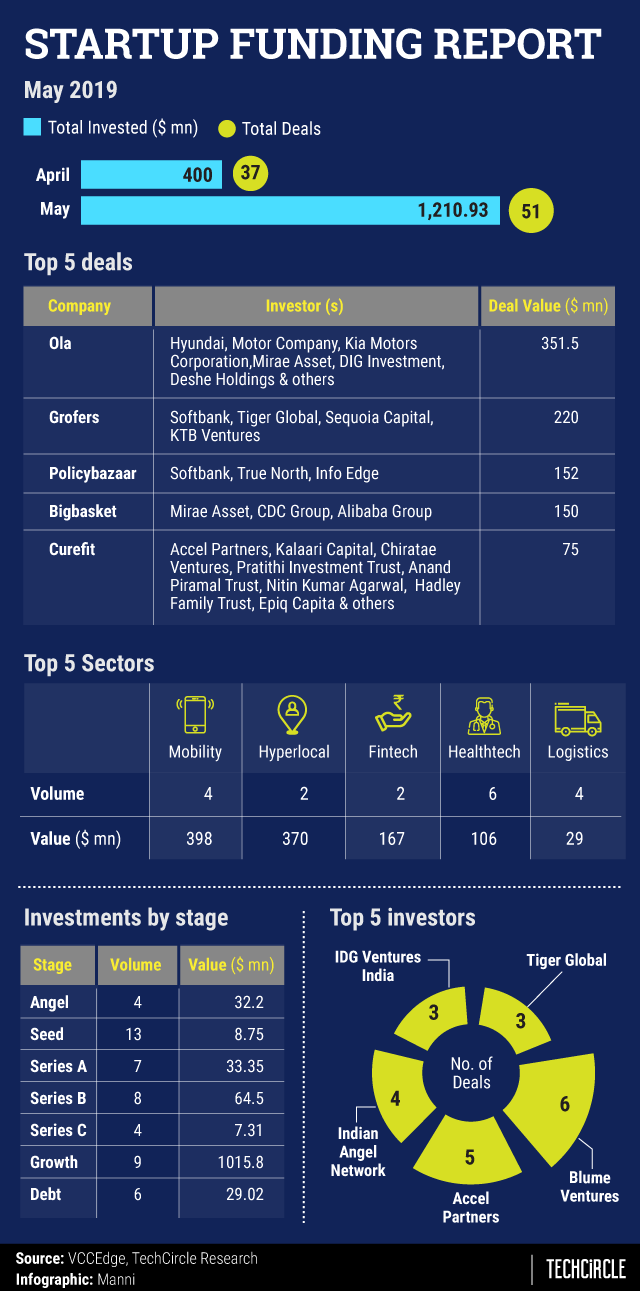 SoftBank slows down but makes a mark
While the deals charts were dominated by investors such as Mumbai-based venture capital firm Blume Ventures, Bengaluru-based venture capital firm Accel and New York-based hedge fund Tiger Global Management, Japanese internet and media conglomerate SoftBank still made its presence felt with two significant deals.
Early in the month, insurance marketplace PolicyBazaar closed a $152 million round led by SoftBank Vision Fund, taking the total capital raised by the firm so far to nearly $300 million. The infusion marked the first tranche of a growth funding round that the Gurugram-based firm had announced in June last year.
Multiple media reports speculated at the time that the SoftBank-led round would catapult PolicyBazaar into the unicorn club, industry parlance for startups valued privately at $1 billion or more. The funding comes at an opportune time for PolicyBazaar, which is expanding its service offerings amid rapidly growing investor interest in the overall fintech sector.
SoftBank's other bet last month was on online grocery platform Grofers, which was in the market for a fresh funding round for more than a year. Following an earlier investment in the company, the Japanese conglomerate led a new $200 million round in the Gurugram-based startup, which has seen a few ups and downs in the recent past.
After expanding operations rapidly in its initial years, the startup had to withdraw from nine cities, lay off employees and switch from a marketplace to an inventory-led operation, a model that has delivered success for its bigger rival Bigbasket. Incidentally, the SoftBank-led round came within days of Bigbasket scoring a $150 million round led by South Korea's Mirae Asset.
SoftBank's deal run here will be interesting to watch over the next few months. A Mint report today suggests that the Japanese conglomerate may seek to place smaller- and earlier-stage bets to balance its investment run so far. The approach may have something to do with the disappointing public market debut of ride-hailing firm Uber, in which the Vision Fund holds a significant stake, the report said.
Growth all the way
PolicyBazaar, Grofers and Bigbasket were part of a bouquet of growth-capital deals that propped up funding activity in May. Capturing almost 85% of the total funding, the nine deals fetched a collective $1.01 billion in terms of investments. This could be interpreted as a sign of investors' willingness to back startups that they perceive as emerging market leaders in their respective segments.
Ride-hailing platform Ola, healthcare and fitness startup Curefit, bus aggregator Shuttl and electric scooters startup Ather Energy were among the other startups that brought in the big bucks from investors. Bengaluru-based Ola alone, which incidentally counts SoftBank as an investor, cornered more than $350 million.
The other deal that stood out during the month was Sachin Bansal's $32 million infusion into Ather Energy in his personal capacity. With the emergence of Bansal as one of the most prolific startup investors in recent times, institutional investors find themselves increasingly taking cues from a new class of investors -- cash-rich entrepreneurs who are putting their money to work in giving back to the startup ecosystem.
Busy month for consolidation
Apart from funding activity, May also saw nine consolidation deals across sectors that include gaming, edtech , healthtech, SaaS, HR tech, printing and agritech.
The first and the last weeks of May saw an average of three-four deals being stuck while the interim period saw muted activities on the consolidation landscape.
Some of the standout deals include Info Edge's acquisition of Iimjobs, Freshworks' acquisition of Natero.
and New York-based Rockstar Games' agreement to acquire Dhruva Interactive.
---