Companies that scale innovation more often generate close to double the revenue growth when compared to companies that don't, says global technology giant Accenture.
Accenture's new research on technology adoption also sheds light on how adopting new solutions affects the mindset and culture of a company.
The company recently released a paper, "Full Value. Full Stop. How to scale innovation and achieve full value with Future Systems," which is based on data from 8,300 organisations spanning across 22 countries and 20 verticals. The research is a follow-up to Accenture's initial Future Systems report, which was released last year.
Latest technologies like extended reality, artificial intelligence (AI) and blockchain, and others were considered for the study. Accenture claims its research will help companies understand the difference between potential and realised values from the investments made in technology.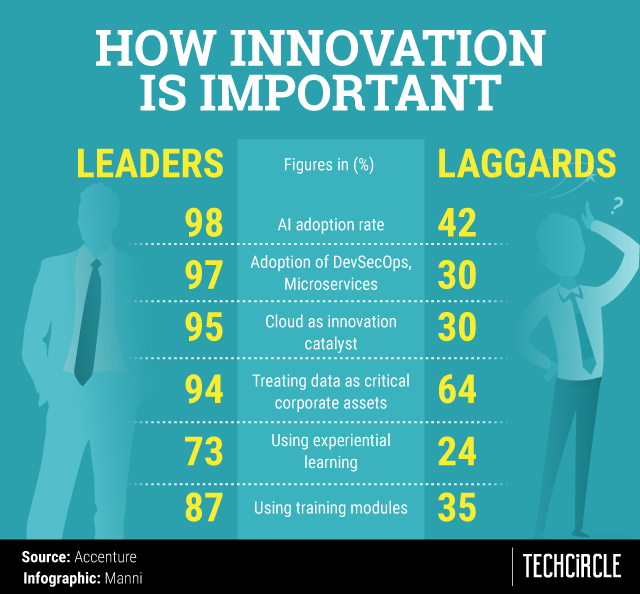 The study scored companies on the basis of the level of technology adoption and the organisation's readiness to adopt new solutions. Based on the scores, the top 10% were categorised as leaders while the bottom 25% were termed laggards.
It pointed out the direct relationship between technology adoption and business growth, with leaders growing at double revenue as compared to laggards.
Accenture also said that in 2018, laggards had surrendered an estimated 15% of extra revenue growth by not scaling technology and will potentially miss out on close to 46% revenue gains by 2023.
"Today's C-suite is investing staggering amounts of money in new technology, but not every company is realising the benefits of innovation as a result of those investments," said Bhaskar Ghosh, group chief executive, Accenture Technology Services.
Ghosh also said that the newest research revealed the world's leading companies were investing in adaptable and radically human systems to "maximize innovation, business performance and value."
---