The ongoing rivalry between Walmart-owned Flipkart and Seattle headquartered Amazon for dominance in share in India's booming ecommerce market continues to strain the financials of the two players. Earnings for financial year 2018-19 (FY19) show that their bottomlines remained under pressure despite generating higher revenues.
A closer look at the latest financials of the two companies show that the losses were an outcome of higher spends on logistics, people and advertising or marketing costs as the two entities focus on expanding their presence in Bharat cities.
Flipkart Internet, the entity that operates the Bengaluru-based company's retail or B2C marketplace, reported a higher growth rate at 57% in its topline compared to the 54% reported by Amazon Seller Services. However, in absolute terms, Amazon's total revenue was higher at Rs 7,593 crore against Flipkart revenue of Rs 4,804 crore.
Although both ecommerce majors posted losses, Amazon has managed to reduce operational losses on a year-on-year basis by containing the magnitude of costs. In FY19, Amazon Seller Services reported a 24% increase in logistics costs to Rs 3663 crore and a 14% increase in employee costs to Rs 1,183 crore. Advertising costs rose 10% to Rs 2,331 crore.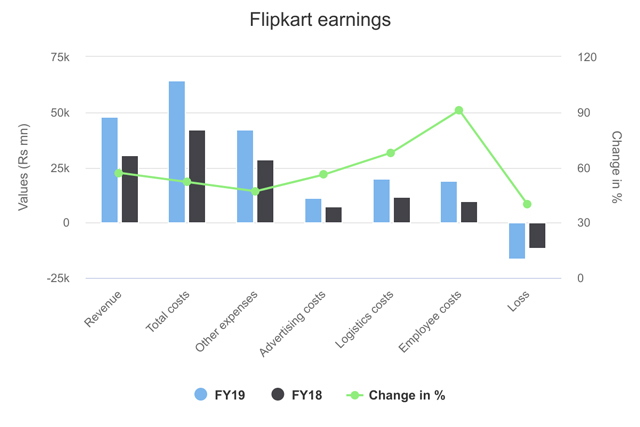 Flipkart, on the other hand, reported higher escalations across three major cost heads -- employees, logistics and advertising -- leading to widening of losses. It saw a nearly two-fold increase in its employee expenses to a massive Rs 1,889 crore and a 68% increase in logistics costs to Rs 1,998 crore. Advertising expenses rose 56% to Rs 1,141 crore. Flipkart's higher losses can also be related to heavy discounts offered during the festive season.
Both players increased the hiring of part-time workers, especially for delivery, strengthened their warehouse infrastructure and increased marketing budgets during the festive season. Buying activity typically spikes manifold during the festive season, which is usually around September and October.
Flipkart has been consistently ahead of its closest rival Amazon during the festive season, registering higher gross merchandise value (GMV) for several years now. Flipkart accounted for 51% of the overall GMV in 2018 while Amazon accounted for 30%, according to a Redseer Consulting report.
Despite being in the red, Flipkart and Amazon continue to receive fresh capital infusions from their parent companies. This year, Walmart has infused $200 million in Flipkart, the first since the acquisition of the company in August 2018. Also, Amazon is said to have infused $600 million in its Indian subsidiaries.
---