Ola separates financial services arm from parent ANI Technologies; Amazon India to add bus, train, hotel bookings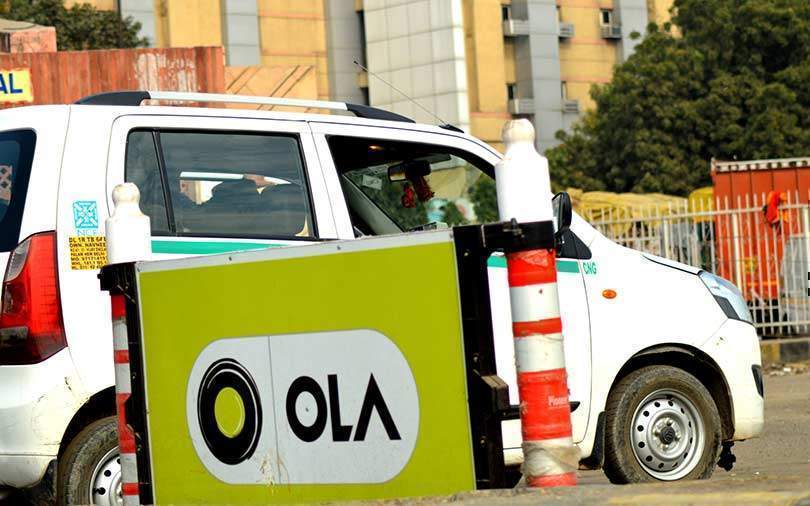 Photo Credit: VCCircle
Ride-hailing company Ola has separated its financial services from its parent, ANI Technologies. Ecommerce major Amazon's India unit plans to add bus, train and hotel bookings to its platform.
Ola separates financial services arm from parent ANI Technologies
Ride-hailing major Ola has moved its financial services arm of parent ANI Technologies, The Economic Times reports.
The aim is to raise funds separately for the entity.
This move is a part of Ola's strategy to enter different segments other than ride-hailing business, it added.
It will compete against Paytm, PhonePe, AmazonPay and Google Pay, in this segment.
Amazon India to add bus, train, hotel bookings
Ecommerce major Amazon's India unit plans to add bus, train and hotel bookings to its platform, according to a report by The Economic Times.
Amazon plans to roll out bus-booking via redBus, whereas it is in talks with other platforms to bring hotels and train ticketing on the platform. the report said.
This move is Amazon's strategy to add new services that can be availed within the app or its website, the report added.
Govt-run health portal's negligence risks 2 mn lives
Cybersecurity researcher Avinash Jain has said that a government-run health portal that was launched in 2014 risked data of around 2 million people registered on the site, The Economic Times reports.
The security flaw in the Online Registration System (ORS) website allowed access to patient details, including full names, addresses, age, mobile numbers, appointments, UHID, partial Aadhaar numbers, and disease details, Jain told ET.
Jain added that the bug was fixed in October last year, three weeks after alerting the Indian Computer Emergency Response Team (CERT-In).
CERT-In is the country's nodal cybersecurity agency.
Twitter-backed ShareChat to monetise platform this quarter
ShareChat, run by Mohalla Tech, plans to offer paid advertisements on its platform as soon as next month
ShareChat, despite having seen early user growth and heavy investor interest, faces pressure to monetise its platform
Twitter-backed regional language social network ShareChat plans to monetise its platform this quarter, and is currently engaging with advertisers after its losses bulged 12 times for the last fiscal, the Mint reports.
Founded in 2015 by three Indian Institute of Technology (IIT) Kanpur alumni Ankush Sachdeva, Farid Ahsan and Bhanu Singh, ShareChat is a social networking and regional content platform. It offers the content consumption and sharing platform only in Indian vernacular languages serving over 1.17 billion wireless network users of India.
Online rummy companies set up TRF to self-regulate the sector
The Rummy Federation (TRF), an association of companies offering card-game Rummyonline, has set up a self-regulatory body, The Economic Times reports.
Ankush Gera, founder and CEO of Junglee Games said that this self-regulatory body will enable transparency and integrity of systems.
It aims to enforce a range of measures to enhance the credibility of operators, the report said.
The body will keep a check on a range of issues which include disallowing underage players, ensuring fairness and transparency, preventing fraud and money laundering.
The federation will also keep a check on vulnerable or addicted players, it added.
Haptik ropes in Saumil Shah as vice president of engineering
Reliance-owned conversational artificial intelligence platform Haptik has roped in Saumil Shah as vice president of engineering. He will be based in Haptik's headquarters in Mumbai.
Shah joins Haptik from Box.com and will report directly to the co-founder and CTO Swapan Rajdev, Haptik said in a statement.
He will be responsible to run end to end engineering and product delivery, the statement added.
Student housing startup Stanza Living appoints three senior executives 
New Delhi-based student housing startup Stanza Living has appointed three industry veterans to boost its leadership team.
Ranju Goyal has been hired as general counsel, Kanishka Mazumdar as vice president of food and beverage and Nitin Mohan Srivastava as vice president of growth strategy, Stanza Living said in a statement. 
In the new role, Goyal will lead the legal advisory function at Stanza Living and provide guidance on business strategies, statutory and regulatory compliances, and risk management. 
Mazumdar will lead the building and growth of a consumer-focused food and beverage vertical, whereas Srivastava will spearhead the growth strategy efforts of the company, with a dedicated focus on driving technology-enabled rapid-scale transformation of real estate supply to consumer-focused spaces, the statement added.
India-based online fitness community Squats selected for Y Combinator's batch of 2020 
Fittr app, backed by Pune-based online fitness community Squats, has been selected for Y Combinator 2020, a US-based start-up accelerator that selects the most promising start-ups to fund from across the globe. 
Fittr joins the league of RazorPay, Meesho, and Cleartax, who had joined the Y Combinator network so far from India.
As part of the deal, Y Combinator will offer seed funding for the startup. The founders of each startup are invited to move to the Bay Area for the duration of their cycle. During this period, YC works with them to help them realise their vision.
Launched in 2005, Y Combinator is an American seed accelerator and has so far launched over 2,000 companies including Stripe, Airbnb, Cruise Automation, DoorDash, Coinbase, Instacart, and Dropbox. The combined valuation of the top YC companies is over $155 billion.
Comment(s)