Meet the first 20 startups from the maiden 100X.VC cohort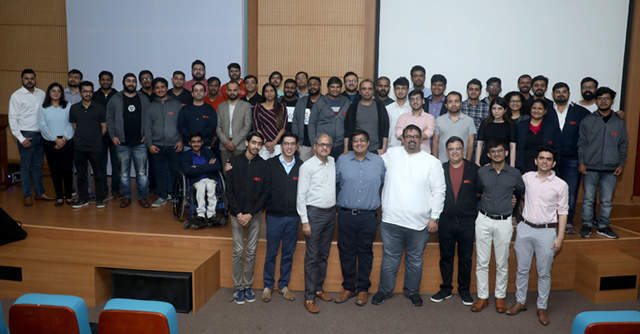 100X.VC, the seed investment firm launched by angel investor and serial entrepreneur Sanjay Mehta in July this year, has unveiled the first 20 startups from its maiden cohort.
In October, the firm said it would launch 100 startups at a mega investor pitch session in the first week of December at IIT Delhi. The firm claims to have received over 2,000 applications for the programme. About a third of the applications came from the consumer goods and services space, followed by the B2B software sector at 22%, and 7% from the healthcare domain. Other sectors that drew pitches included automotive, agri-tech, blockchain, governance, ed-tech and fintech.
The sector-agnostic fund invests between Rs 22 lakh and Rs 1 crore in seed stage startups through India Simple Agreement for Future Equity (i-SAFE) notes. These notes, which are similar to compulsorily convertible preference shares (CCPS), comply with Indian laws and do not require the startup founders to share the pre and post-money valuation. Using iSAFE, 100X.VC aims to back 100 startups every year.

Set up by Mehta's family office, Mehta Ventures, 100X.VC is registered as a Category 1 Alternate Investment Fund with the Securities and Exchange Board of India (SEBI).
As an angel investor, Mehta has backed close to 130 companies such as food delivery platform Box8, hotel chain OYO and logistics solution company LogiNext, among others.
Listen: Ideas may fail but there are no rogue founders: Sanjay Mehta, 100X.VC

Here are the first 20 startups from the maiden 100-startups cohort:
Litifer: Gurugram-based Litifer was founded by IIT Roorkee alumni Kishlay Kishore and Vivek Baghotia in 2019. It's an information technology and services startup that develops artificial intelligence-based voice interactive toys for the age group of 4-10 years.
Decadenz: Gurugram-based Decadenz was founded in 2017 by Pratik Marfaita and Sneha M. The company is into consumer goods that makes chocolate-based products.

The Renal Project: Mumbai-based Renal Project was started by Shashank Moddhia in 2019. It's a healthcare startup that runs a chain of dialysis micro-centers.
Pickright: Bengaluru-based Pickright was founded in 2019 by Archana E and Namandeep Bhatia. It's a fintech platform that connects investors and financial analysts for financial advisory services.
Dhiyo.ai: Dhiyo is a Bengaluru-based company founded in 2018 by Santhosh SS. It is a HR-tech platform that relies on multilingual conversational AI-powered technology to employ the blue collar workforce.

Finline: Finline is a Kerala-based startup that was founded by Hari Sasi and James Dominic in 2018. It's a platform which claims to help entrepreneurs to create different types of financial documents in order to get a bank loan or investment.
Cymour: Pune-based Cymour was founded in 2011 by Aniket Mahashabde. It's a bicycle-sharing platform that deploys cycles for private sharing inside gated premises.
SNUG: The company was founded in 2019 by Rajesh Chokhani, Jayshree Nayak and Manish Deora. It connects talent experts to people through a platform, enabling customers to meet talented people in one's area, over a coffee, on-demand.

AgriGator: Bhopal-based AgriGator was founded in 2019 by Udit Sangwan and Charu Chaturvedi. It's a startup that connects traders, processors, wholesalers, and carriers for making the agri-supply chain efficient and transparent.
DOC32: DOC32 is a Pune-based startup funded in 2018 by Hitesh Kakrani. It's a dental care company leveraging technology to connect patients with dentists and clinics.
RoadMetrics: RoadMetrics was founded by Dipen Babariya, Nikhil Prasad Maroli and Mishal J in 2019. The Bengaluru-based company claims to provide an accurate, efficient and portable deeptech solution to measure road conditions and improve public safety by aiding accelerated road maintenance.

Reko.Social: Mumbai-based Reko.Social was founded in 2018 by Vipin Ravindran, Naveen Ravindran and Roshan Sathyanarayan. It's an automated influencer marketing platform, which creates an auction-based marketplace with an AI-based scoring system.
Foodmonk: Bengaluru-based Foodmonk was founded in 2015 by Abhishek Chaudhary and Bhanu Chaudhary. It's an online catering technology company that provides end to end solution for cafeteria management to corporates and institutions.
Datasutram: Kolkata-based Datasutram was founded in 2018 by Rajit Bhattacharya, Ankit Das and Aisik Paul. The company uses its proprietary AI tool to gather intel from external data to provide location based data intelligence.
Karnival: Gurugram-based Carnival was founded in 2017 by Siddharth Mishra. It's a sales and marketing platform that personalises e-invoices for companies, specifically brick and mortar retailers.
Bueno Finance: The company was founded by Sandeep Arora and Saurav Gandhi in 2019. It's a credit building platform for blue collar workers that claims to incentivize right financial behavior to improve long-term financial health of the customers.
Knorish: Gurugram-based Knorish was founded in 2016 by Kinner N Sacchdev. It's an online e-learning platform to create courses, market & monetise an online academy for branded digital coursework with UI (user interface) integrations.
Pocketly: Bengaluru-based Pocketly was founded in 2019 by Aarav Bhatia. It's a microlending platform that focuses on college students and building a financial ecosystem around them.
Alluzo: Alluzo was founded by Vivek Kumar and Ashutosh Pathak. It's a digital multilingual receipt book that helps small businesses generate and send invoices digitally.
FnV Farms: Mumbai-based FnV Farms was founded by Farheen Jamal and Suhaas Vaddi in 2019. It's a daily needs delivery service provider that specialises in delivering fruits and vegetables, sourced directly from the farm.
---