Star India owned OTT (over the top) video streaming platform Hotstar has managed to percolate down to non-metro markets this year. Small towns trumped metro cities in terms of viewership, mirroring the rising demand for regional content.
Out of the overall online video consumption by the users on platform, 63% came from non-metro cities including Lucknow, Pune and Patna against 54% last year, Hotstar revealed in its India Watch 2019 report today.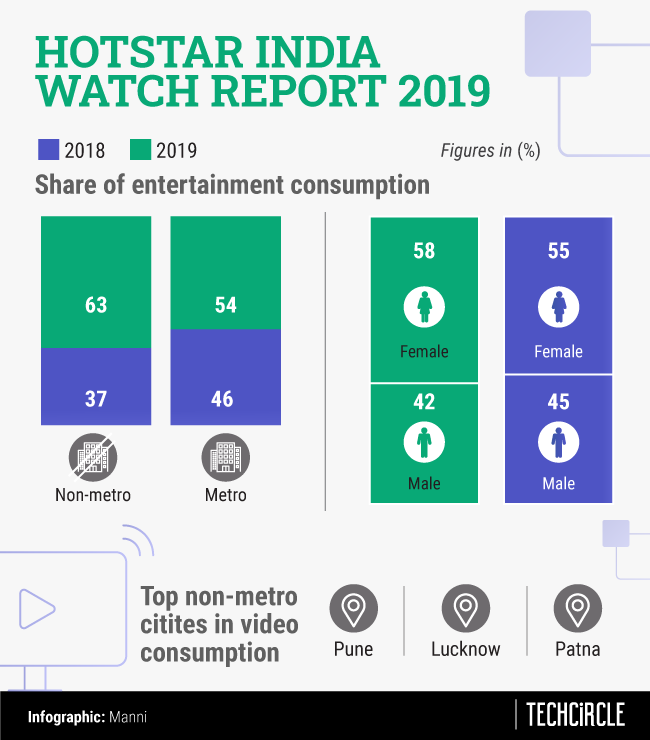 Online video consumption in the non-metro markets surpassed that of metro cities, which declined to 37% in 2019 from 46% a year ago. Out of the total consumption, over 40% of came from regional language content such as Tamil, Telugu and Bengali.
Going forward regional language content will be a key driver as viewership in regional languages is growing massively, said Uday Shankar, APAC chairman, Star and Disney India, during an interaction in Mumbai after the release of the annual report.
"All that growth is turbocharged in the content through Hotstar. That is one of the big advantages (it has). We have a massive library of local content that we produce along with the library we have created all these years and has been in the country," he said.
Hotstar crossed 400 million downloads in 2019 and claims to be one of the most downloaded apps in India with app installations increasing two-fold and 555 installations a minute.
The platform also saw a 3X growth in consumption in 2019 with 300 million users viewing the Indian Premier League and 100 million live viewers in a day throughout Cricket World Cup in 2019, said the report.
A Counterpoint Technology Market Research report in June said Hotstar was the most popular OTT platform, followed by Amazon's Prime Video, SonyLIV, and Netflix. Realising the higher demand for localised content, US-based Netflix had said that it would create localised content.
Read: Netflix, Hotstar are on a spending spree to win India's OTT sweepstakes
Shankar is confident that despite the recent data tariff hikes by telecom companies, the growth trajectory of the OTT platform will continue as data prices are unlikely to climb back to unaffordable levels. This month, almost all telecom operators increased prepaid data prices by 15-47% after a period of heavy price cuts since 2016.
---