What deep-tech startup Steradian has in common with Iron Man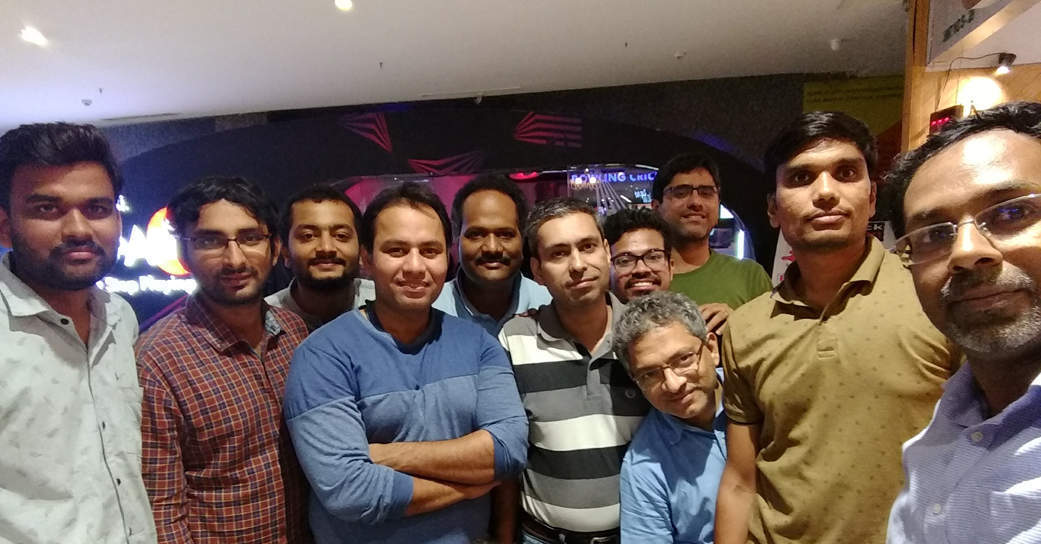 Google pulled one right out of the Marvel universe this October when it launched its Pixel 4 smartphone. The smartphone comes with a motion sensor capability that lets users control it through hand gestures, just like Tony Stark, aka Iron Man, does in the movies.
But why are we talking about animation superheroes?
The motion sensor capability in Pixel 4 is the product of a uniquely advanced radar technology, one very similar to the radar systems used at airports to detect aircraft. This state-of-the-art technology has a bunch of use cases within the fields of automotives, consumer electronics, defence and healthcare.

Steradian Semiconductors, a 4D imaging radar technology startup tucked away in Bengaluru, uses that same technology to deliver various applications for the automotive sector.
The four-year-old startup designs the primary sensors that go into autonomous vehicles to help them seamlessly navigate through static as well as moving obstacles.
The key to understanding what Steradian does lies in understanding how the radar imaging technology works.

Back to the Marvel analogy, Google's Pixel 4 perhaps derives its inspiration from Marvel character Tony Stark commanding his AI (artificial intelligence) powered smart computer, Jarvis, with mere hand gestures. Pixel 4 uses a chip named Soli that houses the sensor and antenna array in a very compact 8 millimeter by 10 millimeter space. Soli emits electromagnetic beams into the wide space around it. Any hand gesture within this radar sends waves reflecting back to the sensors in Soli, which then uses a smart algorithm to detect what directions the user wants to command.
Steradian's sensors work on a similar principle, using reflected waves to reconstruct and convey images of the upcoming obstacles to the navigation system. The accuracy of these sensors, Steradian's co-founder and chief business officer Ashish Lachhwani says, have been the startup's major focus right from the beginning.
"We realised that the primary thing missing were good sensors that can replace human beings. When human beings drive, it comes inherent that we see and take decisions in real time. So seeing things and perceiving them to a very accurate degree is a primary requirement for us to drive on roads. We need sensors that can smartly do exactly that," Lachhwani explains.
The technology that Steradian is working on is based on a slightly advanced mechanism of radar imaging and real-time image reconstruction by machine learning algorithms.
Take the instance of a cyclist and a car on a road. "The vehicle sensors, although prevalent for many years, are incapable of accurately mapping the movement of the cyclist and the car distinctly through every passing second. Imagine taking pictures with a poor camera with very bad resolution. The images mapped by the conventional sensors are exactly like that, lacking good pixel quality. Reconstruction in real time thus becomes a pain through these archaic sensors," he says.

Steradian's radar imaging claims to have massively improved the resolution by using very compact 28Nm millimetre wave imaging radar chips to maximize pixels per square millimetre. This enables a very large number of antenna sensors which in turn enable 4D imaging through radar, a technique that transforms the radar from simple obstacle detection tool to an all-weather mapping system.
"The potential applications this technology offers are manifold, and we are just getting started. We are still in the trial phase, wherein we are onboarding multiple OEMs (original equipment manufacturers) on a contractual or royalty basis," Lachhwani says.
Indore-born Lachhwani, an IIT Madras alumnus, spent more than 12 years at Texas Instruments and Qualcomm, before getting together with former colleagues from Qualcomm to start Steradian in 2016.

"I always had an ambition for entrepreneurship and so when I was done building ICs at Qualcomm, I knew I had to jump into something innovative and exciting," he says.
The Steradian founding team brings impeccable credentials to the table. CEO Gireesh Rajendran is a veteran RF (radio frequency) engineer and has about 35 patents to his name. CTO Apu Sivadas, also the oldest in the group, had worked extensively in Canada and successively led operations at Texas Instruments and Qualcomm. Among the remaining founders, Rakesh Kumar is the startup's chief product officer and Alok Joshi is vice president, engineering.
The group briefly worked together at Texas Instrument where they were primarily involved with wireless technologies such as WiFi, Bluetooth and GPS until 2013. Then each moved on to Qualcomm at different capacities and time and went on to establish the Qualcomm India centre together where they worked on 3G, 4G and other cellular technologies. It was at that juncture that the five colleagues started to contemplate looking for the next opportunity. They found it in the automotive sector where the concept of driverless cars was gaining steam and manufacturers such as Tesla were cashing in on the opportunity.

"Autonomous technology is at the cusp of revolutionizing several fast-growing industries, of which auto and transportation are the early adopters with dominating market share. Steradian's ability to build a high-resolution, scalable and low-cost imaging radar chip, in a highly capital-efficient manner, puts them in a leading position globally," says Abhishek Srivastava, director at Endiya Partners.
Hyderabad-based venture capital firm Endiya invested an undisclosed sum in the startup last July as part of its seed round. US-based automotive electronics supplier Visteon participated in the round.
Today, the startup employs 30 people and plans to scale the team and production from next year as they look to step into the commercialization phase.
Steradian's 4D imaging radar is an evolving technology and the startup is reportedly in talks with several auto manufacturers for its adoption. Lachhwani says they has two selling points (products) that they are looking to market. One is the in-house designed chipset (ICs) made of semiconductors, and the second is the 4D imaging radar technology with real time reconstruction algorithm.
The startup has, to date, partnered with two US-based companies to further its business. One is Visteon, which supplies to several global OEMs, and the other is California-based semiconductor solutions company IDT (Integrated Device Technology), which partnered with Steradian to power its commercial ICs.
Other than these, Steradian has partnered with Renesas, a Japanese semiconductor manufacturer that helps manufacture its devices. Steradian has also contracted Renesas to market its devices in the open market and charges a fixed royalty on every sale. It has a similar agreement with Visteon. Other than royalties, Steradian works on a varied pricing model which includes fixed product and customization prices.
It took Steradian about a year and a half to sign its first contract in semiconductors (chipset) and about two and a half years to onboard its first radar imaging client. The company has five customers to date. "It is an evolving technology and unfortunately, there isn't a solid ecosystem around semiconductors. India is still waking up to it. So there's a lot of catching up that happens when we go to pitch our technology," says Lachhwani.
Owner of 10 patent pending technologies, Steradian's competitors are mostly, and not surprisingly, companies in the US and Israel. "Several new players have also started catching up to the technology and are building solutions around imaging radar space" Lachhwani adds.
In terms of additional funding, the startup, expecting a growth peak in the next year, startup aims to raise a Series A round from a mix of existing and new investors. The fresh funds, Lachhwani says, will be used to fuel volume production and commercialization.
---