Temporary ban, monetisation, new appointments, and a more than friendly spat with rivals. Short video platform TikTok saw it all in 2019. For the uninitiated, TikTok is a platform where 18-25 year olds lip-sync their feelings and everything from heartbreak to weddings are captured as short video clips.
It is difficult to miss the app if you are in India. According to data shared by Sensor Tower, the largest number of unique installs of TikTok at 466.8 million come from India. This is across the Apple and Google Play app stores and beats China and the US, the other major markets for the app.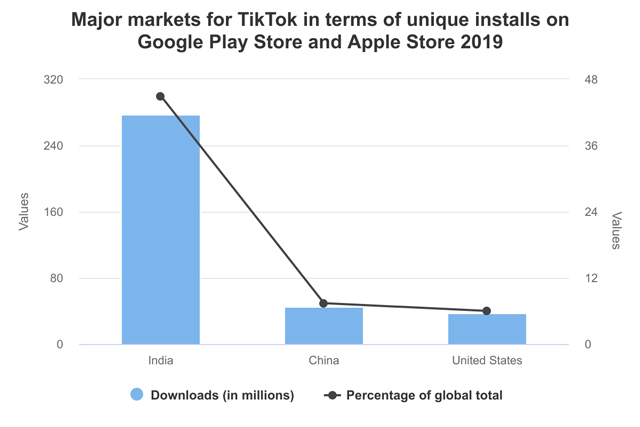 It is notable that the app has been around in the Indian market for barely two years.
The report which covers the period January to November 2019 says that TikTok is the third most downloaded non-gaming app globally behind WhatsApp and Messenger. India contributed to 277.6 million or 31% of the total 614 million downloads globally through the same period. The nearest contender is China, contributing 11.5%.
According to the numbers shared by the company with TechCircle, "TikTok has over 200 million users and 120 million monthly active users (in India)," and it considers India one of its strongest markets.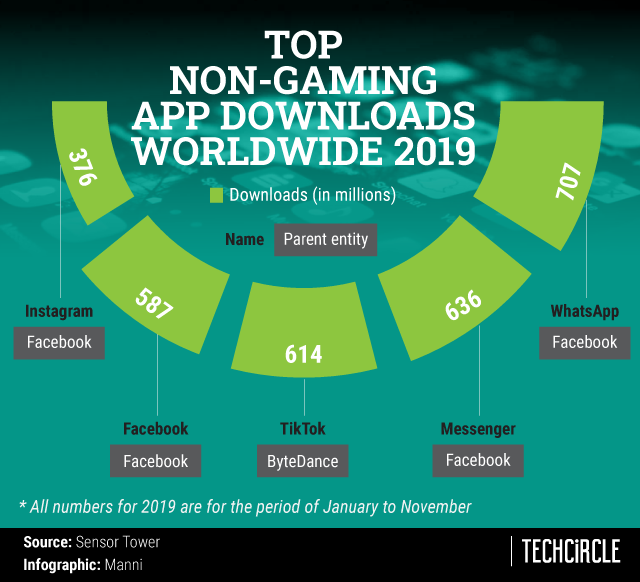 Though 2019 marked a breakout year for TikTok in terms of popularity and garnering over 200 million registered users in India, it also came under fire for hosting obscene content and was temporarily banned by the Madras High Court in April. The decision was reversed within a week of the central government directing Google and Apple to prevent the download of the app from their app stores.
TikTok parent, Beijing-headquartered internet company ByteDance was also questioned on the nature of data collected by its portfolio of catchy, youth-centred apps including TikTok, chat app Helo and short video platform Vigo Video in India, and data localisation. The company recently launched a subscription based music app, Resso, living up to its name of the 'app factory'.
The app did well on splurging marketing dollars by advertising in prominent broadsheets and video platform YouTube to deflect all the criticism. It has also been running campaigns including #EduTok for educational videos through tie-ups with edtech companies, #Skills4All in partnership with National Skill Development, #CleanIndia in partnership with Bhumi Foundation for contributing to Swachh Bharat Mission, among others.
In the middle of all this, TikTok also managed to start monetising the platform in India with the launch of its digital advertising solutions for brands through hashtag challenge, brand takeover and in-feed native videos for marketing.
"TikTok's immersive, short-form videos enable brands to express their content and voice creatively by using native formats, to reach new audiences, build brand affinity, and drive traffic off-platform," said the India spokesperson for the company in response to queries on how the initiative was shaping up.
The coming year may well be a defining moment for the app as political parties and publications have started advertising with the platform, recognising its potential. It would be interesting to see how it crosses the regulatory and commercial hurdles.
Highlights of the wave TikTok rode this year in India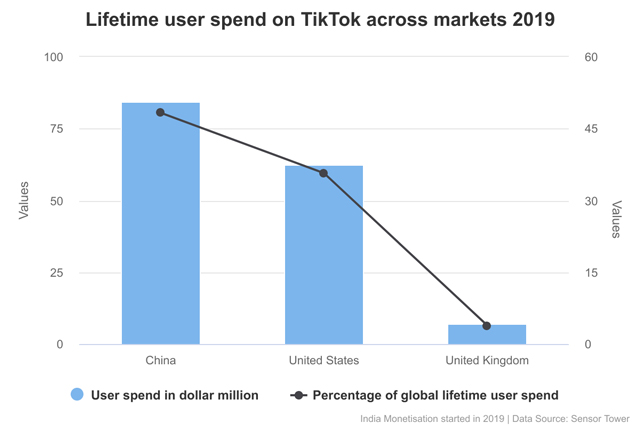 February: Short format video apps Kwai and VMate ceded ground to TikTok as the number of monthly active users in India for TikTok reached 52 million, according to a report in FactorDaily. The number of paid content creators dipped on competing platforms as the apps took a step back on spending and Kwai also came under fire for obscene videos of children.
Parallely, the Tamil Nadu assembly discussed banning TikTok as short video content apps were accused of hosting obscene content and "cultural degeneration".
April: The Madurai bench of the Madras High Court directed the centre to ban TikTok from app stores, citing "circulation and distribution of inappropriate and explicit content harmful for children". The bench was hearing a petition filed by Madurai based lawyer and social activist, Muthu Kumar. The court also prohibited videos from the app being shown on broadcast TV.
May: TikTok owner ByteDance appointed Sameer Singh as vice president of monetisation for India. Singh was previously the South Asia chief executive for media buying firm GroupM. He leads advertising, sales and marketing strategies for all of ByteDance's content apps in India.
May was also the time of general elections in India and the app saw 'volunteers' from various political parties engaging on the app, though none of the parties have a direct presence on it. The IT and social media cells representing multiple political parties 'encouraged' volunteers to create content on the app for outreach and engagement with non-metro audiences in their language.
July: Another run in with regulators, this time the Ministry of Electronics and Information Technology (MeitY). Acting on a complaint made by RSS affiliate Swadeshi Jagaran Manch, which alleged that the app along with another ByteDance platform, Helo, were being used for promoting 'anti-national activities', MeitY sent TikTok and parent ByteDance a list of 21 questions.
The questions included norms being followed by TikTok and Helo for data localisation, the nature of data collected by the apps and security features and content moderation among others. TikTok claimed an 'intermediary' status stating that it acted as a mere platform.
In its response, ByteDance also said that it was in the process of setting up a data centre in India in recognition of the country's requirements on data localisation.
The Supreme Court also refused TikTok's plea to transfer the ongoing case at the Madras High Court to the apex court for hearing.
August: TikTok was caught in regulatory cross-fire again after it asked Indic language messaging app ShareChat to take down content posted by TikTok's users. Twitter-backed ShareChat wrote to MeitY contending that the 'exclusivity' of content cannot be applied to TikTok if it claims to be an intermediary.
This led to MeitY questioning TikTok's claims of being an intermediary.
The TikTok India spokesperson told TechCircle, "We do not compensate creators in any way to create any specific type of content and do not exercise any editorial control over the content created on our platform. However, the platform provides an opportunity to users with a sizeable following to regularly share and forward content on the platform exclusively."
The spokesperson further added, "We may choose to collaborate with such creators, in line with standard marketing practices in the industry, to promote usage of the platform, make the platform more vibrant and encourage full realisation of the potential of the platform."
October: Long after elections were over and sister app Helo faced music from the government for posting unverified political ads, TikTok said that it would ban paid political ads from its platform globally.
"We will not allow paid ads that promote or oppose a candidate, current leader, political party or group, or issue at the federal, state, or local level, including election-related ads, advocacy ads, or issue ads," said Blake Chandlee, vice president of global business solutions at TikTok, in a blog.
The app also appointed former president of Times Group, Nikhil Gandhi as its India head and announced a slew of campaigns for suicide prevention, educational videos and awareness on malnutrition on its platform.
November: TikTok officially launched its ad platform at the Ad:tech event in Mumbai with a clear view to monetise. In subsequent interviews, Sameer Singh, vice president of monetisation for the app in India, said that the app was seeing repeat participation from brands for its advertising product. Some of the brands that work with the platform include Zomato, Amazon, Flipkart, Pepsi, Snapdeal, Oppo, Khatabook and others.
A report in The Economic Times quoted campaign strategist saying that they were looking to amp up their presence on the platform after initial success in general elections. It did not specify how it complies with TikTok's ban on paid political advertising.
---