Early stage investing in India this year is expected to remain robust with venture capital (VC) investors sitting on an estimated $7 billion in yet-to-be deployed capital, according to a report by Bain & Company in collaboration with the Indian Private Equity & Venture Capital Association (IVCA).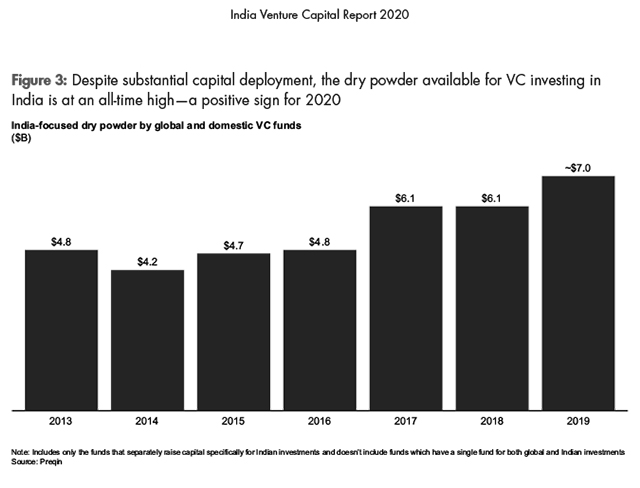 The dry powder is expected to encourage such investors to carry through the investing momentum from last year which saw $10 billion put to work in this market, a 55% jump from the previous year, the report said.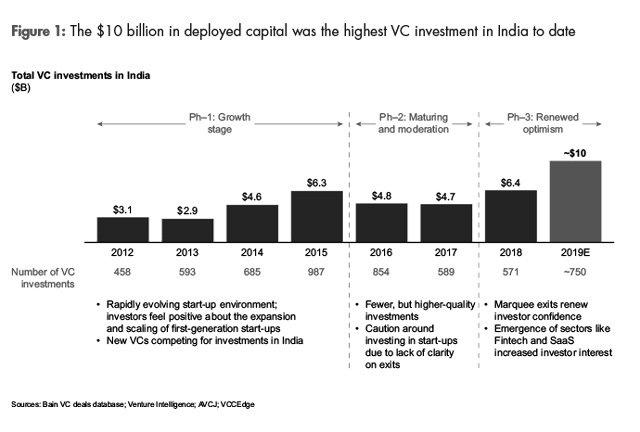 The spike in investments was chiefly driven by increased deal volumes and larger deal ticket sizes, both noting a 30% and 20% growth respectively over the previous year.
Exits in 2019 mirrored the 2018 momentum, with secondary sales emerging as the top exit mode and the average exit value at $39 million.
"Despite the global economic climate, India's startup and VC ecosystems continue to thrive as investors take a long-term view based on the country's growth potential. We go into 2020 with record-high levels of dry powder, counter-balanced with caution and an underlying optimism in the long-term potential for the ecosystem," Arpan Sheth, partner, Bain & Company said.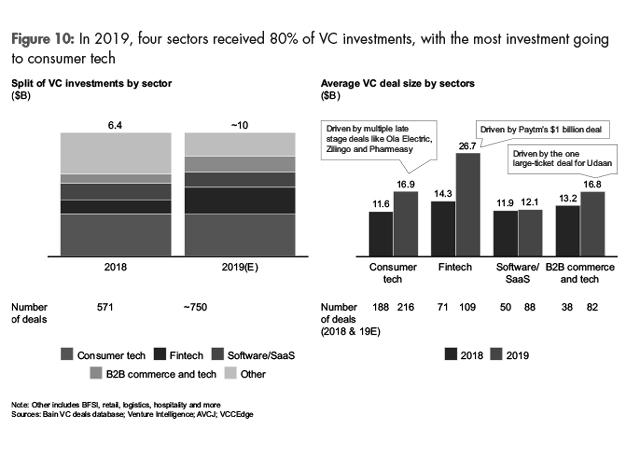 The report also pointed out that about 80% of investments during the year went into four sector groups -- consumer technology, software SaaS, fintech and B2B ecommerce and technology. While the consumer technology sectors claimed the largest chunk at 35% of total investments, deal sizes in the sector scaled to as much as $150 million.
"The Indian VC industry had a landmark year in 2019. However, India-focused VC investments raised less funds this year, the fundraising outlook for 2020 remains positive among both LPs and GPs. Following the brief moderation that we saw between 2015 and 2017, the VC industry in India has been in a renewed growth phase and we see that continuing. As far as startups are concerned, we have seen a growth in both the number of startups as well as funded startups," Sriwatsan Krishnan, partner, Bain & Company and co-author of the report said.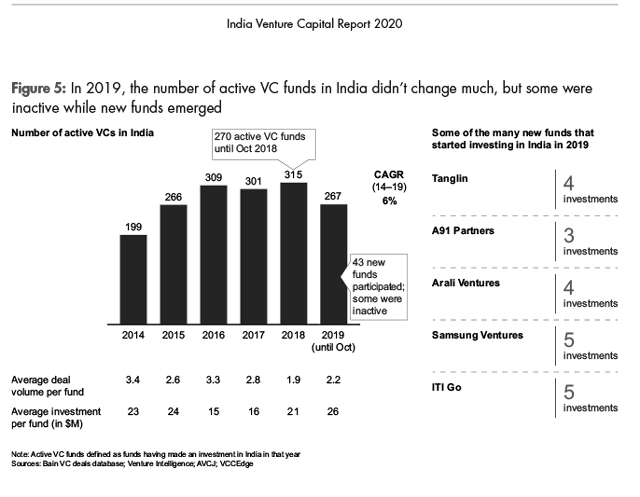 The last 12-18 months have seen a number of India-focused firms raise new funds while several others are currently in the market for the same.
Last month, Blume Ventures closed its third fund, dubbed Blume Ventures Fund III, at $102 million, taking the Mumbai-based venture capital firm's total capital under management to about $220 million. In January, New York headquartered Tiger Global Management raised a $3.8 billion global fund. The new fund comes at a time when the firm is on a renewed investment run in the Indian early stage market with a specific focus on B2B startups.
By TechCircle's estimates, well over $2 billion was raised in fresh capital commitments by a multitude of venture capital firms in 2019. Accel closed its sixth successive India-specific fund at $550 million, taking its overall assets under management here to more than $1.5 billion.
Lightbox closed its third India-focused fund at $209 million. FMCG player Wipro Consumer Care and Lighting entered the market last year with the launch of a $28 million maiden fund to invest in startups focused on consumer brands, consumer technology startups and innovative distribution technologies and solutions.
---