Bike rental platforms Bounce and Yulu, and bike taxi platform Rapido have shut down operations in several cities. The Covid-19 lockdowns and social distancing advisories from the government have led to a dip in rides.
"Supporting the Karnataka state government mandate, Yulu services will be unavailable in Bangalore till further notice. We'll be back soon! Stay safe," read a notice on micro-mobility platform service Yulu's smartphone app on Tuesday afternoon.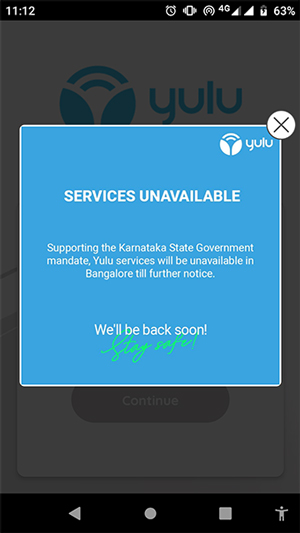 "With the announcement of lockdown in almost all states we have suspended our services in all our operational cities… We support the move to enforce travel restrictions in various states and feel the only way out to prevent the spread of this pandemic," a Yulu spokesperson told TechCircle.
TechCircle has also reached out to another bike rental platform, Vogo for comments on the status of operations. This article will be updated when we hear back from them.
Two wheeler rental services startup Bounce declined to comment on whether the platform has suspended its services across India. However, a person privy to developments at the company who requested anonymity said "as of now, we aren't operating. We are following instructions and this is in line to the recent order passed by the government."
In its official response to TechCircle, a Bounce spokesperson said, "We are working with the government to make Bounce as an essential service. Bounce is the safest mode of commute due to the lack of human element. We believe at times like these, we need to be available for emergency purposes."
Also read: Uber suspends services across cities in India; Ola continues to run minimal services for essentials
Bike taxi operator Rapido has suspended operations in all cities that have a section 144 declared by state governments. The platform has deployed fewer than 5% captains near hospitals and emergency areas, co-founder Aravind Sanka told TechCircle.
"... we will suspend that too," Sanka added.
A captain is a Rapido partner who offers rides on its platform. The platform has over 1,00,000 registered captains, according to its website.
Rapido is present across 90 cities in India and none of the cities are currently fully operational.
Section 144, a part of the Code of Criminal Procedure, which prohibits assembly of five or more people, holding of public meetings, and carrying of firearms, has been declared across major metropolitans such as Delhi and Mumbai.
The highly contagious Covid-19 or Corona Virus Disease-2019 has spread to over 170 countries within a period of 85 days since its outbreak. India has so far reported at least nine deaths and over 500 detected cases of the infection.
Several countries have recommended social distancing as a way to reduce infection rates.
---