Grocery delivery services across ecommerce platforms have been severely affected due to supply shortage and precautionary actions from local authorities and police forces in the wake of a nationwide lockdown.
Although the guidelines issued by the central government allow ecommerce companies to deliver essential goods such as food and medicines during the lockdown, several ecommerce firms have raised the issue of police crackdowns disrupting their operations even as delivery has been classified as an essential service.
In an obvious act of overreach, police personnel have been blocking trucks carrying essential items, shutting down warehouses and stopping delivery executives.
Meanwhile, inter-city transportation of goods and services as well as the movement of goods from central godowns to delivery hubs have been affected resulting in a breakdown of supply chains for ecommerce players.
BigBasket, the market leader in the grocery segment, has suspended operations as its website and mobile app crashed owing to heightened demand. Though it resumed operations, the services are now restricted only to existing customers. Even for existing users, delivery times are extended.
"The key challenge in the field is that sometimes our delivery partners are getting stopped by the police, and some of them have even got beaten up by the police for no fault of theirs. It will help to have better coordination between the Centre and State, and between the State and local police, to ensure that our delivery vans and bikes don't get stopped by the police," BigBasket said in a statement in response to a TechCircle query.
"Our suppliers have been working closely with us to cater to this. However, meeting this demand requires adding bikes, vans, and manpower, and while we are trying, it's difficult to do this in a short period of time. Therefore, what we are trying to do is to only accept as many orders as we are able to service while maintaining a high level of service for our customers," the company said.
Gurugram-based Grofers shut its delivery services due to severe supply and operational issues across its markets. "We will start accepting orders and delivering your essential groceries at the earliest. Local authorities are helping us in restarting our operations," the company announced on Twitter.
We will start accepting orders and delivering your essential groceries at the earliest. Local authorities are helping us in restarting our operations. We thank you for your patience and look forward to serving you soon.

— Grofers (@Grofers) March 25, 2020
The company's warehouse in Faridabad, Haryana, was closed down by local law enforcement, but was opened later.
Online milk delivery company Milkbasket informed its users that it wouldn't be able to deliver products in Gurgaon, Noida and Hyderabad on Wednesday after the company was forced to dump 15,000 liters of milk and 10,000 kilograms of fruits and vegetables.
"…Our staff, vendors and vehicles are being pushed back from the roads by local police, disrupting our operations. We are being told to shut down our distribution centers," Milkbasket co-founder and CEO Anant Goel said in a series of tweets.
He also recommended authorities to issue access permits or ID cards to staff engaged in essential services such as grocery delivery, medicines, and food delivery.
Online fish and meat sellers Freshtohome and Licious are affected as well.
"Dear Customer, our operating slots and delivery windows may be affected as we are facing hardships in delivering due to local authorities stopping us in spite of clear guidance that food deliveries are exempted from the curfew. We are trying to convince the authorities - please bear with us till then," Bangalore based Freshtohome said on its website.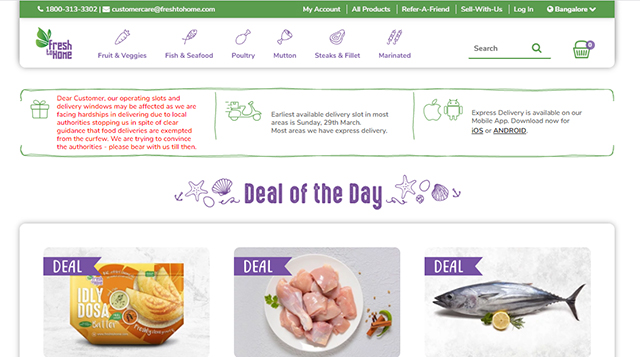 Licious has stopped accepting orders. "Sorry, due to unforeseen events on-ground, we can't take orders for now. We will keep you posted," a note on the company's website said.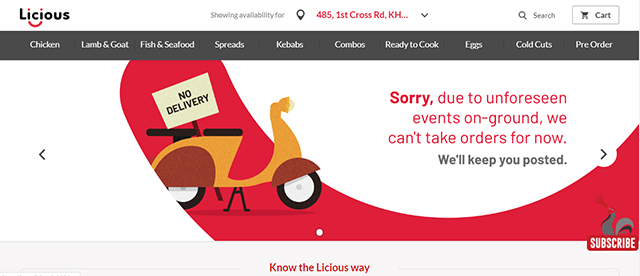 Walmart-backed ecommerce major Flipkart has temporarily suspended operations as India goes into a 21-day lockdown to contain the spread of Covid-19. "Hello fellow Indians. We are temporarily suspending operations. Your needs have always been our priority and our promise is that we will be back to serve you, as soon as possible," read a message of Flipkart's app and website on Wednesday morning.
Amazon India said it will prioritise its available fulfilment and logistics capacity to deliver essential products while temporarily stopping taking orders and disable shipments for lower-priority products. Amazon Fresh, the digital grocery store of the US-based retailer and Pantry that offers staples and household supplies are mostly non-functional at this point.
Email queries sent to Flipkart, Amazon India, Grofers, Milkbasket, FreshToHome and Licious for updates on their services did not elicit responses till the time of publishing this report.
---