On Thursday, Bipin Preet Singh, co-founder of digital wallet Mobikwik took to social media platform Twitter to flag that the app had been taken down by the Google Play Store. Singh elaborated that the app store had taken down Mobikwik citing an external link leading to Aarogya Setu, the government backed contact tracing app for Covid-19.
Singh flagged the issue with Google as well as the Competition Commission of India saying that Google wielded "too much power". He also said that Mobikwik was directed by the Reserve Bank of India to provide the link to download Aarogya Setu. Digital wallets are regulated by the Reserve Bank of India under the Payment and Settlement Systems Act, 2007.
Hey @GoogleIndia @GooglePlay you removed @MobiKwik app from play store because we had a link to Aarogya Setu app. We were asked to do this by regulators ( @RBI ) and understand it's in public health interest. You have too much power ! Cc @CCI_India @amitabhk87 @PMOIndia @rsprasad pic.twitter.com/ftv5KIZCAy

— Bipin Preet Singh (@BipinSingh) May 28, 2020
By Friday, Mobikwik was available for download on the Google Play Store, though the link to Aarogya Setu was missing on the landing page under the head 'Lockdown support essential services' which also enables donation to the PM Cares Fund and list of testing labs for Covid-19 among other services.
Further, app store information indicated that the app was last updated on May 28 for multiple bug fixes and performance enhancements.
The landing page on Flipkart backed wallet PhonePe did not show any link to the government's contact tracing app, while Paytm displayed the link to download Aarogya Setu in its banner ads. All the apps were accessible through an Android device.
Usually, app developers are responsible for displaying 'contains ads' and 'offers in-app purchases' labels or stickers on the app in the Google Play Store as a disclosure for users.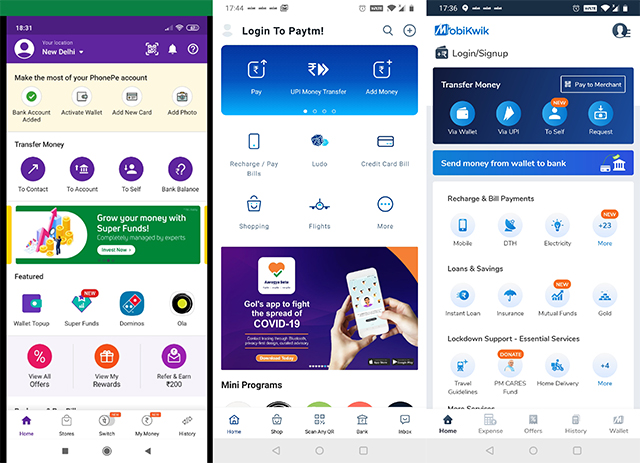 Both Mobikwik and Google did not respond to specific queries emailed by TechCircle.
The Aarogya Setu app has been under scrutiny for data privacy issues since its launch on April 2 by National Informatics Centre. The app has undergone multiple iterations. Soon after ethical hacker Elliot Alderson flagged security flaws in the app, the Ministry of Electronics and Information technology (MeitY) issued a notification on data access and knowledge sharing protocol regulating the app to allay concerns.
The government had made the download of the app mandatory for all public and private sector employees returning to work during the third phase national lockdown, and said non-compliance will be treated as a criminal offence. However the government softened its stand with lockdown 4.0.
After much deliberation, the government opened up the Aarogya Setu Android source code to the public and has started a bug bounty programme to fix security lapses.
---