Pandemic exposes multi-layered vulnerabilities in OTAs and there is no immediate relief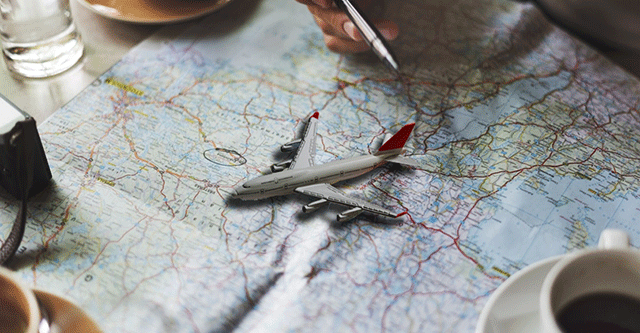 Even as countries across the world tentatively open up borders to resume flights and tourism operations as coronavirus-induced lockdowns relax, several stakeholders are bracing themselves for an uncertain future.
The global aviation industry is set to lose $252 billion this year, according to a report by the International Air Transport Association (IATA). The Indian aviation sector specifically, which includes airlines and airports, is estimated to suffer revenue losses of upto Rs 25,000 crore, as per estimates by ratings firm CRISIL.
Indian online travel agents (OTAs) earn nearly two-thirds of their gross merchandise volume (GMV) from air ticketing, and thus have a substantial amount of refund and cancellation cheques stuck with airlines, which have only recently begun to resume domestic services, according to people in the know.

Domestic travel makes up for a majority of the overall OTA GMV, which is estimated to be worth over $6.5 billion, according to Chetan Kapoor, co-founder and COO of travel consulting firm VIDEC.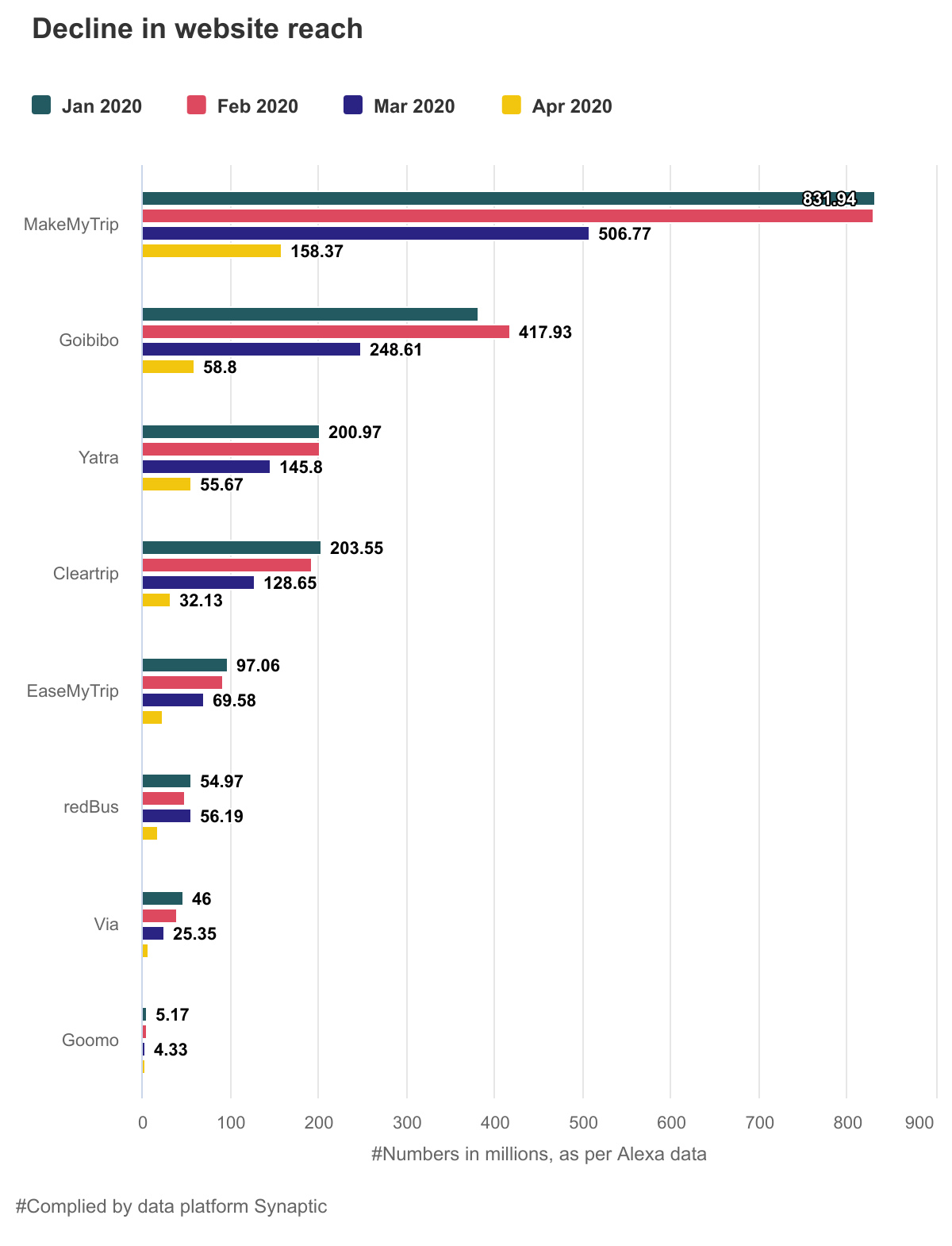 "There is not a single Indian OTA for which hotels are a priority product. It is very evident that as you move from the biggest player to the smallest player, the dependence on air ticketing as a source of your gross booking/revenue is significantly higher," Kapoor said.

In fact, air ticketing accounted for 58% of MakeMyTrip's gross bookings for the quarter ended December 31, 2019, while hotels and packages, and bus ticketing made up 27.7% and 14.2%, respectively. To be sure, the MakeMyTrip Group runs an eponymous travel marketplace, along with online travel platform Goibibo and ticketing firm redBus.
Yatra, which acquired corporate travel service provider company Air Travel Bureau (ATB) in 2017, attributes over 90% of its gross bookings to air ticketing, as per latest filings. Cleartrip and EaseMyTrip, the third and fourth largest players in the market, also depend heavily on air travel for revenues, said industry experts.
People familiar with the sector told TechCircle that airlines are currently holding on to agent refund money worth at least Rs 4,200 crore. Faced with dwindling cash reserves and plunging revenues, airlines are instead offering credit shells and virtual wallets to allow OTAs to book fresh tickets within a stipulated period.

This leaves OTAs in a lurch, as their customers, who have cancelled or postponed plans indefinitely, insist that the refund be made to their bank accounts and not virtual wallets.
"Airlines have informed customers that they have refunded the amount to travel agents, but they did not mention it to them that it's a virtual balance. Customers are getting annoyed with agents -- it is hard to explain it to customers," Nishant Pitti, co-founder of EaseMyTrip, said.
EaseMyTrip claims to be the only company to have given customers a cash refund to the tune of Rs 50 crore.

"Whatever refunds we have received from the airlines in the form of credit shells, we have refunded to consumers. It's a risk we have played on, we are aware that we will lose this amount if an airline goes down," Pitti said.
MakeMyTrip, on the other hand, has credited refund money into users' virtual wallets for future bookings.
Additionally, airlines owe OTAs more than Rs 500 crore in commissions, which is one of the primary revenue streams for the firms besides customer convenience fees, industry observers told TechCircle.

While most airlines have a target-based, annual contract with OTAs, some provide a piece of the commission on a monthly, quarterly or half-yearly basis to encourage brand promotion. An example of the former would be Indigo Airlines, which offers a 2% commission for achieving a ticket sale target of Rs 1,500 crore in a financial year, 1.5% for making Rs 1,200 crore and 1% for Rs 1,000 crore.
The annual commission payouts, expected in the April-May period, have been delayed due to the air travel freeze, the industry sources mentioned earlier, added.
Recovery of corporate travel, which accounts for a major chunk of business for some OTAs like Yatra, is not expected to return to normalcy in the near term. Besides varying travel restrictions and pre-travel requirements, the economic fallout of this pandemic has caused businesses to rethink their marketing and travel budgets.

"One thing that the corporates have learned during this crisis is that meetings and conferences can be done virtually. It might be a short-term strategy, but businesses are likely to leverage this learning at least for a year. Marketing and travel are the two expenses that face the cut first in an event of economic downturn," Sandeep Dwivedi, COO of InterGlobe Technology Quotient, said.
Air tickets are usually sold to corporates on a 30-45 day credit basis, while OTAs pay airlines the money at the time of booking or in a week's time. Now, as corporates no longer have travel requirements, OTAs have their credit money blocked in these accounts.
"The money is stuck, no one is paying back now. They are not bothered about airline vouchers because they have not used the service and wouldn't bother paying for a service they have not availed. Secondly, they wouldn't want to take the credit shells because some of the employees who were scheduled to travel do not work with them any longer or their plans have changed," EaseMyTrip's Pitti said.
Separately, hotels, bus or train bookings and other affiliated products, including holiday offerings, account for one-third of an OTA's GMV, people in the know told TechCircle.
While there are a limited number of vendors that work in the air travel segment, the list runs into several lakhs for the bus and hotel bookings business.
OTAs pay their vendors in advance to block seats and rooms. A good number of these vendors are independent, single-property holders or small fleet owners. As the high pace of Covid-19 infection continues, customers have put off travel plans indefinitely and are unlikely to take the same bus or stay at the same hotel when operations resume. With no indication as to when hotel operations would resume, OTAs are forced to wait for the foreseeable future before their vendors are in the financial position to make refunds.
OTAs have become a critical component in the travel distribution value chain over the years, but in the rat race for market share and prominence, several venture capital-backed players have bled heavily. They competed on prices, offered steep discounts and invested significant amounts on search marketing and user experience.
However, the Covid-19 crisis has investors taking a hard look at their portfolios. They are now rationalising their cost structure, especially around infrastructure, marketing and employee costs. In fact, startups including MakeMyTrip, Yatra and Cleartrip have initiated cost cutting measures, including layoffs and pay cuts.
"OTAs were doing more volumes than normal mom-and-pop agents, so the impact is heavy on them. OTAs run mostly on investor money, and their burn was on the higher side -- most of them don't generate any profits, it's more of a valuation story. Investors wouldn't want to pour more money into this segment at this point. They would demand more of a GMV kind of business from OTAs," Dwivedi of InterGlobe said.
OTAs are buckling up for a rough ride as discretionary spends are pushed and corporates continue to cut costs.
"My estimate is that India will not do more than 40% of last year numbers in terms of air travel. For FY21-22, 80-90% of FY19-20 can happen. We should be back to normal in 2.5-3 years. Of course, all of these can change with the availability of a vaccine," he added.
These firms are already looking into adjacent business lines such as affiliated ecommerce sales and staycation holidays to weather the economic winter. They are expected to explore supplementing categories in ecommerce, including Covid-19 related products such as personal protection equipment kits, face masks, sanitisers and any other safety products.
MakeMyTrip has rolled out an online gourmet delivery service in partnership with luxury and premium hotel chains and independent properties.
Yatra, which is facing uncertainties over its acquisition by Ebix, is gearing up to foray into online commerce of office supplies to leverage the strong corporate client base it caters to.
"OTAs will have to broaden their horizon to survive, but that is also subjective to what can come naturally to them as a business because they have so far been very deeply tuned and focused on the travel industry alone. There might be some low-hanging fruits such as local amusement parks, sporting activities, or dining options that they can target. They could also focus on day trips kind of offerings, end-to-end packages wherein customers also get an assurance on their health and safety. OTAs in China and other Southeast Asian markets OTAs selling future travel packages at discounts that will help them with some cash flows at the moment," VIDEC's Kapoor said.
---