Isn't it quite an expectation in these unprecedented times that we secretly expect everything to be available to us despite being aware that there are severe limitations imposed on economies and businesses due to the current Covid-19 crisis?
With all energies initially diverted to make essentials available, both in the B2C and B2B space, the need is to get all aspects back on track. And, this has been initiated primarily with work-from-home (WFH) which has been the de facto way to have things up and running. So, essentially individuals who make up an organization now need to work 'remotely' to fulfil their duties and ensure setups are running as seamlessly as can be given the current limitations imposed by the government.
In the B2C space, after the essentials have been addressed, aren't we now at a phase where we have every other in-store setup now able to so quickly re-adapt and make available 'shop from the comfort of your home….' or digital loans available again 'from the comfort of our home…', making every other aspect being made available remotely today? And how!
This especially for items that may be really non-essential but would be needed by each of us to get back to our earlier way of living. Or the situation where we are longing to 'speak' to a person to sort our queries on our talk plan changes or even a leading car manufacturer who says 'car from home'.
We are seeing the onset of a completely new and enabled remote yet accessible platform being made available to ensure we are not missing out on much.
And, isn't it equally unbelievable that all of these on-site, multi outlet stores or showrooms have re-adapted themselves to be in front of the customer at these times.
In the B2B space, organizations that were still debating or were limited by budgetary or other constraints on whether to adapt or enhance their technology landscape have definitely risen to the occasion to make technology providers and integrators go that extra mile to make the WFH environment for their employees a reality. That too within a defined and short time frame.
So whether it is a WhatsApp Business demo, or agent workspace solution enabled remotely, or the IVR to enable agents utilize a VPN server and installation of soft phones onto laptops for agents to enable access remotely -- we have seen all of this become a reality today.
Actually on a positive note, nothing can really stop us and that's the spirit that is enabled so well by technology.
These are just a few of the innovative ways in which organizations are moving today with the help of technology to not just counter the Covid-19 crisis but make business-as-usual a way of life.
It will be right to say that most setups have lived up to the new way of life, thanks to connectivity and access while yet adhering to social distancing and stay-at-home dictums currently underway.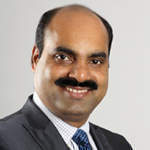 N Jayantha Prabhu
---
N Jayantha Prabhu is CIO, Essar Group, and business head -- India and Saarc, AGC Networks. The views in this article are his own.
---