The lady of the house logged onto Zoom for a morning pitch to a client: the tanking stock markets had made her job as a stock broker difficult, but she genuinely believed that there were quality companies available at reasonable valuations now and that her clients should take advantage. Her husband, meanwhile, had just finished his WhatsApp message to the local store and fresh milk and vegetables would arrive around 11 AM. Their daughter had completed the morning virtual tour of the Kruger National Park and was thrilled to bits with sightings of the lions and zebras. Life was, well, stable in the locked down Meena household in Covid season.
The unfolding of the coronavirus pandemic, and the government's response to it, has changed our lives unrecognizably. The most recent, somewhat comparable pandemic was the H5N1 virus. It had its ramifications on the economy, with a dent in GDP growth and the need for fiscal stimulus. It had serious, but contained, health consequences. However, COVID-19 threatens to cut much deeper, causing way more economic pain as well as reshaping the way we live, work and agree to be governed.
Harari has spoken eloquently about the dangers of the surveillance society, but it paradoxically also creates tremendous opportunities for the technology sector. Drones, surveillance, digital equipment and sensors along with other technology innovations will be at the forefront when governments inevitably deploy enhanced surveillance, ostensibly to weed out disease sufferers.
The field will also be fertile for the likes of public cloud providers, collaboration platforms, messaging services and video conferencing players. Use cases will include telemedicine, distance education and digital entertainment. E-gaming, already booming, will go to the next level and create more demand for higher end client devices.
Inevitably, as the race towards the digital future intensifies, new opportunities will open up for security technology providers across the spectrum of cloud, cyber, data, network and application security. New age biometric and password meshes, behavioural security and the like will see accelerated adoption too.
There is a joke going around which reads: Please choose who was the main driver for digital transformation in your company, (a) CEO, (b) CIO or (c) Coronavirus. I can't articulate better the longer term positive impact of this unfortunate pandemic.
The short term reality is grim. The IMF estimates that the Indian economy will grow at a maximum of 1.5% this fiscal; Barclays estimates zero. Others are calling a recession. COVID-19 is also impacting industries, throttling production and choking supply chains, leading to revenue collapses and thereby directly impacting technology spending.
In 2019, corporate India spent $27 bn on IT; based on the initial estimates of 2020 (Pre-COVID19) it should have grown to $31.8 bn, 18% up, with digital technologies leading the charge (Source: EDGE Insights Research; n=1008).
Post COVID-19, the $31.8 bn has shrunk to $28 bn, a growth of one percentage point. The pandemic has thus wiped out $4 b from the market, with disproportionate pain being felt by some vendors. With a majority of CIOs and business leaders now noting "Cost Cutting" as a top priority, it can be expected that hardware assets will be sweated harder, device purchases postponed and all non-essential software purchases put on hold. As a counter balance, 25% more respondents to the survey indicated increased focus on "Operational Efficiencies" and "Increased Productivity', which will demand technology investments for automation.
There is talk of "Work from Home" becoming the new norm and the Meena household becoming a typical scenario. Should this happen, IT investments will be redirected towards workforce mobilisation, especially in sectors like manufacturing, retail, and logistics. All organisations will strategically implement work-from-home scenarios, mobile workforce, risk mitigation, security, and business continuity. The scale of implementing these will now be organisation-wide, rather than a mere POC, pilot, and functional implementation. Most of these will be done jointly by CEOs and CIOs of enterprises.
To achieve the change in strategy, and to continue the overall digital journey, the adoption of net generation technologies will be at the forefront. Digital spend in the pre-COVID19 era was estimated to grow from $9.9 bn in 2019 to $12.8 bn in 2020. We estimate that the Post-COVID19 era will now see a spend of $10.5 bn, still a growth market, albeit much slower.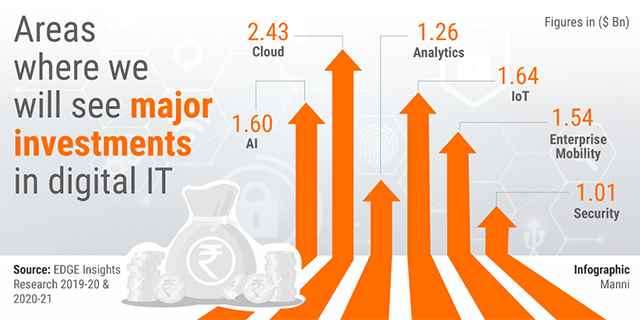 Most technology sector players gun for double digit growth and have been used to that environment for at least a decade. The next few quarters will see them scrambling to right size investments, product portfolios, sales organisations and channels to adjust to the new market realities.
For the CIOs, the cost-benefit questions will be even tougher and sharper. With money tight and businesses in recovery mode, CIOs will have to work closely with business as well as key technology partners to evolve new scorecards to measure digital dividends and ensure that the funding for their department keeps flowing.
The COVID-19 pandemic is thus evaporating a Rs. 30,000 Crore ($4 bn) opportunity in the Indian IT market in 2020. Aside from a few bright spots, a challenging period awaits the industry. We expect to see demand peeking through by Q4 2020, and certainly returning to double digits in 2021.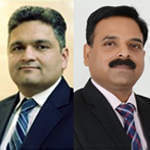 Jaideep Mehta, Shalil Gupta
---
Jaideep Mehta is CEO and Shalil Gupta is CBO of Mosaic Digital, the company that owns and publishes TechCircle. The views in this article are their own.
---