For companies in the Asia Pacific region, digital transformation is not only an enabler for growth but is also linked with survival, according to a recent study by Harvard Business Review Analytic Services, on behalf of software maker Red Hat.
Almost all of the 143 executives (95%) from the APAC region surveyed agreed that digital transformation has gained importance over the past 18 months, more so after the remote working and social distancing norms that kicked in due to the Covid-19 pandemic.
These efforts have translated into important business benefits for firms, including faster rollout of new products and services compared to their global counterparts, according to a statement.
The survey shows that 27% of participants saw improvements in speed to market as a result of digital transformation efforts compared to 15% of business leaders in the rest of the world.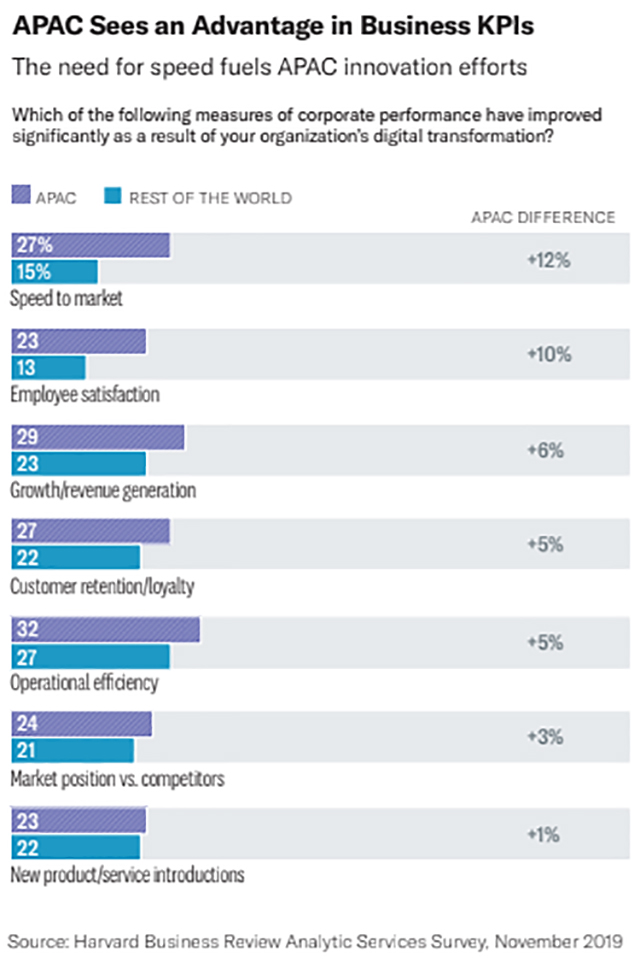 "Many businesses are now pressured to deliver products and customer satisfaction in an efficient and agile manner. Companies in Asia-Pacific have been exemplary in driving digital transformation by using technology to support cultural change, which enables them to embrace open source principles, such as collaboration, inclusivity, and transparency. By combining this with open source tools, they can retool the way they work to accelerate innovation and sustain competitiveness," Sajeeve Bahl, vice president and head, Services, Red Hat APAC said.
Also, 40% of APAC executives are quickly developing and delivering new applications to market, compared to only 23% of executives in the rest of the world, the report said.
Over the next 12 to 18 months, APAC businesses plan to invest mainly in artificial intelligence (AI) and machine learning, followed by cloud-based business applications and business process automation tools.
While listing the factors important to effective digital transformation in the operations, 80% of APAC business leaders laid stress on cultural change at the company level, which includes collaboration, inclusivity, adaptability and transparency. The survey also showed that firms undergoing cultural change saw higher employee satisfaction rates versus 13% of survey respondents in other regions.
The research is part of the global study titled "Rethinking Digital" published in November 2019
The study also revealed that companies looking to digitally transform successfully will need to support their cultural change initiatives with efforts to improve their digital infrastructure in order to achieve continuous integration of vital operations with technology. It can be followed up by new delivery applications, rapid customer responses, systems efficiency and a cap on maintenance costs.
---