India saw a 65% decline in malware attacks in the past few months, according to a report by San Jose, California based internet security company SonicWall.
During the first half of 2020, cyberattacks dropped 24% worldwide compared to the same period last year. However, hackers have now shifted their focus on the internet of things (IoT) and Microsoft office file type attacks.
The mid-year update on the 2020 SonicWall Cyber Threat report highlighted an increase in ransomware, IoT malware attacks and rise of the Covid-19 pandemic themed baits.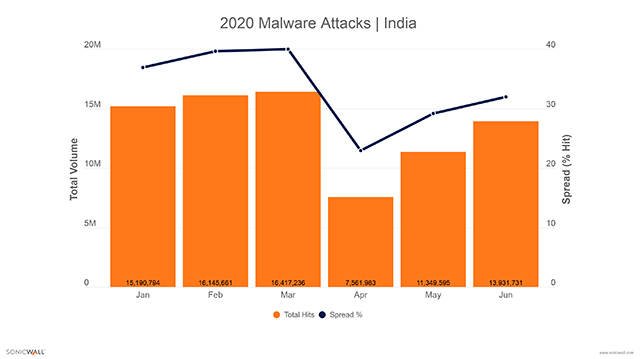 According to SonicWall, the 64% reduction in malware volume does not imply safer cyberspace as hackers have become more focused.
Read: Media industry targeted in 17 mn credential stuffing attacks in 2 years: Akamai
The report analysed threat data from 1.1 million sensors in over 215 countries and found that there has been a 50% increase in IoT based malware attacks and a 176% increase in malicious Microsoft office files. Attackers are now taking advantage of businesses adopting work from home.
"Cybercriminals are also increasingly using non-standard ports to evade detection and deploy malware, despite a continuation of a downward trend in malware volume since November 2019 and a 32% decline in encrypted threats," Debasish Mukherjee, SonicWall Vice President of Regional Sales, APAC, said in a statement.
Mukherjee also added that cyberspace has seen a significant jump in phishing during global shelter-in-place orders in March and ransomware through the first half of 2020.
The threat report connects the waning malware volume due to the changing landscape, as global attacks fell from 4.8 billion to 3.2 billion, the United States and the UK saw a drop of 24% and 27% while Germany and India witnessed a drop of 60 and 64% respectively.
The 50% rise in IoT malware cases can be related to hackers trying to get into sensitive data through sensors in devices such as refrigerators, baby cameras, and doorbells or gaming consoles. Hence unchecked IoT devices can provide cybercriminals with an opening into a secure infrastructure.
While there is no surprise that Covid -19 themed attacks saw a rise by 7% during the first two quarters, hackers also capitalised on the increased adoption of Microsoft office with 22 % of malicious Microsoft Office files and 11% of all PDF files, making up 33% of all newly identified malware. SonicWall also said that it noticed 12,910 new variants of Malware in the first six months of 2020.
---