Cure.fit shuts Eat.fit in 12 cities, lays off 70% staff in the foodtech vertical: Report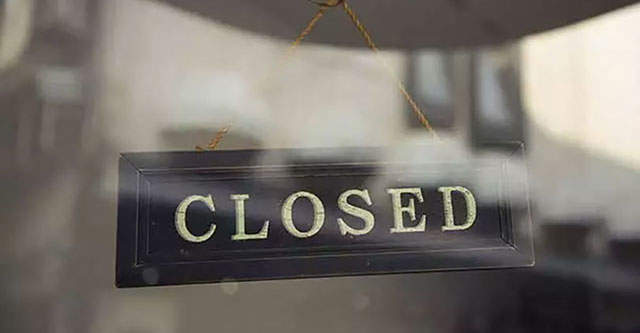 Health and wellness startup Cure.fit has shuttered operations of its cloud kitchen vertical, Eat.fit, across 12 cities including Delhi (NCR), Mumbai, and Chennai as order volumes fall by 80%, according to multiple media reports on Thursday.
The only cities where Eat.fit is currently in operation with partial capacity are Bengaluru, Hyderabad, and Coimbatore, the reports added.
The Bengaluru-based startup declined a request for comment on the matter.

The action has resulted in a layoff of 70% of Eat.fit's workforce, a report from Entrackr added, citing a source. "The real estate cost along with salaries of staff was not justifiable as there is no clarity when people would resume frequently ordering from Eat.fit," the source was quoted as saying.
The development comes after the startup reportedly laid off about 1,600 employees in May. The job cuts affected trainers and housekeeping staff from its primary line of business, fitness classes platform Cult.fit.
Some of Eat.fit's new kitchens significantly suffered after the nationwide Covid-19 lockdown started to scale down in June due to low utilisation. This eventually led to the final shut down of operations in 12 cities, an Inc42 report said, citing Cure.fit co-founder Ankit Nagori.

While existing users include those who have been using the product for many months, the startup is currently not investing in capturing new users in the three cities under operation currently, Nagori added in the report.
"Eat.fit revenue is currently at 20% of what it used to be before Covid-19 outbreak... The first month of the launch of digital sessions, Cure.fit claims to have generated millions of dollars in revenue and has been able to maintain that," the report added.
The startup's flagship brand, Cult.fit, used to run offline centres to offer equipment-less workout solutions, including strength and conditioning, spinning, boxing, mixed martial arts, zumba and yoga. The training sessions have since adapted to a virtual mode to anyone with the Cult.fit app on their smartphones.

The four-year-old startup, founded by former Flipkart executive Nagori and Myntra co-founder Mukesh Bansal, launched its mobile app in 2017. Some of the company's other verticals of business include grocery delivery service Whole.fit, yoga and meditation service Mind.fit and a telemedicine provider Care.fit.
In its latest rounds of fundraises, the company reportedly raised $109 million in a growth round led by the investment entity of the Singapore government, Temasek Holdings. In June 2019, it closed a $120 million growth round of equity and debt funding. In May 2019, it raised $75 million from a group of investors. A year ago, it had planned to open fitness centres in Jammu & Kashmir.
---