Like most entrepreneurs working their way through the Covid-19 pandemic, Gokul Shrinivas has been neck deep in work keeping his company running. But, his startup MinionLabs' smart energy auditing device isn't just what has been keeping him and his team busy. Since March, the team has been engaged in cranking out a solution to a more basic problem -- getting food delivered safely to people's homes.
No, the Bengaluru based energy analytics startup hasn't diversified into the food delivery business.
Back in March, when the Covid-19 pandemic pushed the country into a state of lockdown, Shrinivas who lives alone in an apartment in Bengaluru's Indiranagar suburb and often relies on food delivery apps for all his meals, became concerned about the safety of the food being delivered from multiple restaurants. "I started thinking about the many ways we could reduce the risk of contracting Covid-19 (through home delivered food)... and realized there are thousands of other people in the city facing a similar dilemma," he said.
The solution he and his team came up with was UV Saaph, an ultraviolet-C (UVC) radiation technology based disinfection device. Since April this year, the startup has sold close to 4,000 devices and expects to have more than 20,000 units off the shelves in the next 12 months.
Given its early market success, Shrinivas sees UV Saaph growing into a significant line of business for the barely four-year old startup. MinionLabs itself is targeting $1 million in revenues in two years and Shrinivas expects at least 20% of that to come from UV Saaph.
The company is also in the process of raising its next funding round. "We are currently looking to close a pre Series A round with a ticket size of $3.5 million at $20 million valuation," Shrinivas said.
What's under the hood
The disinfection device comes in two variants -- UV Saaph Mobile, a portable version that can be retrofitted anywhere, and UV Saaph Standard. The standard version is currently retailing at Rs 12,599 and has a capacity of 32 litres. From the outside, the device looks like a regular microwave oven.
The device claims to sanitize objects such as groceries, food items, utensils and packages within 10 minutes through a 360 degree exposure to UVC rays.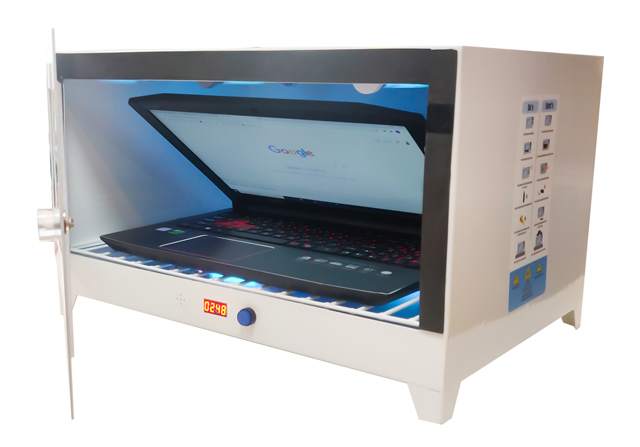 "UVC radiation technology has been proven to kill 99.99% of SARS-COV-2 and other pathogens such as germs, bacteria and fungicides," says Shrinivas.
The device comes with safety sensors that turn off the UVC radiation within a millisecond of opening the machine. Inspired by the iPhone design, the product comes with a single button with multiple features such as Start/Load/ Resume/ Pause and Reset, making it user friendly. The portable variant is equipped with an inbuilt rechargeable battery pack that can deliver a power back up of up to 12 hours in standby mode.
The device also leverages the internet of things (IoT) to collect and transmit real-time information on ambient temperature and humidity along with data on the number of times the device has been used to sanitize items during the day.
Marketing spends on UV Saaph, according to Shrinivas, has been minimal so far. "We didn't invest in any marketing campaign… I just made a couple of LinkedIn posts about the product's use and benefits and it caught on," he says.
The company has partnered with Gurugram-based logistics company Delhivery to enhance its supply capability across cities. It has also signed up a few local clinics to supply UV Saaph units on a requirement basis. The use cases for the product include patients' belongings at hospitals, doctors' clinics and food delivery vehicles which would use the device to disinfect food packages.
It is also designing a variant of the mobile version for the B2B market. Currently, it is working on a small installment kit that could be attached at ATMs, elevators, restaurants and other public spaces to provide a similar disinfection functionality.
"At IAN, we are committed to supporting startups that have the vision of leveraging technology to foster life-changing solutions for the society. The product launched by MinionLabs is truly path breaking…" said Digvijay Singh, COO at Indian Angel Network (IAN), an early investor in the company.
Focus on core business
While UV Saaph has emerged as a viable additional line of business for Minion Labs, energy analytics remains its core focus.
Former Amazon executive Shrinivas founded MinionLabs in 2016 to enable businesses to monitor their energy consumption patterns using a smart energy device. The device leverages machine learning to power its patented algorithm and generate a comprehensive report using predictive analytics. Again, this device, which is a B2B and B2B2C product, comes in two variants -- single phase and three phase, each having two models (WiFi/3G or 4G). The energy monitors are priced on the basis of contracts which comes to approximately Rs 2500 a month.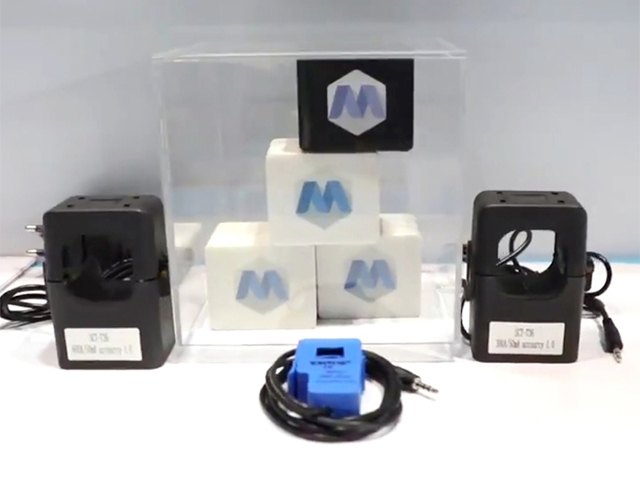 So far, it claims to have installed 532 of these devices and counts enterprises such as Fortis Hospital, Accenture, Brigade Construction, Prestige, Ernst & Young (EY) and Societe Generale Bank among its clientele.
Even through the pandemic, it has continued to find customers and sold 15 devices, Shrinivas says. During the lockdown, the company also signed a pact with the Maharashtra state government for the deployment of the energy monitors with various government facilities.
"We are in the business of 'energy' and although it's not the hot chatter at the moment with everything that's going on, it's a rather ever-present market to cater to and business will always be there as long as electricity powers human establishments," Shrinivas said.
The startup is also working on a new product named Solar Minion, an artificial intelligence based smart energy management solution that will help users manage energy generated by rooftop solar panels along with existing capabilities of its original product.
---