Meet the startups selected for the third batch of Maruti Suzuki MAIL programme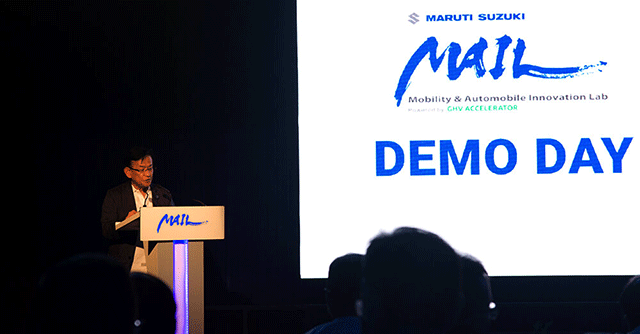 Automobile manufacturing company Maruti Suzuki has selected five startups for its third cohort of the MAIL (Mobility & Automobile Innovation Lab) programme.
Clean Slate, Peer Robotics, Vicara, Hyper Reality and URJA are the selected startups.
The top three startups -- Clean Slate, Peer Robotics, and Vicara -- will get an opportunity to undertake a paid proof-of-concept with Maruti Suzuki for actual business use of their technologies, according to a statement. They will also be entitled for other benefits associated with the programme.

MAIL was launched in January 2019 in partnership with Indo-Japanese early-stage seed fund GHV Accelerator. Maruti Suzuki has engaged with 14 startups under the MAIL programme in the last 18 months.
"Our flagship MAIL programme is now in its third cohort and in each round we come across several innovative ideas that solve real-life industrial challenges. MAIL programme focusses on offering a platform to these early stage startups where they can translate their big ideas into business solutions," Kenichi Ayukawa, managing director and CEO, Maruti Suzuki India said.
It selected five startups each for its first and second cohorts in October 2019 and February 2020 respectively.

The five startups picked in the recent cohort are:
Clean Slate: The Bengaluru-based startup provides asset and people tracking solutions in closed environments using computer vision. It helps factories and warehouses improve inventory accuracy, optimize MHE (material handling equipment) fleet and improve workforce productivity, which helps its clients increase throughput, save costs and improve safety. Its multi-sensor hardware tags, indoor tracking software engines and a customizable intelligence platform enable live location visibility, process monitoring, deviation alerts and data driven insights.
Peer Robotics: It is a human collaborative robots firm. Based in Delhi, Peer Robotics delivers human-centric and adaptable mobile robots for material movement in warehousing, manufacturing, and assembly lines. The robots are capable of performing tasks like internal material logistics, package sorting, and visual inspection. According to the startups, operators with no experience can reprogram the robots in just 1-2 hrs.

Vicara: Bengaluru-based Vicara is a hardware startup that delivers immersive experience using hand gestures. It specialises in immersive interaction devices and motion and gesture tracking. Its first product, the Kai, is a gesture-based natural user interface that enables communication with digital surroundings through simple gestures. The startup offers motion tracking custom solutions, machine learning-based motion data analysis for its clients. Its solutions include mixed reality, motion data analysis, fall detection or crash sensing, smart remote, air mouse, motion control UI and gaming.
Hyper Reality: Hyper Reality offers customer engagement solutions using augmented reality (AR) and virtual reality (VR).
URJA: It's an Internet of Things (IoT) solution provider helping businesses to monitor energy utilization at machine and device level. The startup combines non-invasive sensors and data-driven energy analytics to enable deeper visibility into production efficiency using site's energy consumption. It targets sectors like industry manufacturing, power and energy, and industrial HVACs (heating, ventilation, and air conditioning).

---