Cloud kitchens: cooking up a storm or a recipe for disaster?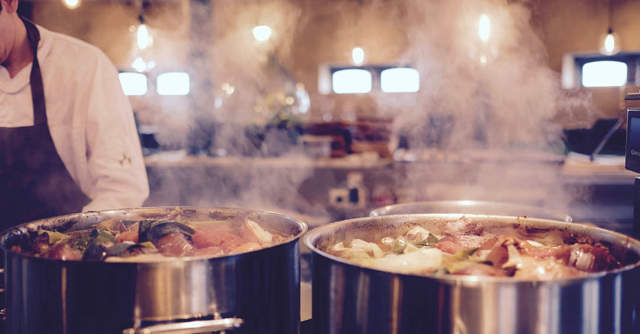 For Pooja, a 30-year-old software engineer who works 60 hours a week, dining at her favourite restaurants on the weekends was a stress-buster. However, in the post-pandemic world, she has had to replace that experience with at-home dining, with food ordered in from online delivery platforms.
Customers like Pooja have paved the way for restaurants to make up for the pandemic-induced losses. According to Ashish Mittal, founder and CEO of cloud kitchen infrastructure and marketing services provider Smart Kitchen, the pandemic has served as the biggest catalyst to the concept of cloud kitchens. The firm, which has a presence in Delhi-NCR, said that the 30 cloud kitchen brands it houses generate about 8,000-9,000 orders a month.
"There is a positive impact on our business. Pure play dine-ins and new players are reaching out to us to set up cloud kitchens. Some of them have shut down and shifted completely online, most are continuing with dine-in in certain locations, but their expansion plans are purely cloud kitchen focused," Mittal said.

In fact, as per a report released by consulting firm RedSeer, up to 50% of the new restaurants that food aggregators onboard on their platforms are cloud kitchens.
"Infrastructure providers don't have to spend much beyond the initial capex, and returns are good (rentals as a fixed return + commissions if the provider is a foodtech aggregator). While it's a low-capex entry point for entrepreneurs, they are profitable even after the slightly higher commissions. Of course, it will help new cloud kitchens to emerge. This could be one of the ways forward to bring in scale for the sector," Abhijit Routray, senior consultant at RedSeer, said.
While the current spike may be reactive in nature, it is likely one that will change the restaurant industry. Cloud kitchens have become the tool of the veterans, professionals and restaurant owners to explore the industry further, pushing them to set up multiple virtual outlets.

"What we have seen so far is a wave of exploration where several food-focused companies have attempted their hand at cloud kitchens. The pandemic has made every food brand understand that if you do not service the customer wherever the customer wants to be served, it's going to be difficult to be in the business. Going forward, every restaurant will have a hybrid model," Ashish Tulsian, founder and CEO of POSist, said. POSist is a point-of-sales software firm that provides restaurant management tools for food outlets.
Riding on the digital-first wave for restaurants, Rebel Foods, a standout success in the cloud kitchen business, has opened its platform for food entrepreneurs and has onboarded six brands, which have a presence in 60 locations, since August 2020. The firm operates more than 15 brands in over 350 locations across India, Dubai, Indonesia and the UK.
"As far as all the locations within the Rebel ecosystem are concerned, each one of them started to become operationally profitable from the first month itself. Most of the brands have grown 25% month-on-month for the locations operational in Rebel Kitchens," Raghav Joshi, co-founder and CEO of the India business unit at Rebel Foods, said.

Bundl Technologies-run Swiggy too runs two cloud kitchen projects. Swiggy Access, launched in 2017, offers kitchen infrastructure to help brands expand to new hyperlocal areas, while Swiggy BrandWorks, floated earlier this year, aims to create new delivery brands using its restaurant partners' existing dine-in facilities.
The company claims that it has co-created nearly 190 brands under the BrandWorks programme, while Swiggy Access is one of the largest cloud kitchens networks in the world.
"We see a lot of good brands going the cloud kitchen route. Done right, it's a good option as it takes the pressure off the front end and one can focus on the delivery systems as it's difficult to manage dine-in and a delivery rush together out of a restaurant as the ops vary for both," Deepak Datwani, owner of pizzeria chain Fat Lulu, said.

Fat Lulu has opened two new cloud kitchens at Zamrudpur and Gurgaon Sohna Road since March and is now in the process of launching more kitchens in Noida and West Delhi region.
The flipside
While a relatively low-capex business, it is one with heavy operational expenses.

On an average, it takes at least six months for a cloud kitchen to achieve profitability, as it is necessary to create a loyalty shift and establish trust among local consumers. Cloud kitchen operations would also have to invest on customising kitchens according to their cuisines as infrastructure providers offer just the basic kitchen set up.
"In the cloud kitchen business, only those with vision can succeed," Raminder Bakshi, founder of The Art Culinnaire, which specialises in conceptualisation and execution of restaurants, hotels and cloud kitchens, said.
"Everyone is looking to set up or expand cloud kitchens. We are only working with brands that want to grow and have the financial backup to sustain here for a long time because it's not going to be an overnight success story. There has to be a feasibility plan, investment plan, growth plan, and a thorough understanding of what cuisines to be offered. Newcomers need to think about how, when, what, and where to open," he said.

While the pandemic has led to an obvious shift to online food ordering, hygiene standards play a vital role in determining the success of a business in the segment.
Large brands with multiple outlets, which have created a wide customer base over the years for their cleanliness and quality, have survived. Pre-Covid, established restaurants drummed up about 60% of their business from dine-ins and direct website traffic. They relied on aggregators for the rest, paying about 18-20% commission. Post-pandemic, 70-80% of their business comes from home delivery, even as aggregators have pushed up commissions to nearly 30%.
The road is tougher for standalone mom-and-pop food joints that have now transformed into cloud kitchens, as they have to rely completely on food aggregators to generate volume.
"The key driver today for brands is making profits rather than the top line. The biggest element in their profitability is the cost associated with the aggregators. In the current delivery model, I don't think anyone can make a profit of more than 10-12% on a net margin basis. With an average order value of Rs 200 on these aggregator platforms, it is not possible to recover the delivery cost," Smart Kitchen's Mittal said.
Additional expenses such logistics costs, aggregator commission and packaging costs have left even some of the most successful restaurants in the red.
Gautam Kumar, co-founder of hospitality-industry focused turnkey contracting firm Keystone Solutions, said the commissions charged by food aggregators are even higher than the revenue share charged by malls.
"Cloud kitchen is not an easy business. It starts with geo-mapping your product, understanding the aggregators, the rentals and commissions - sharing that kind of revenue is huge. It's easy to start, but if you have not done your homework, you wouldn't survive for long," Kumar. Keystone Solutions was the infrastructure consultant for Swiggy's cloud kitchen initiatives.
An emerging D2C model
One of the ways restaurants can cut dependence on aggregators is to explore the direct-to-customer (D2C) model by building their own delivery fleets or partnering with third party delivery services that don't charge hefty commissions.
Logistics providers such as Dunzo, Lala Move, V fast and Shadowfax are increasingly tapping into this segment, offering a price structure where restaurants are charged based on the delivery distance.
"The commissions do hurt at an average of 15-20% and the logistics are of a poor quality, which result in a less-than-ideal interaction with our customers. There is definitely space for a couple more players in the space to cater to the needs of so many delivery businesses. We have a hybrid approach with our own delivery fleet to supplement the aggregator logs as they have limitations with boxes, availability and reach," Fat Lulu's Datwani said. He said there's a difference of about 7% margin on orders that it generates and fulfils on its own.
According to a survey conducted by POSist, 43% of restaurants receive orders via direct channels.
"Current economics of the delivery business are absolutely unhealthy. If this continues, 80% of cloud kitchens will shut down. If cloud kitchens operators or independent brands are not able to control at least 20% of their orders directly, it will be trouble. If you are a standalone brand with a relatively average order volume and with no bargaining power with bulk volume, you better have at least 50% of your business controlled by yourself so that you can average out there," Tulsian of POSist said.
Aggregators are now moving towards a position bidding model where restaurateurs will have to bid for locations while they also have to spend on visibility. Large brands with multiple touchpoints, with a loyal customer base and marketing prowess, can manage a healthy hybrid model comprising D2C and food aggregator business.
Independent, single-outlet brands still have to depend on food aggregators for demand generation. "Discovery is going to be a huge challenge for smaller players. While you attempt to save the high commissions paid, you will still have to end up spending money on the discovery cost, customer acquisition cost and building a loyal customer base will come at a cost, which smaller players may not be able to incur for long. At least with aggregators, if your product is good, you are visible," Kumar of Keystone solutions said.
Several restaurateurs TechCircle spoke to said the arrival of larger players like Amazon, Reliance Jio and Paytm will force correction to the commission rates.
"On one hand, aggregators will reduce the commission rates, but on the other they will charge restaurants for bidding and visibility. Today it's a forced cost, but when this expected correction happens, it will become an optional cost – wherein if brands want more visibility and business, they need to spend more," Tulsian said.
---