MindTickle's uphill climb in creating a SaaS category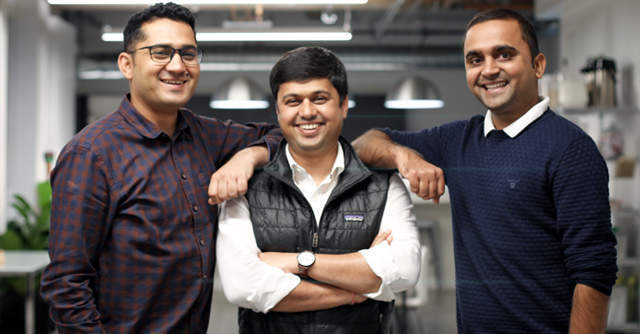 In 2015, the leadership team of Pune-headquartered MindTickle faced its moment of truth.
At the time, the company helped enterprises in employee training and engagement. This was chiefly because the founders, former employees of ad-tech firm Pubmatic, had expertise in gamifying enterprise content and creating software-defined processes.
With cloud-enabled distribution, MindTickle started getting customers in the US. In a year, it even got seed funding to the tune of $1.8 million from Accel Partners. So far, so good.

But by 2015, the company, founded in 2011, had just over 20 enterprise customers, albeit the likes of AppDynamics, Nutanix, Blue Coat—even Coca-Cola and GSK.
But was MindTickle barking up the wrong tree: human resource departments? That was the million-dollar question.
After a series of meetings, the founders—Krishna Depura, Nishant Mungali, Deepak Diwakar and Mohit Garg—decided to go after a new problem to solve using the methodology that had got them so far.

The category would be 'sales enablement' or 'sales readiness'. Their hypothesis was: MindTickle's software analytics and processes would be far more valuable to the sales, marketing and customer success departments of enterprises than HR. Especially so, because sales teams were becoming more mobile-first with dependence on cloud-based software.
The new hypothesis helped MindTickle raise a $12.5 million round from New Enterprise Associates and Accel in November 2015.
"Some of the earliest concerns about the Mindtickle opportunity were around the question of whether 'sales enablement' or 'sales readiness' would be a stand-alone category, or just a feature or adjacency for existing incumbents," recalls Dinesh Katiyar, partner at Accel, in an email from the San Francisco Bay Area.

In November this year, MindTickle's pivot as a sales-readiness platform got a larger round of validation. Softbank led a $100-million round in the company, now headquartered in Sunnyvale, California.
More than 100 of MindTickle's employees are based outside India, with around 300 in India, mostly Pune. Its client count has shot up to more than 200 enterprises, with its annual recurring revenue estimated to be between $30 million and $40 million.
Software-as-a-service (SaaS) companies of Indian heritage are poised to cross $18 billion in revenue by 2022, according to consulting firm Bain & Company's India SaaS Report 2020. This is roughly 9% of the global SaaS market, and growing in influence because India is a large hub for quality software engineers.

MindTickle is among 40 companies from India that have raised late-stage capital—up from 10 in 2015. But in a rare departure from the leading SaaS outfits from India, MindTickle has created (not followed) a category: sales-enablement.
"We are close to the tipping point," says Krishna Depura, co-founder and CEO of MindTickle. "But we're not entirely there," he adds, explaining that the latest fund-raise will be crucial in establishing the category. "The benefit of category-creation is that if we succeed, we can have a huge share of the category," Depura says. "On the flip side, it has been an uphill journey."
Enter sales-enablement?

To put category-creation in perspective, it helps to see how MindTickle's larger SaaS peers from India have evolved. Chennai-based Freshworks (the erstwhile Freshdesk) is a customer-support software provider in a category that was once synonymous with Zendesk (established in 2007).
Similarly, Hyderabad-based Zenoti develops software for salons and spa chains, a wellness category that was once synonymous with Mindbody, established in 2001. Both customer-support and wellness had evolved as categories in some respect, organising a growing set of online customers.
On the other hand, MindTickle faced a range of issues during its transition to a cloud software provider for sales-readiness.

"It always takes longer for a startup to scale if they need to educate the market and convince their customers to create a budget for something they have not thought about before," says Katiyar. "In terms of unit economics, this often means that the cost of sales initially is higher than typical, and the length of the sales cycle is longer than usual."
In terms of educating the market, MindTickle has had to help customers discern how sales-enablement is different from CRM or customer relationship management. CRM is a system of record for forecasts, pipeline, and revenue prospects. Sales enablement helps solve the problem for enterprises as and when new products are introduced.
MindTickle had sensed 'sales enablement' as a growing need or trait in their 20-odd customers. Most technology companies were changing business models, and pivoting almost every year due to competition and constant disruption.
"This meant salespersons had to be on their feet constantly," Depura said.
"The companies were not only building products but also training salespeople to sell its value to the customer. Unfortunately, they were still training them offline through regular ways. We started looking at it by adding more tools and techniques to train including gamification, data and analytics."
They coined the term 'readiness'. "We didn't want to use simply 'training', as that could mean just to train and ask someone to do something. It's not about 'are you trained enough?' when you say 'ready'. It means are you ready to take it to the next level and show it through your performance, numbers and the business you get. That's how we came up with 'sales readiness'," Depura explains.
"Readiness is an outcome," asserts Deepak Diwakar, co-founder and chief technology officer, MindTickle. He says the concept is still evolving, as the company keeps adding features to its product.
"Our thought was that if companies are getting ready and coming out with new business ideas and products, they are likely to be in dire need to train their people," Depura says.
Within the first six months of the pivot, MindTickle had onboarded 15 of the 20 top fastest growing start-ups in the US.
Today, the company boasts of over 200 clients, including MongoDB, Qualtrics, Procore, Square, Janssen, Cloudera, Dexcom, Merck, and Benetton Group.
A typical sales-readiness pilot for MindTickle involves managing the end-to-end lifecycle of the sales rep at a client company right from hiring. As they are constantly trained, upskilled and sent out for work, their performances in terms of business they fetch and their soft skills are tracked through a common dashboard.
The managers then access the report, which can precisely point out the shortcomings of the salesperson and what they need to work on. So if a pharma company is set to launch a new drug, the MindTickle product ensures the client's sales reps keep track of the drug's chemical composition, benefits and side effects, which doctors to visit, etc. This requires the pharma company to train salespersons with knowledge and presentation skills. This helps the sales-reps present their product better during demos to busys doctor.
MindTickle creates stimulations to role-play and portray real-life scenarios and test the sales representatives on their preparation and performance. Based on their answers, the managers will be able to give them certificates. "Further, to understand and track their performance better, we can track their recorded phone calls with the customer and try to access and analyse data points," Depura says.
Pandemic phase
The pandemic initially posed hurdles for MindTickle, given their key clientele are in the pharma sector, wherein most interactions happened offline. But by August, a host of enterprises from diverse industries started approaching MindTickle as customers.
At present, around 85-90% of its sales revenue comes from the US and Europe; the rest is from India. "Earlier companies used to have boot camps to onboard, and now everything is happening virtually," Depura explains. "The ways of doing kick-offs, classroom training, client meetings have changed drastically." MindTickle has since tracked growing instances of clients using its mobile-platforms to update higher management on a weekly basis, and stay motivated about their work progress.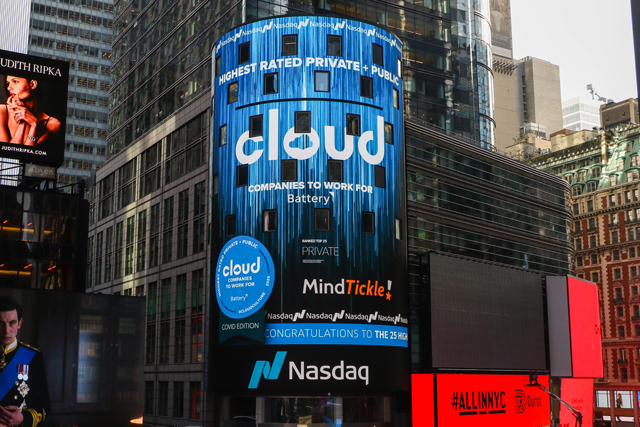 MindTickle on MarketSite, the commercial marketing display of NASDAQ on Times Square.Credit: MindTickle
Diwakar points to how post-sales functions have become more complex during the pandemic. "Most events like quarterly business report (QBR) are timely. But how do you connect a larger organisation, where 20,000-40,000 sales-reps have to do QBRs?" Diwakar notes. Even in the sales method, for non-tech industries like pharma, 90% of it had been happening offline. "Until they did the final handshake, the deal didn't seem to appear closed," says Diwakar, adding, "The entire sales methodology has now changed."
It was during this period that Softbank took an interest in the company. Last year, MindTickle had raised $40 million in a round led by Norwest Venture Partners, and included Accel, Canaan, NewView, and Qualcomm Ventures.
Depura and Diwakar expect the next phase of growth to come from the Indian market.
The founders were surprised to see the kind of Indian companies approaching them in the past eight months and the type of technologies they were looking for. "India is currently going through a rapid transformation," Depura says. "At this point, it will be hard to predict how much things might change in the next two years."
MindTickle's name doesn't roll off the tongue just yet in SaaS circles the way Freshworks and pioneer Zoho do. In Bain & Co.'s 2020 SaaS report, MindTickle gets a couple of mentions compared to 23 references to Freshworks.
MindTickle will be using the capital available now for marketing and evangelism activities. In 2017, research advisory Gartner published a report titled 'Sales Enablement Technology Transforms the CRM Sales Landscape'. It was one of the first mentions of sales-readiness technologies from a major analyst firm.
By March 2018, global market research company Forrester published its 'Now Tech: Sales Readiness Tools, Q2'. It defined sales-readiness tools as "digital tools that increase seller and manager effectiveness through practice, coaching, and collaboration." The Forrester report stated that "market demand is high, as 42% of B2B firms indicate they already have purchased or intend to purchase a sales readiness tool in 2018."
While these references have brought legitimacy in enterprise circles for sales-enablement software, MindTickle wants to build a community of customers the way customer success firm Gainsight.com has—a single Gainsight conference draws 23,000 customer reps. The mainstreaming of sales-readiness is going to be important for MindTickle, currently valued at $500 million.
With inputs from Kunal Talgeri
---