In a bid to cut down trainer hiring costs and personalise workouts, fitness services provider Cult.fit has drawn up plans to enhance its technological capabilities and expand the number of gyms under Cult Pass to 1,000 by 2022.
The cross-gym access product Cult Pass, launched last week, allows Cult.fit customers to access traditional gym training facilities across co-branded gyms in their cities.
Such co-branded gyms will be scaled up from the current 11 to 40-50 gyms in Bengaluru, while Hyderabad will see 20-30 such gyms by March 2022, Ankit Gupta, head of engineering and organisational operations at Cure.fit, told TechCircle. It will be extended to seven more cities, including Delhi NCR, Mumbai, Pune and Chennai, by May 2022, he said.
Additionally, the Bengaluru-based startup is experimenting with new technology solutions for both the branded centres as well as gyms under Cult Pass, Gupta said. As part of the enhancements, the startup looks to offer screen and camera-driven training experiences, he said.
"Earlier, there used to be one trainer instructing 20-30 people at the centre. Now, the startup is looking at putting one trainer and 15 screens for better delivery of the instructions," he said. "We can also put different content on different screens as per the customer's needs and ensure that the workout is delivered in a much more personalised way. This is much more scalable, as we have to hire fewer trainers."
The startup looks to allow integration of devices, such as fitness bands and heart rate monitors, to the screens, Gupta said.
"The device integration will allow trainers to track when a user is getting tired and customise the workouts accordingly. Cult Pass is expected to be one of the company's biggest products," he said.
In May, trainers and instructors at Cult.fit took to social media to protest the rampant layoffs at the company. According to Gupta, the claims were "slightly exaggerated".
"We had shut down a few Cult.fit centres, but that's it. It's not something that will cause permanent damage to the brand's offerings or is a major paradigm shift," he said. "Just like a lot of other startups, we are saving on cash too. There is still some time of uncertainty left ahead, at least for the next six months, and we are preserving the cash to sail through."
Cult.fit's branded centres are evaluated on a quarterly basis, he said, adding that underperforming centres are often shut down.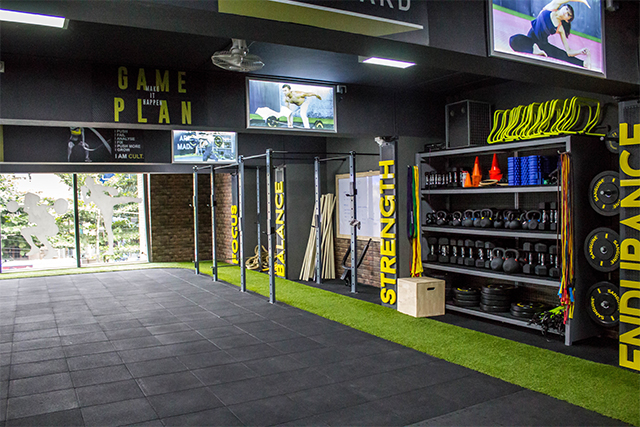 A Cult.fit branded gym | Credit: Cure.fit
The four-year-old parent company, CureFit Healthcare, founded by Mukesh Bansal and Ankit Nagori, has raised over $435.97 million across multiple funding rounds, as per data on VCCEdge.
According to Gupta, the gym aggregation model will also help in rapid scaling and expansion of the brand.
"We realised that there are hundreds of formats outside of what we did at Cult, which would be difficult for us to adopt and scale. So we decided to use the suppliers already existing in the markets," Gupta said.
The startup chooses the co-branded gyms by grading them on a 200 data point checklist, which includes trainer background, hygiene, safety facilities, and how women-friendly they are in terms of environment and equipment.
"We spoke to 100+ gyms, and 70-80 showed interest. We finally chose 11 of them. We were looking at launching Cult Pass around January, had run a pilot with three-four gyms in Bengaluru, but couldn't scale it due to pandemic," Gupta said.
"Due to the lockdown, gyms remained closed for 4-5 months and the owners were struggling. Offering this co-branding solution also got them excited. During the pilot, some gyms saw incremental revenue to the tunes of 50-70%. They are now looking at us for our demand generation and marketing capabilities," he said.
The co-branded gyms will run on a profit sharing basis, where Cult.fit will earn 10-15% of the gym's profits, while taking over the marketing functions.
"For the first year, a major chunk of revenue share will come from our branded centres, where we are really good at six to seven training formats. But after a couple of years, I feel most of our revenue will come from Cult Pass instead of the centres as we won't be able to open as many centres as the number of gyms we can partner with. There are almost 4,000-5,000 good quality gyms in India we think we can partner with," he said.
Cult.fit's user base grew five-fold from 1,00,000 across 15-20 cities pre-lockdown to 5,00,000 during the lockdown, when it launched digital training sessions. The live and recorded sessions also enabled the startup to foray into international markets.
"Our centres had to be shut down since March. We did live and recorded sessions online. Personal training products, one on one discussions on Zoom, group practice. Initially, we made these free to test out the model. Overall we have been seeing good traction, what we are yet to see is how far we can scale it," Gupta said.
Interestingly, Cult.fit is not the only brand under Cure.fit to be changing tracks -- its food delivery vertical Eat.fit was relaunched a few days ago, with a new logo and menu. Cure.fit reportedly shut Eat.Fit in 12 cities in August, laying off 70% of the staff.
---