CropIn founder on chasing 3X growth, deep tech investments post latest funding round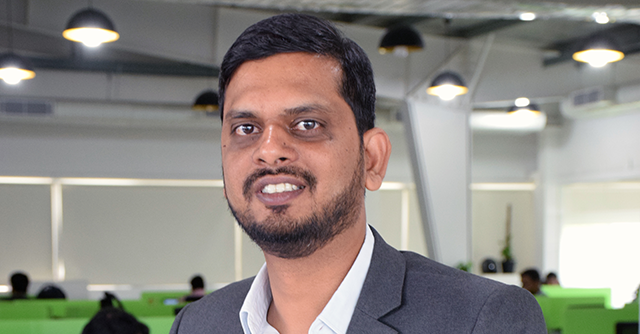 Bengaluru-based artificial intelligence (AI) and data-focused agritech startup CropIn is one of the latest firms to raise capital in the booming sector. Last week, new investor ABC World Asia, an impact investment firm backed by Temasek Holdings, led a $20 million funding round in the startup.
A full-stack B2B agritech firm, CropIn is yet another example of an Indian SaaS company gone global -- its solutions are currently deployed in 52 countries by over 200 clients.
According to CEO and founder Krishna Kumar, CropIn's predictive and prescriptive solutions, which offer personalisation capabilities, have boosted its international revenue to make up about 40% of its overall business.

In an interview with TechCircle, Kumar unpacked CropIn's global expansion plans, growth strategies and deep tech investments.
Edited excerpts:
What attracted global investors to your cap table in the new round?

There has been a lot of interest in agritech in the past two-three years from mainstream investors, mainly for its scale and the kind of impact it is creating. We are building something that can impact farmers globally. It will ensure sustainability in the agri ecosystem, and make agriculture more data driven. It also pushes the agritech story for fintech, because once you have more data ability, you can analyse risks better. I think all these possibilities attracted the investors to partner with us.
What areas are you looking to strengthen with the fresh capital?
We want to build our data story, platform story and bring millions of farmers to our platform. Significant investments will go into deep tech where we want to make our farmers and customers more predictive and prescriptive with world class models. These models will help them to predict their risk and offer them the prescription on what needs to be done for better quality in large quantities.

It's already deployed in multiple countries, and is working well, so we are strengthening it, adding more skill sets, speeding up the process, and rolling them out in more countries.
We want to push our global expansion and build maximum capacity. We are going to have feet on the street in some markets, such as Europe, Southeast Asia and Africa, that have really given us good traction. Our plans include the LatAm market and North America as well.
We have just opened up our subsidiary in the European market -- it's in Amsterdam and one of the co-founders is moving there to manage the relationships with our clients, as well as the government and development agencies. It's a big market for us. We want to sit closer to our clients, understand them better, roll out better solutions, do workshops and understand how technology can bridge the gap with their usages. Unless you are close to the clients, it is difficult to drive everything. That's where we will make the investments.

How are your flagship products -- SmartFarm and SmartRisk -- creating a full-stack product in the agritech space?
SmartFarm enables farming companies, seed production companies or whoever is interacting with a farmer for the production point of view or advisory point of view to build a digital ecosystem, where they can enrol farm managers and bring all their farming network on the platform. SmartFarm allows enterprises to build an agronomy programme, monitor diseases, predict risks, as well as manage forecast, production, quality, procurement and traceability, compliance and sustainability, to help farmers reduce losses and improve output.
SmartRisk is an AI and data platform. It has the ability to scan a farm land and detect what crop is being grown in a location, how its health is and the possible outcomes from the farm. It traces trillions of data and computes it to analyse relevant data points. It's a predictive and prescriptive solution for risk monitoring, mitigation and intelligence forecasting. Banks use it to underwrite loans, insurance companies are using it for insurance underwriting, and commodity traders and sourcing managers use it for crop detection and growth analysis.

How important is data for your global ambitions?
Data is key for the agriculture industry. If you need to build dream models around prediction and prescription, you need to have a lot of ground data. With its farmer network, SmartFarm brings in a lot of granular data. We combine that data with satellite, weather and other data sources to train our models to be more effective.
To do that, we should build strong deep learning expertise, which requires a talented team. We invested in people that have spent more than 18 years in the industry building AI for various other industries. We are investing in PhD candidates who have done their research in machine learning in different parts of the world.

We are unique because of our data capabilities. We have data from 52 countries, and that represents a variation in the data because these come from a range of regions including India, Southeast Asia, LatAm, Africa -- from different climatic zones and soil types. This variation gives a very strong prediction capability because your model is able to learn from different variations. Our total engineering team is about 100, of which 30 are data and platform team. In total, we are an 187 people organisation.
How are your flagship products performing?
Today, 35% of our revenue comes from our AI and data product SmartRisk, which was launched just 18 months ago. We started with India, spent a lot of time here, and as a result, around 60% of our revenue comes from the domestic market, and the rest from international markets. Around 50% of new bookings come from international markets.
Both the flagship products are growing at a fast pace. The AI product is also seeing good traction compared to older products. We expect the revenue ratio to get to 60:40, with the AI product contributing about 40% of the revenue. We built it for the Indian market, but now the international markets are adopting it. We have impacted 4 million farmers and close to 13 million acres through the SmartFarm and SmartRisk platforms.
We are an enterprise business, so we target countries where most of these companies are headquartered. This is spread across Southeast Asia, Europe, North America, LatAm, and Africa. We are putting our feet on the ground in these locations.
How do you address the growing competition in the agritech world?
It's a very big market -- the sector is set to be a $4.2 billion market in the coming days. From a competition point of view, we're not worried because of the kind of strength we have built on as a platform and the data. There are many startups that are coming up every month and some are doing bits and pieces of what we do, but that doesn't impact us. Most of them are farmer centric, while we are enterprise centric. Our platform can be extended globally, which other platforms cannot do, and that's why we have a presence in 52 countries and nearly all large enterprises use CropIn today.
We want to impact 70 million farmers in the next five years and keep growth between 2.5-3x.
Are you looking at acquisition as a growth strategy?
We are deliberating internally if we should go for an aggressive acquisition, but we haven't formalised the strategies yet. We would look at something that would complement CropIn in different markets. Basically, if we are acquiring a product, a company or a technology, it should help us in the global market. It can come from India or international markets.
---