A day after the Reserve Bank of India (RBI) announced the formation of a working group to assess risks from unregulated lending apps, search engine giant Google announced that it was in the process of reviewing "hundreds of personal loan apps" based on alerts received from individuals and government agencies in India.
Around 450 personal loan apps have been banned by Google from its app store Google Play between December 28, 2020 and January 14, 2021, according to data compiled by Srikanth of CashlessConsumer, a consumer collective on digital payments. Of these, 118 apps were banned in the last 10 days.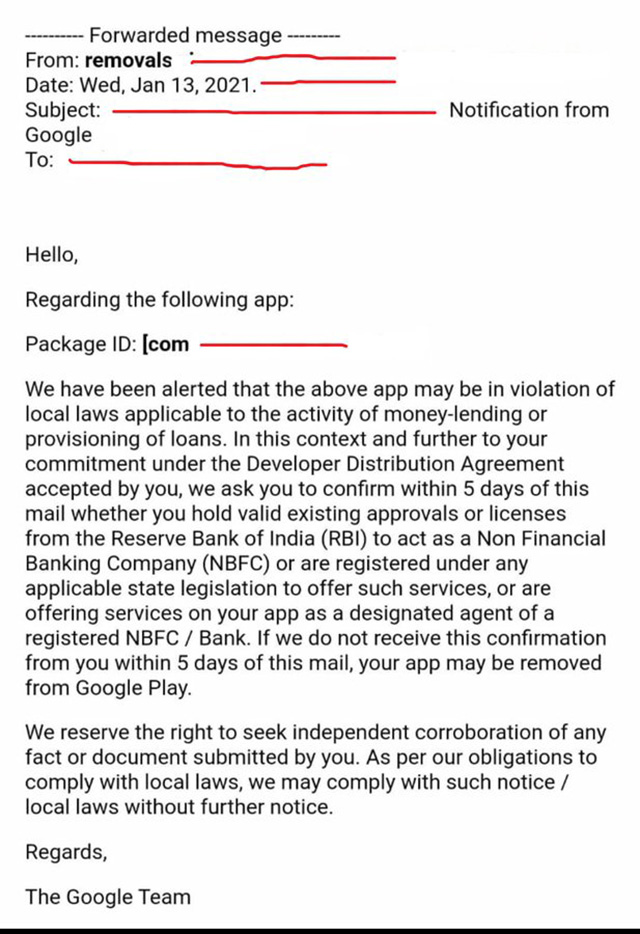 The move comes after government agencies, including the Cyberabad Police, reached out to Google with a list of 286 apps that have been linked to forceful recovery mechanism from defaulters.
Google has also contacted apps that are a part of the list for confirmation regarding valid license and approvals for these apps to continue lending in India. "In addition, the Google Play Developer Policy requires financial services apps that offer personal loans to disclose key information such as the minimum and maximum periods of repayment, the maximum Annual Percentage Rate, and a representative example of the total loan cost," said a blog post by Google India dated January 14.
It further added that Google Play allows only loan apps that require full repayment in greater than or equal to 60 days from the date of issuance of loans.
In doing so, Google is protecting its position as an intermediary under the Intermediaries Guidelines of the Information Technology Rules, 2011, says Srikanth. "Google Play is one of the sources for downloading the apps. A lot of the downloads are also driven by ads as well as through super apps for personal loans," Srikanth told TechCircle.
He further added that the inability to pay one loan leads users into downloading other lending apps, often leading to as many as 20 apps on a single user's phone to repay an existing loan.
"There are white-labelled Chinese apps, fly-by-night operators as well as larger players in the space like Rong360 and Opera," says Srikanth.
Rong360 Jianpu Technology is a discovery and recommendation platform for financial products in China and is listed on the New York Stock Exchange (NYSE) while Opera is listed on the Nasdaq.
Apart from Google's approach to clean up Google Play, the onus also lies on consumer education, Anuj Kacker, spokesperson for industry body Digital Lenders Association of India (DLAI) and cofounder at digital lending company Moneytap told TechCircle.
"Google has seen the backlash before and has taken this measure. By law the customer is supposed to sign a loan agreement form along with a RBI approved KYC. This is circumvented in case of unregulated apps which do not partner with banks or NBFCs and offer short period loans for seven to 15 days," said Kacker.
He further added that while Google can remove these apps from the store, there are other avenues and RBI working group will make the norms tighter."Usually the fraudulent apps lure you in by offering longer tenures (and thereby circumvent google play store guidelines) and then once you download the app, they only offer a seven to 15-day tenure. Users should be careful about this."
---