Unicorn statuses have multiplied at breakneck speed in India, with several new-age startups reaching the coveted $1 billion valuation just 2.4 years after being founded, as per an industry report.
On an average, it has taken Indian startups an average of eight years to become a unicorn, a report from Mumbai-based venture capital firm Orios Venture Partners showed.
A noticeable trend, the report said, is that time taken to reach the unicorn status has been decreasing over the years, as founders now have prior founding or startup experience.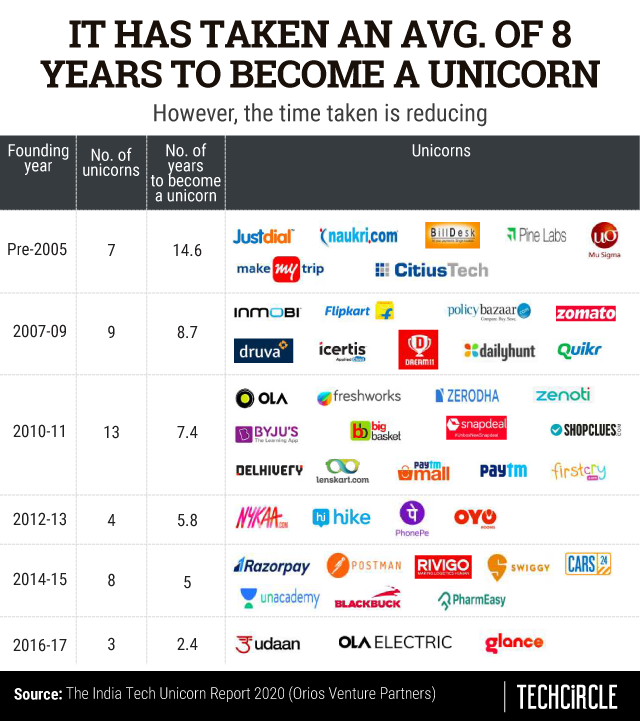 The Indian Tech Unicorn Report 2020 showed how the swiftly changing ecosystem also consists of startups that took 14.6 years to turn unicorns. These are startups founded before 2005, and comprise companies such as JustDial, Naukri.com, BillDesk, Pine Labs, Mu Sigma, MakeMyTrip and CitiusTech.
"Our report shows that the Indian startup ecosystem has generated tremendous value for founders, employees, investors and the economy. Most of these are backed by technology and that is the key differentiating factor between unicorns of the 21st century vs the prior era. We are proud to be associated with three unicorns -- Ola, Druva, Pharmeasy since their early days and look forward to being part of another 3-5 unicorns over the next few years," Orios Venture Partners managing partner Rehan Yar Khan said.
Launched in 2013, Orios is a seed-stage fund with investments in Pharmeasy, GoMechanic, Country Delight, Beato, ShopG, Gully Network, MoneyOnClick and Zupee.
India's 44 unicorns, so far, have created over 1.4 million direct and indirect jobs, the report said, adding that the companies have cumulatively created about $106 billion in value for the startup ecosystem in the country.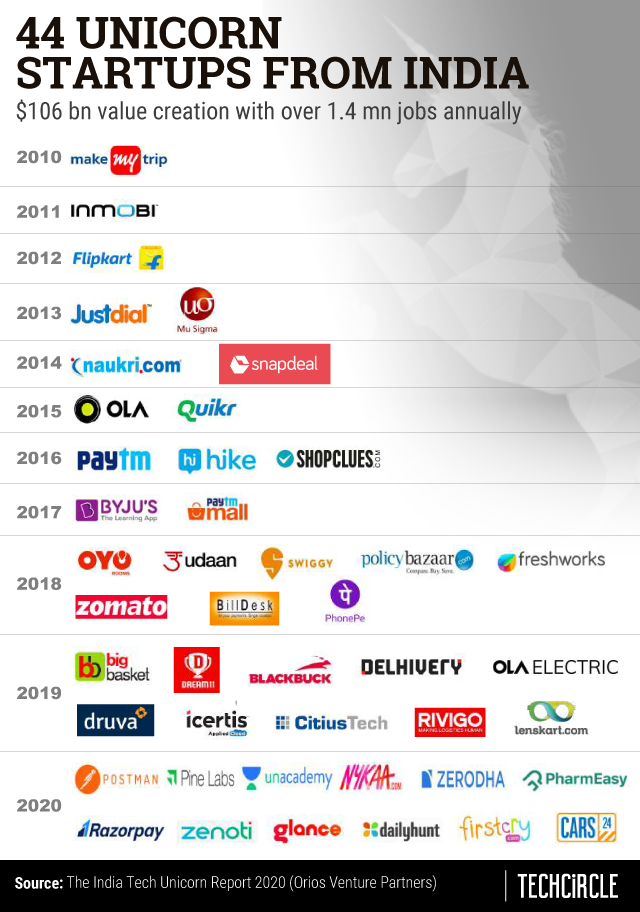 While three of the unicorns in the country, MakeMyTrip, JustDial and Naukri.com are publicly listed, Flipkart is one that has been acquired.
Additionally, 41% of unicorns are from the startup capital of Bengaluru, closely followed by Delhi at 34% and Mumbai at 14%.
Fintech, fundraising's favourite child, is leading the unicorn army. It is followed by close runner-ups of retail and software-as-a-service. Other sectors include logistics, data analytics, travel, food and gaming, the report added.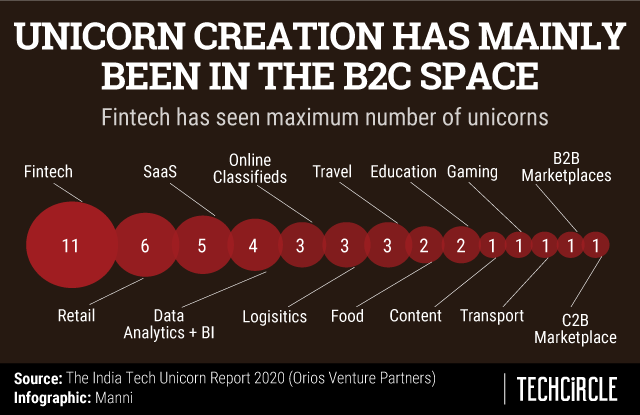 The report also estimated that of the 86% of unicorn founders that are engineers, most of them have graduated from an Indian Institute of Technology.
---