How's the Made in India 'pawri' going?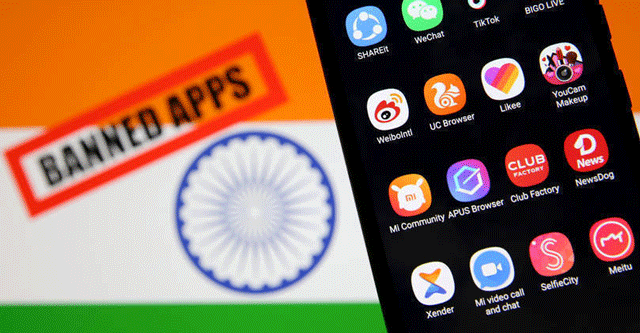 Dekhi lakh lakh pardesi girl, ain't nobody like my desi girl.
If Aatmanirbhar Bharat was a song, it would be this one. Man, what a cringe-fest of a movie that was. But that's not what we're here to talk about.
We're here to talk about Aatmanirbhar Bharat, particularly the apps sector bit.

In 2020, about 40% of the top 200 apps in India were homegrown, with the Chinese-origin ones trailing behind at 29%, according to app market analytics firm AppsFlyer. This is significantly different from the scene in 2019, when Chinese apps held a 38% share.
What changed in one year? The #MakeinIndia narrative got a boost and the government passed multiple orders to ban a total of 220 Chinese apps.
While not all of the new apps are looking to fill the vacuum that Chinese apps left behind, some are certainly trying.

Take the short video space, for example.
After massively popular TikTok, which had over 200 million users in India with 164.5 million installs in the first half of 2020 alone, was banned, the sector saw the rise of over two dozen short video platforms.
Of these, most went dormant after the first few months, but some managed to hang on. A few other apps, although released earlier, became popular in 2020.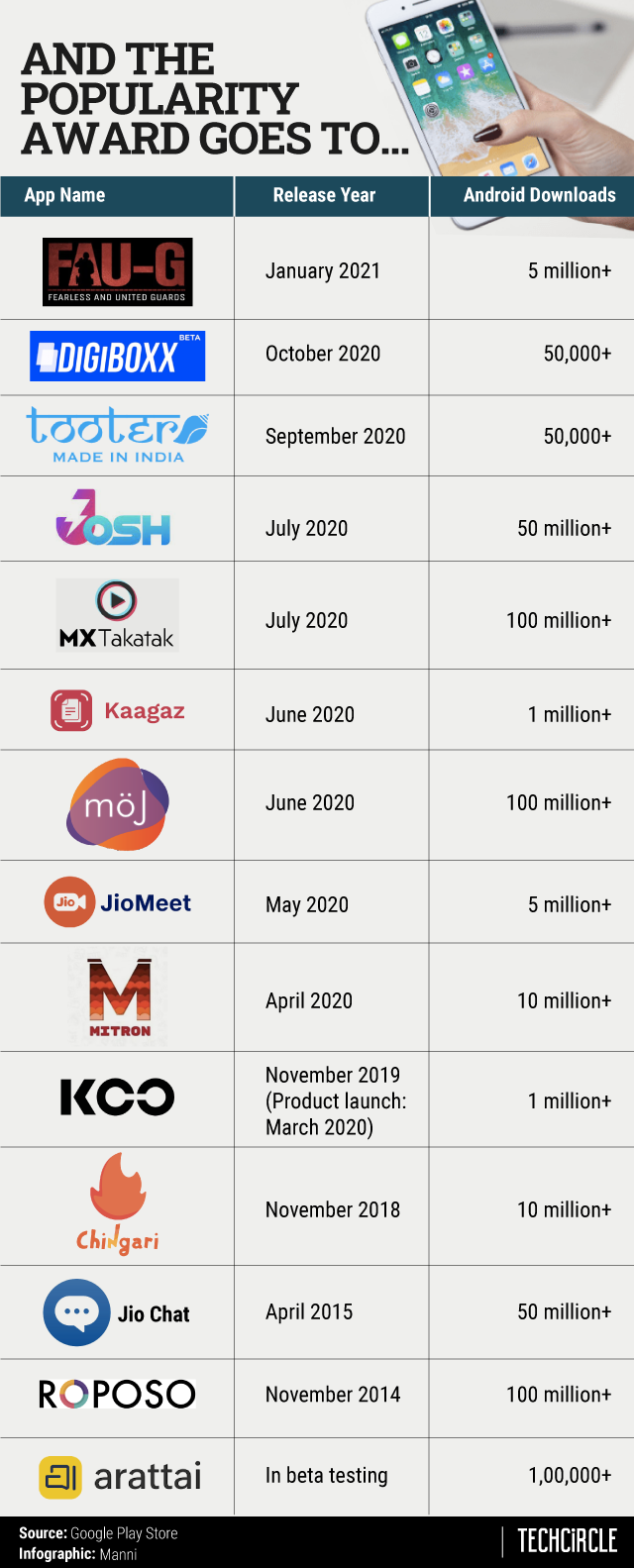 Android's Google Play Store says that Glance's Roposo, Times Internet's MX TakaTak, and Mohalla Tech's Moj have each recorded over 100 million downloads, and currently lead the short video segment.
They are followed by VerSe Innovation's Josh, which has over 50 million downloads, as well as Chingari and Mitron TV, with over 10 million installs each.
According to VCCEdge, Verse Innovation has raised the most capital of the lot, with over $500 million in its pocket. Mohalla Tech and Glance, it says, have so far secured $268 million and $190 million, respectively.

In terms of retention rates, MX TakaTak and Josh lead with 150 million and 88 million monthly active users (MAUs), as of February. They were followed by Moj, with 80 million MAUs, and Chingari with 20 million for the same period. Roposo, on the other hand, had over 33 million MAUs as of December 2020.
All the (not) boring data aside, how do these apps fare against the widely-loved TikTok?
Keep in mind that nearly all of them want to replicate the TikTok experience. So, unsurprisingly, most of the apps offer the regular vertical scrolling format with algorithmic recommendations and multiple categories of content to explore.

What's different is, of course, the number of creators on each of the platforms, and the varied audiences they cater to. Several of the local players offer both content and support in multiple regional languages to personalise the experience for Indian audiences. Chingari and MX TakaTak even include game zones to keep their users engaged.
According to Apar Gupta, executive director of the Internet Freedom Foundation (IFF), "many homegrown short video sharing applications, which appear to be crude replacements of TikTok, may offer (a) real choice to users as they improve over time."
"However, TikTok had its own share of failings on privacy, (which) are often replicated in these alternatives. At its core is the acquisition of user data as a fundamental model to train their AI and also to use it as a monetisation stream. This fits within an existing landscape of surveillance capitalism. Here, it may be useful for local alternatives of TikTok to adopt privacy by design. This will help India build social media platforms not only for today, but for the future too. It will hold long-term value," Gupta said.
While you may be forgiven for assuming that there have been only TikTok replacements in the past year, given the number of millennials and Gen Z users who talk about it, desi apps have cropped up in other sectors too.
Koo and Tooter, for instance, have emerged as the Indian replacements for not-yet-banned microblogging giant Twitter.
Bengaluru-based Koo, which claims to have nearly 5 million users since its launch in March 2020, has become particularly popular with the government and media professionals. Tooter, a near-exact replica of Twitter right from the interface to in-app colors, has recorded slower growth with 50,000 downloads since its launch in September 2020.
The video conferencing and messaging department is dominated by San Jose, California-based Zoom and Menlo Park, California-based WhatsApp. Reliance's Jio Meet and Jio Chat have seen an increase in demand in the recent past, drawing over 5 million and over 50 million installs, respectively.
Keeping with the trend we have seen so far with homegrown "alternatives", Jio Chat too appears to be a loose clone of WhatsApp, with its three-tabbed homescreen, green/white colour scheme – you can customise this in the settings though, swipe-accessed camera, and the search and hamburger menu icons on the upper right corner.
What about Jio Meet? If you recall, the app was massively trolled by the internet junta for blatantly copying the UI, UX, and language of Zoom. To its credit, the company was quick to fix the issue within days. The app promises users high-definition conference calls, with up to 100 participants, without restricting call duration or levying additional charges.
Meanwhile, Zoho Corp's Arattai, a vernacular messaging platform currently in beta testing, has been downloaded 1,25,000 times in two months. The app is not even launched, you guys!
The government is testing its own messaging app too. Sandes, which is available only on iOS, was downloaded 30,000 times last month, as per Sensor Tower data. We were unable to find total downloads since its launch in August.
There's also Kagaaz Scanner, which aims to replace CamScanner and Office Lens, and has seen 3.3 million installs with 20% month-on-month growth. The app is yet to beat the sector leaders in the document scanning and storage category, but is positioned well to do so with its clean interface, and features such as allowing the user to import documents from WhatsApp and store them in a single place.
Google Drive replacement DigiBoxx, which has over 5,00,000 users, makes for an affordable cloud storage solution, offering users 20 GB of space for free and 100 GB for Rs 30 per month.
And how do we forget PUBG rival FAU-G, which currently has over 3 million installs? Go read our review and show some love.
What's the end game for these apps though? Where do we consumers, the supposed 'kings', stand?
According to Arindrajit Basu, research lead at Bengaluru-based non-profit Centre for Internet and Society, there is a need for "two broad but linked goals in terms of regulatory intervention in the technology space".
The first, he said, was "free and fair competition". This, he said, involves the scrutiny of big tech companies to offer "free and fair competition in all relevant markets, with the homegrown apps having a clear say."
The second, according to Basu, is consumer welfare. "The key question is: does banning/restricting/regulating foreign apps further consumer welfare? If they are engaging in nefarious privacy/security violations, then yes. But we also need to look at whether the alternatives are able to provide the equivalent quality of service, better protections of civil liberties, and ease of access."
"The way I see (it), this debate is not so homegrown tech v/s foreign, or even whether homegrown apps will change the landscape entirely, which I suppose is the political debate raging now," he said. "From a policy standpoint, it is much more important for us to examine how the ecosystem can be governed to further consumer and citizen welfare. We do need homegrown competition combined with adequate regulatory scrutiny on foreign technology, while also recognising that both these groups can co-exist to serve alternate ground realities, which may benefit the Indian citizen overall."
Would you replace any of your videsi staples with these desi apps? Have you tried any of them yet? Tell us what you think!
---