When Accenture closes its current financial year in August this year, it would have spent at least $2 billion buying companies of varying sizes with myriad capabilities. Since January this year alone, the global information technology consulting firm has made as many as 13 acquisitions.
The acquisition spree continues from 2019 and the firm has bought a total of 63 smaller companies so far, adding 45,000 people to its headcount and seeing a gradual uptick in revenue from $43.2 billion in FY19 to $44.3 billion in FY20.
Accenture currently employs some 537,000 people worldwide.
Between September 2020 and February this year, the firm spent $1.1 billion to make a total of 19 acquisitions and has earmarked another $900 million towards acquisitions till August.
So, what has Accenture bet on over the last two quarters of FY21 and specially, how do the 13 firms acquired since January this year, fit into its overall strategy?
The acquired companies fall into three broad areas: Accenture Cloud First, geographical expansion and enhancing services in its talent & organization/ human potential wing.
Accenture Cloud First
Launched in September 2020, the Accenture Cloud First programme is a new service division that helps companies accelerate digital transformation. With a team of 70,000 employees and a $3 billion investment plan spread over the next three years, the division will exclusively focus on technology capabilities, ecosystem partnerships and upskilling initiatives focused solely on the cloud and its subsets.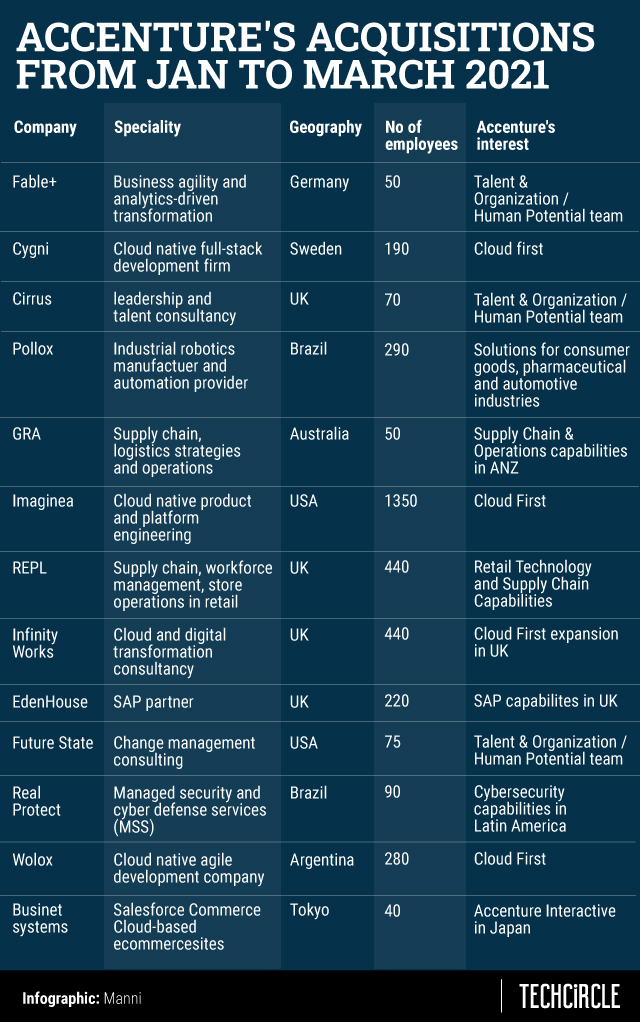 Accenture CEO Julie Sweet even went on to say that the new unit is a "once in a digital era re-platforming of businesses" during the company's second quarter earnings call in March this year.
The acquisition of software technology companies Wolox, Imaginea, Cygni and Infinity Works all point toward Accenture's aggressive push into the cloud.
Mountain View, California based cloud engineering services provider Imaginea is Accenture's biggest buy this year, with 1,350 employees expected to join the company's Cloud First unit.
Apart from Imaginea and Wolox, the third and fourth Cloud First buys this year are Swedish cloud native full-stack development firm Cygni and UK based cloud consultancy Infinity Works. While Cygni will help Accenture expand its cloud offerings in Sweden through offices in Gothenburg, Linkoping, Malmoe, Lulea and Ostersund, Infinity Works will focus on expanding Cloud First services in the UK region, the company said.
Together, the four companies are expected to add more than 2,200 employees to Accenture's Cloud First unit.
South America, UK focus
A closer look at Accenture's shopping cart in recent months shows that the company is focusing on expansion in key markets of Americas and Europe. More specifically, it has targeted Brazil, Argentina, Sweden, Germany, Tokyo, UK and the US.
In the UK, the company purchased four companies -- SAP consultancy firm Edenhouse, cloud and digital company Infinity Works, retail supply chain solutions provider REPL and C suite transformations company Cirrus. In the Americas, Accenture bought Pollux, Wolox and Real Protect. The companies focus on robotics, agile development and cybersecurity respectively.
Joinville, Brazil headquartered Pollux is significant as it is the company's first acquisition of an industrial robotics solutions provider. Pollux produces real industrial robots that are currently used in 150 locations in Brazil.
On the other hand, the Rio de Janeiro based Real Protect purchase is an important step towards cybersecurity. Brazil was a hotspot for cybercrime in 2020 and, according to an Accenture report, could cost companies $100 billion in revenues by 2023. The acquisition of the managed security and cyber defence services (MSS) provider is seen as a move to extend its cybersecurity presence and capabilities in South America. The company also elevated Real Protect CEO Daniel Lemos, to lead Accenture's Managed Security Services business in the region.
The company's third purchase in the region -- Wolox, an Argentinian cloud native and agile development firm -- is focused on strengthening the Cloud First services.
Accenture also bought Tokyo headquartered Businet Systems, a Salesforce e-commerce solutions provider and Sydney based supply chain and logistics consulting firm GRA -- the two Asia Pacific region acquisitions this year.
The acquisition of GRA, which provides end-to-end supply chain, logistics strategies and operations in the region, follows other investments across the ANZ region in the past 18 months, signalling an aggressive intent for growth. The recent ANZ companies that Accenture bought include cloud native solutions provider Olikka in November 2020, SAP and cloud solutions firm Zag in October 2020, supply chain management company Icon Integration in February 2020, econometrics firm AlphaBeta in February 2020, government consultancy services provider Apis Group in December 2019 and big data and analytics company Analytics8 in August 2019.
As per the company's 2020 fiscal report, 47% of its revenues stemmed from North America, 32% from Europe and 20% from the growth markets. The acquisitions point towards a clear move to strengthen operations in Europe and the growth markets of APAC and Latin America, while consolidating services in the cloud in North America.
Talent management
In January 2020, Accenture announced changes to its growth model and its Global Management Committee in order to "include a broader representation of leaders from its services and geographic markets." The move is seen as a way to increase agility to bring to its clients' services with digital skills everywhere. "Embedded across these services are applied intelligence and deep industry, cross-industry and functional expertise," the company said in a statement.
The company's acquisition of London based leadership consultancy firm Cirrus, Oakland, California based change management consulting firm Future State, and Mannheim and Berlin located HR consultancy firm Fable+ are three buys which will directly help drive the new growth strategy by joining Accenture's Talent & Organization / Human Potential team. This will help enhance the firm's strategy and consulting services wing.
Cirrus is expected to strengthen Accenture's development and coaching capabilities for leaders. The company provides team development-based solutions that are delivered via virtual, face-to-face and digital channels.
Future State focuses on intuitive communication, team coaching and empathy, along with credentials in business growth and post-merger integration capabilities, which are of prime importance to Accenture, given its inorganic growth and broader leadership plans.
Fable+ is expected to add business agility and analytics-driven transformation to the company, with Accenture stating that the buy will add "highly specialized expertise focused on organizational transformation."
The company provides a proprietary cloud-based app to measure psychological safety and team performance across the levels of the organisation, along with metrics for key culture factors that are responsible for performance.
"Our capacity to invest in acquisitions has been a huge differentiator in building the business we have today as being the core of our business is now these engines of growth," Julie Sweet said during the latest earnings call.
With five months to go before the company closes FY 2021, and with close to $900 million left to spend on acquisitions, it will be interesting to see what other purchases Accenture makes.
For Q2 2021, ended February 28, 2021, the company announced that it had returned to pre-pandemic levels of growth, and has built a strong pipeline with record bookings worth $16 billion, which is up by 13% a year earlier.
Accenture also increased its revenue guidance from 4-6% announced earlier, to 6.5-8.5% during the recent results, due to strong growth as it moves forward.
---