Indian venture capital has an 'unconscious' gender bias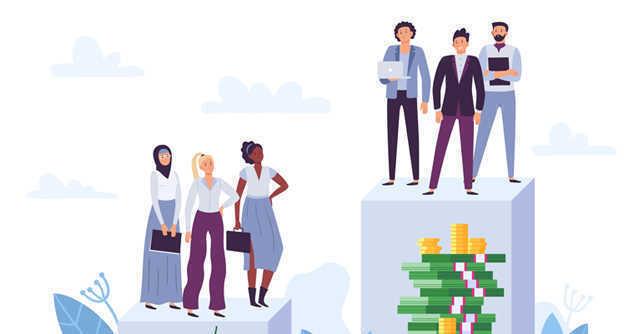 What do startups backed by venture capital firms and the Vatican City have in common, apart from the VC initials?
You know it. They both barely have any representation from women in leadership positions.
Between January 2016 and March 12, 2021, venture capitalists invested a total of $82.78 billion in Indian companies, as per Tracxn data. They backed startups at the seed and growth stages, across multiple rounds and in mind-numbingly varied sectors.

But do you wonder how many of these portfolio companies have all-women co-founding teams? How many have at least one woman as founder? And, if there is one woman co-founder, is she the CEO?
TechCircle decided to take a look at the portfolios of some of the leading venture capital firms in India, and we'll let the data tell you the rest of the story.
Let's start with the biggest player in this market – Sequoia Capital India, which has reportedly raised $5.5 billion so far for investments in India and Southeast Asia.

Based on information available on its website, the local arm of the storied Silicon Valley venture capital firm has backed a total of 253 companies over the past 20 years, including those funded through its popular accelerator programme Surge. Of the lot, 34 companies have at least one woman founder and 10 of those women founders are CEOs. The portfolio has five startups with all-women founding teams -- CardUp, Faces, OncoStem, Dancing Mind and Tigerhall.
Why does the country's largest venture capital firm, by capital deployed and companies backed, back so few women founders? We don't know. Sequoia declined to participate in this story.
At Accel, the seed-to-early investor known for bets such as Walmart-owned ecommerce platform Flipkart and SaaS major Freshworks in India, the picture looks pretty much the same.

TechCircle gathered data on 200 global portfolio companies listed on its website. Of those, only 17, including four Indian startups, have women co-founders. Two have all-women founder teams, and eight are led by women in CEO roles. The four Indian startups with women co-founders are Zomentum, Onco, Delightree, and BestDoc. Accel has backed over 100 startups in India till date and raised funds worth over $1.5 billion specifically for this market.
At Delhi based Elevation Capital – formerly SAIF Partners -- the overall portfolio of 65 companies consists of 15 startups with women co-founders, of which nine have women CEOs, while four -- Haber Water, High Street Essentials and Yoga Bar -- have all-women founding teams. Elevation Capital has raised $2.4 billion so far across multiple funds, as per multiple media reports.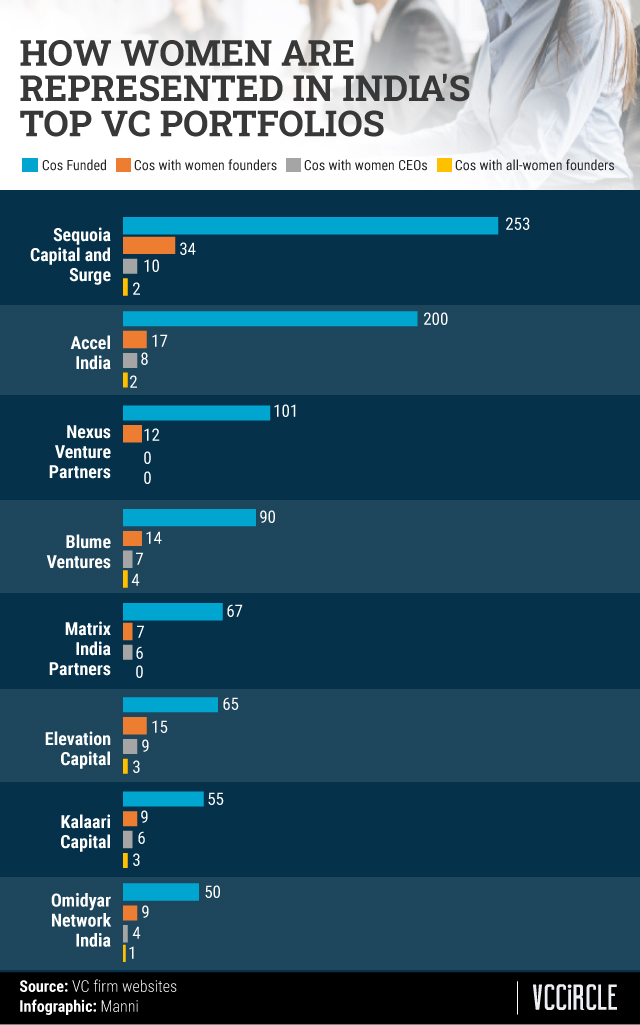 Even venture capital firms led by women don't appear to be particularly inclined towards women founders. Vani Kola-founded Kalaari Capital has backed 55 startups since inception, as per its website. Of those, nine companies have women co-founders, six have a woman CEO and three have an all-women founding team. The Bengaluru based firm has raised a total of $650 million so far across multiple funds.
Accel and Elevation Capital declined to participate in this story. Kalaari Capital did not respond to emailed queries from TechCircle.
Mumbai-based Blume Ventures said that since 2015, it has backed nine companies with women founders, six of which have women CEOs too. These include wedding planning services provider The Wedding Brigade, skills platform Skillenza, lifestyle platform LBB, SaaS startup SquadStack, and fintech firm Kaleidofin.

The nine companies though have to be seen in the context of Blume's overall portfolio. Based on information available on the firm's website, it has backed 90-odd companies to date.
Sarita Raichura, principal at Blume Ventures, told TechCircle that the company makes investment decisions based on "our investment thesis, the team, the market size and the potential to scale. Investment decisions are oblivious to the gender of the founders."
"While I don't believe there is a bias issue, I do believe there is a pipeline challenge -- a bulk of referrals come from the IIT/ BITs/ NIT/ IIM networks. These networks are dominated by males. So, a lot of problems that are identified and are being solved by women sometimes just don't make it to the VC radar," she said.
The other side of the table
It is pertinent to note here the under-representation of women founders in venture capital backed startups mirrors a pattern in venture capital firms themselves.
Mumbai-based Sequoia's 25-people investment team for the India and Southeast Asia markets includes just three women. None are at the partner level. The Bengaluru based Accel India investment team of 20 has two women, none of them partners. Like its peers, Delhi based Elevation Capital's investment team has 23 men and one woman.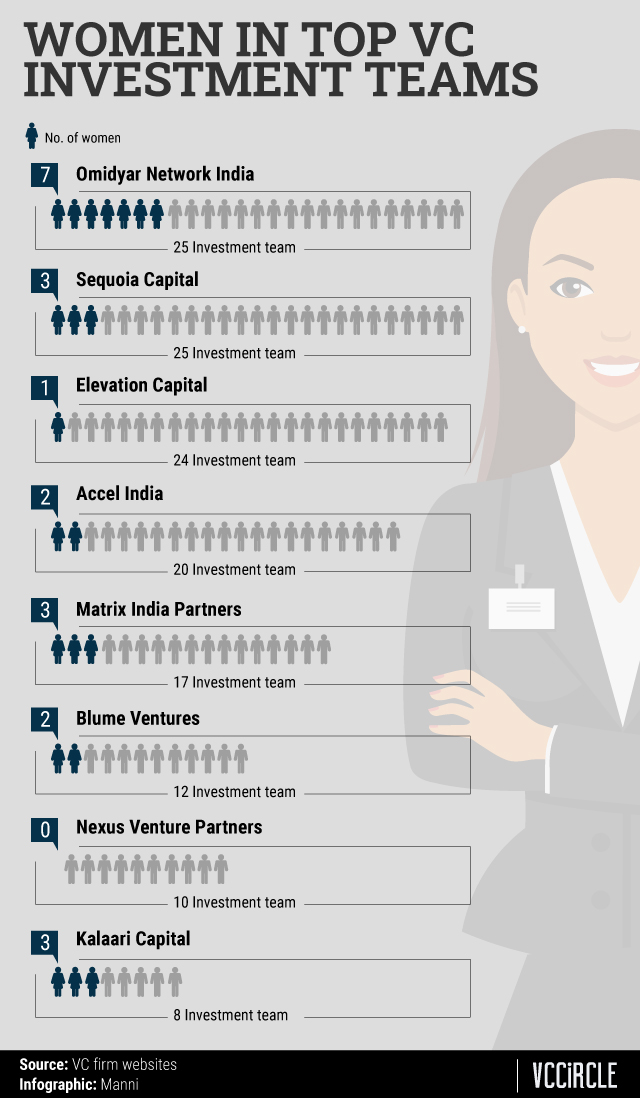 To be fair, this isn't an Indian problem. A 2019 report by World Bank arm International Finance Corporation (IFC) said that women hold only 10% of all senior positions in private equity and venture capital firms globally. Although 65% of institutional investors considered gender diversity important when investing, only 25% asked about it during due diligence, the IFC report said.
Only 15% of senior investment teams are gender balanced (have between 30% and 70% women in leadership roles), the report said. In fact, nearly 70% are all male. The gap affects the investors financially too – as per the report, gender balanced teams have 20% higher net internal rate of returns (IRR).
"The performance of gender balanced investment teams is correlated with higher returns. Gender balanced funds realised excess net internal rate of return of 1.7 percentage points greater than male- or female-dominated funds when controlling for vintage, geography, and strategy. This difference in performance is about 20% of the median net IRR in emerging markets. This positive correlation between gender balance and performance holds across investment strategies and geographies, as well as when controlling for fund size," the report said.
Female partners, it said, invested in almost 2X more in female entrepreneurs, compared to their male counterparts.
The report recorded data from more than 700 funds and 500 portfolio companies; survey results from over 500 fund managers and institutional investors; interviews with more than 50 investors and gender diversity experts; and case studies of more than 10 private equity and venture capital funds and institutional investors.
An unconscious bias?
According to Anisha Singh, co-founder and former CEO of local services marketing platform mydala, and founding partner of women-focused venture capital firm She Capital, the 'unconscious bias' begins early and is deep rooted.
"Being one of the first women in the internet space wasn't easy to begin with. And then when we (mydala founders) were looking to raise funds, I was heavily pregnant. Of course, there were a lot of opinions about it. In fact, one VC even took my co-founder aside and asked them to ditch the 'heavyweight', aka me," she told TechCircle.
She Capital in January 2020 announced the first close of its maiden fund. It has so far backed WoknStove Foodworks-run Samosa Singh, as per VCCEdge data.
Singh is not alone.
Women Who Tech, which calls itself "the largest network of women-led startups, investors, and allies working to increase diversity and funding in tech," surveyed 1,003 tech employees, founders, and investors globally on their experiences in the technology sector between February 13 and March 23, 2020.
As per the results, nearly 50% of women founders were told they would raise more money if they were a man. And 55% of women reported differential treatment while raising funds, specifically because of their gender. 35% of men, on the other hand, felt they were treated differently because of their gender.
According to Nupur Garg, independent director on the board of SIDBI and founder of WinPE, a not-for-profit initiative to enhance gender diversity in the investing ecosystem, the reasons behind the lack of women-led startups are socio-economic conditions, conditioning, the 'boys club' investing ecosystem and lack of networking opportunities.
"For example, women are discouraged from taking on professions that could demand time from them, and launching one's own startup would require serious time commitment for at least a few years that could overlap with expectations of marriage and family. Similarly, it is not considered 'ideal' for women to be taking a financial bet through a startup," she said.
"Some people like to attribute the lack of female tech entrepreneurs to the lack of women in STEM (science, technology, engineering and mathematics), but I don't think that is completely true anymore. If you look at data for India, women form 43% of STEM graduates, but this uptick does not reflect in the number of women in tech entrepreneurship," Garg said.
As per a Crunchbase report, more than 800 women-founded startups globally received a total of $4.9 billion in venture funding in 2020 through mid-December, a 27% year-on-year decline.
The proportion of funding that went to women-only founders also dropped to 2.3% in 2020, compared to 2.8% a year ago, the report said. The 2.8% figure, while paltry, was an all-time high, an HBR report said.
In India specifically, out of the top 150 funded startups in 2019, 16.7% had a woman founder/co-founder, compared to 10% in 2017, a Venture Intelligence report showed.
These figures come at a time when global startup funding, as per Business Financing UK, rose 42% year-on-year in 2020. India saw close to $10 billion in VC investments in 2020, higher than in all previous years except 2019, as per a Bain & Co report, written in collaboration with the Indian Venture Capital Association (IVCA). It could not be ascertained how much of that money went to women-founded startups.
"The venture capital industry has been and continues to be a boys' club and that manifests itself in investment decisions through conscious and subconscious biases. Research has established a positive correlation between the presence of women in an investment team and the presence of women entrepreneurs in the investment portfolio -- meaning that the lack of women-led and women-founded startups is directly correlated to the lack of women investors," Garg said.
"Additionally, women entrepreneurs have fewer role models to draw inspiration from, fewer networks to tap into, and on an overall basis, a weaker ecosystem to support them," she said.
Singh echoes these statements.
"Studies have shown that even in Nordic countries, which is one of the most gender progressive countries, a VC will ask male entrepreneurs 'how much do you think you can scale?' while a female entrepreneur will be asked 'do you think you can scale?" Singh said.
"We've met over 1,500 phenomenal startups (to invest capital in) and most of them tell me that they've experienced bias. Change can only happen if there are more role models on the top, which is what we're trying to accomplish here with the (She Capital) fund. The more female leaders there are in this world, the more women there will be at the workplace, as women in general tend to hire more women," she said.
Having women at the top does, in fact, ensure better gender diversity across the company.
A report by Kauffman Fellows, which runs a development programme for venture capitalists, showed that startups that have a woman founder will hire 2.5 times more women for the company. Firms with a woman founder and a woman executive, it said, hire six times more women than their male counterparts.
"The good news is that never have there been more male champions backing women as there are now. And technology is a big enabler. It has offered every female entrepreneur a playing ground -- yes, it may not be an equal playing ground. But at least we're on the playing ground," Singh said.
"Emerging market private equity and venture capital funds tend to invest in few gender balanced leadership teams, despite the belief, as evidenced through surveyed respondents, that gender balanced teams have improved decision making, enhanced governance, and a better ability to tap into larger markets by serving a more diverse customer base," the Kaufmann report said.
The median gender balanced portfolio company, it said, experienced a 64% increase in company valuation between two rounds of funding or liquidity events. This was about 10 percentage points greater than that of gender-imbalanced portfolio companies. When controlling for vintage, geographic market, and holding period of investments, the median gender balanced portfolio company outperformed peers by more than 5.5 percentage points in valuation increase per year, IFC said.
So, how do we address the lack of gender diversity?
According to Garg, this is a "complex challenge that needs to be addressed at many levels".
"Changes at the societal level will take generations to come about. In the meantime, the investing industry needs to find a way of tapping into the tremendous female talent and potential that exists. That is the objective with which I set up WinPE -- at one level, we work with fund managers to raise consciousness, and transform investment and employment practices to create an equal opportunity investing industry. Complementing this work is our suite of resources including mentorship, networks, creating role models, leadership development and career conversations to support women who are a part of the investing ecosystem or who aspire to be," she said.
But where do you start? The first and easiest step – talk about it.
"There's certainly a lot of focus on diversity now – VCs are trying to find their way around it, whether it's just talking the talk right now or walking the walk. But everybody's talking about it at least," Singh said.
"Having said that, I do believe we are seeing the wave come through. In the US, there are more female led unicorns than ever before. I think it's a wave that will go around the world. And we will see it in India. In the next two-three years, you'll see so many Indian women led companies slowly starting to IPO or get great exits," Singh said.
---