As technology makes the world smaller and competition forces companies to cut costs to become more efficient, many are investing heavily on software as a service (SaaS) to meet their austerity needs.
SaaS or on-demand software is a critical part for the delivery of key enterprise applications including cloud computing, office software, messaging software, payroll processing software, DBMS software, management software, CAD software, development software, gamification, virtualization, accounting, collaboration, customer relationship management (CRM), management information systems (MIS), enterprise resource planning (ERP), invoicing, field service management, human resource management (HRM), talent acquisition, learning management systems, content management (CM), geographic information systems (GIS), and service desk management.
The key driver for the change is the evolution of cloud computing, which changed the very concept of how software can be used, transforming it into a commodity. Companies no longer need to buy and maintain software but can just license it, essentially outsourcing the hassles of maintenance, upgradation and crisis management. This reduced overall costs significantly for companies, especially infrastructure costs.
It is with this austerity drive that India has taken centrestage, helping some of the largest companies across the world become the leanest possible versions of themselves. Instead of spending on proprietary systems and building up their hardware and software inventory, companies now prefer to go the SaaS way.
According to a recent report from Bain & Company, investment in SaaS increased by 60 % in 2019 over the previous year to $1.3 billion. It says that the global SaaS market is expected to increase from $145 billion in 2019 to $230 billion in just two years.
Along similar lines, a report by Tracxn estimates that the number of Indian SaaS companies increased from 3,000 in 2014 to a whopping 8,336 in 2019, an increase of almost 278 % in just five years. In the last year and a half, this number has grown further. What's more, at present, Indian SaaS companies account for 2.6 % of the global SaaS pie. In the last five years, the number of SaaS firms drawing Series C funding has quadrupled. It is therefore beyond any doubt that India is well poised to become the hub of SaaS in the next few years.
The India story of SaaS is growing at a phenomenal pace with a majority of the Indian SaaS startups already becoming capable enough to potentially challenge globally established firms in this space. It is for this reason that a significant portion of global technology investments are flowing into the subcontinent. First and second generation Indian SaaS companies have become extremely popular among the biggest global corporations. It is this fact that largely explains why there is a proliferation of first generation SaaS companies in India in recent times.
A Google and KPMG report goes a bit further. It says India is all set to be the home of a $10 billion SaaS industry with its global share expected to rise to eight per cent. At present, the SaaS industry is growing at a compounded rate of 18 % and SaaS in the small and medium business is slated to grow by 36 % in the next couple of years.
This phenomenal growth and attraction to investment has made the India SaaS story a case study for other countries looking to attract investment. The story is also inspiring many new startups to take a cue from companies like Zoho, FarEye, Teleduce, Icertis, Freshworks and Druva and go the SaaS way.
Driven by the flood of investments, many have already become unicorns while there is a healthy line of others who are on course to breach that mark this year. These early birds successfully established that geographical barriers do not matter and that software could be sold remotely right from the homeland. They have also successfully established a model where there are no upfront costs or long term contracts. On the contrast, there are beginnings from the ground in a model that is hugely scalable and customisable according to specific needs of a company.
Additionally, the growth has also been driven by Indian SaaS companies having an inherent cost advantage that comes from lower overhead costs and easily available inexpensive, skilled workforce in the country. India is estimated to have over 100,000 SaaS developers and more technical talent available at a third of the cost of available in the US. This makes Indian SaaS companies hot picks for international corporations to invest in managing the critical back-end. Add to that India's already established advantage in back-end support through its IT and ITES sector which brings down overall costs of companies significantly.
India is in for exciting times as far as SaaS is concerned as more companies move to the cloud. With India already having an advantage in this area, it is well positioned to play a leading role in the global SaaS segment in the next couple of years.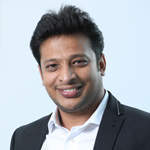 Kushal Nahata
---
Kushal Nahata is CEO and co-Founder at FarEye. The views in this article are his own.
---