TikTok's exit from the short format video space in India has helped local players such as Josh and Moj gain ground.
Indian apps in the segment have retained some 65-70% of TikTok users, adding 30-35% new users over the past year, essentially 97% of the ByteDance owned platform's userbase, RedSeer Consulting said in a report.
Tier-2 cities are leading the growth in user number, making about 60- 62% of short video consumers
The study Short-form video- The Rise of Made in India digital content focused on consumer behaviour across major Indian short video apps including Josh, Moj, MX Takatak and Roposo which comparatively had more awareness among the user base.
This increase in userbase has been a result of increased supplier push and aggressive marketing practices employed by these players to fill in the void after Chinese app was banned in India in June 2020.
While there has been a steady increase of around 55% in time spent on these apps since June 2020 when the app was banned, the study suggests that 75% of the current short-form video users are unlikely to switch back to TikTok.
Read: How's the Made in India 'pawri' going?
"In less than one year post Tik Tok ban, Indian platforms have shown a strong V-shaped recovery, bouncing back to 100% of pre ban daily user base. This shows how platforms were able to design the product, execute their plans and market it aggressively in a very short period of time. This is a strong indicator of how the Indian digital ecosystem has matured in the last few years," Ujjwal Chaudhry, associate partner at RedSeer Consulting said in a statement.
"But the job is far from done. The players still have to reach the global and cross sector benchmarks on engagement and retention- which will further grow the monetization potential for the entire ecosystem," he added.
The growing user base is also creating new avenues for monetization of content for both influencers and platforms.
The report categorises influencers as elite influencers with more than 10 million followers having a monthly earning of around $ 20,000-40,000; influencers with 1 million followers earning about $1000-2.500 and budding creators with less than 1 million followers netting $40-200 a month.
According to the study, Josh leads both on influencer and user end driven by strong performance in the Hindi belt and Tier-2 cities. Meanwhile, Moj has gained across consumer and business, when compared to the last quarter. The growth has been driven by regional language markets especially the southern states.
Roposo's strong performance came on the back of tier-1 cities as compared to the smaller ones.
In tier-1 markets, MX Takatak is the leader in terms of net promoter score (NPS), which is calculated based on customer loyalty and satisfaction. The platform has held challenges and hashtag events similar to TikTok, to gain market share.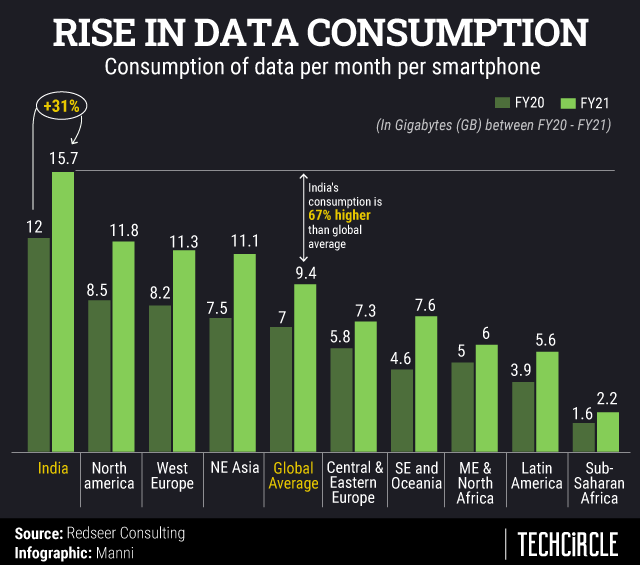 The biggest driving factor for this trend remains India's ever increasing data consumption, which nearly 67% higher consumption than global average of per smartphone per month. India's individual monthly data consumption over smartphone grew by over 31% between financial year 2020 and 2021, at 15.7 Gb from 12 Gb last fiscal.
---