Day 1 and 2: No win for the under-45 on CoWIN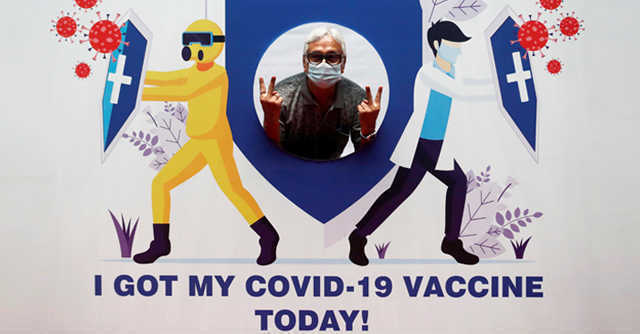 Do you think India's youth are taking K-Dramas like Crash Landing On You, particularly their titles, too literally?
It does sure look that way.
On Wednesday, Indians over the age of 18 crash landed on the government's CoWIN website to register for their first vaccination shots, crashing the server.

It was soon back up, however, and the portal, which opened up for registrations at 4 pm on Wednesday for a new set of citizens, facilitated 1.37 crore people by the end of the day. As of 11 am on Thursday, that number rose to 1.7 crore.
*Insert grumbling* These young people, always trying to do everything on their phones. Can't they just walk in to vaccination centres? *End with fist shaking*
In a country with an estimated population of 1,395 million, 695 million of whom reportedly have no internet connection, online registrations are currently mandatory for people aged between 18 and 44, unlike their older counterparts who can just show up at vaccination centres to get a jab.

Do keep in mind that there are currently 30.84 lakh active Covid-19 cases. People under the age of 45 years accounted for 60% of all Covid-19 infections in the country, a recent Hindustan Times report said, citing data from the union ministry of health and family welfare.
Citizens can only register themselves for a vaccine through the CoWIN website or the Aarogya Setu app. The Co-WIN app on Play Store is only meant for the vaccine providers.
And the process is not exactly smooth sailing either.

Users complained that despite multiple attempts, they did not receive OTPs to register themselves on the portal. Per usual, the portal was trolled with memes on social media platforms, saying that registering on CoWIN was akin to booking Tatkal train tickets on the IRCTC website.
Me to Irctc. #cowin pic.twitter.com/Rk74ILsK45

— Apeksha Potdar (@potdar_apeksha) April 28, 2021
People complaining about not receiving OTP from COWIN.......IRCTC users be like pic.twitter.com/QIZIDq3ukH

— Dharmik Dave (@dharmik_29) April 28, 2021
Some people did manage to brave the headwinds and register themselves. But that's where the good news ended.
There were no vaccination slots available for most people under the age of 45. Multiple under-45 journalists from TechCircle tried to book slots from two different cities – Bengaluru and Hyderabad -- only to find that there were none available for at least the next two weeks.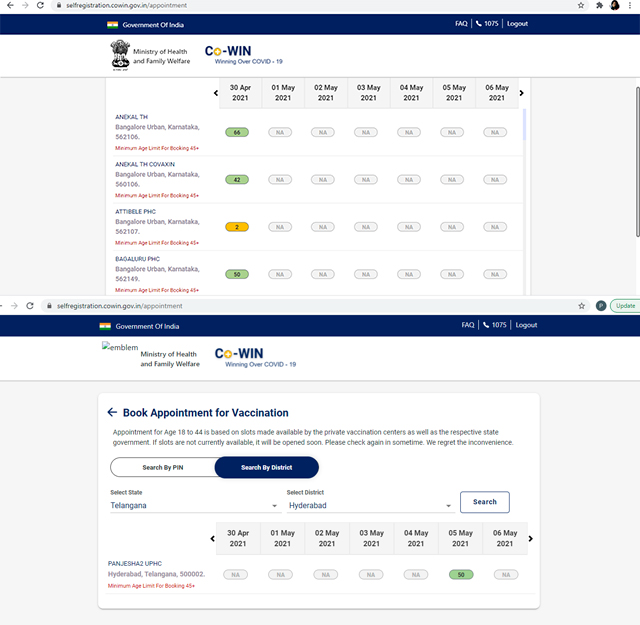 Screenshots of CoWIN website from Bengaluru and Hyderabad
Not all superpowers can turn you into a superhero. Some can also get you vaccination slots.

Some people did manage to book a vaccine slot for May 1, and their social media posts were nothing less than a celebration. Until this superpower is trickled down to us regular folks, all we can do is be patient.
Multiple states on Thursday said that slots will be provided to those over 18 and under 45 based on the availability of the vaccine.
The pricing of the vaccines for this age group will depend on the state government, with some announcing that they would offer it for free at government-run centres, while private hospitals are free to decide their own markings.

From May 1, as state governments are required to procure 50% of their vaccine demand from the free market, the availability of slots will depend on the vaccines available. Those registering for vaccination at private hospitals can pick their centres based on the vaccine offered.
---