Apple unveils device management and support plan for small businesses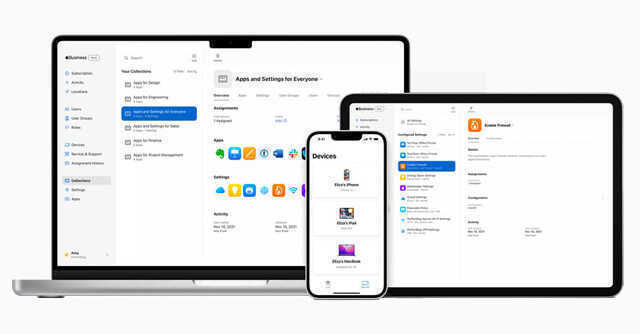 Apple has launched a new Apple Business Essentials subscription plan that will take care of a small business' total device management, including device setup, device upgrades, prioritised Apple support and secure data storage as well as backup.
The plan is currently available only in the US in beta. It will be fully available in Q1 2022.
Businesses can customise the plans to support each user with up to three devices and up to 2TB of secure storage in iCloud, starting at $2.99 per month.

The AppleCare+ will be offered as an optional feature, Apple said in an official blog post.
Apple also said that it will automatically push settings such as VPN configurations and Wi-Fi passwords, during the setup process for the convenience of workers.
The Apple Business Essentials app will also be installed on each employee's home screen.

Further, the plan will allow IT, managers, to implement security settings such as FileVault for full-disk encryption on Mac, and Activation Lock to protect devices that may be lost or stolen.
Apple will also offer a dedicated iCloud account for work and will automatically back up all business data.
Businesses that choose to add AppleCare+ to their plan will get 24/7 phone support, in addition to training for IT administrators and employees, and repairs for up to two devices per plan every year.

Apple claims the new plans will save time for small businesses and allow them to focus on their core operations.
"Apple Business Essentials is designed to help streamline every step of employee device management within a small business — from setup, onboarding, and upgrading, to accessing fast service and prioritised support, all while keeping data backed up and secure, so companies can focus on running their business," Susan Prescott, Apple's vice president of Enterprise and Education Marketing, said in the post.
---