Despite over 51 countries officially blocking mining of cryptocurrencies, with Iran and Kolovos to have recently joined the list citing energy crisis, a data from coinwarz.com shows that hashrates of most of the coins have reached an all-time high.
coinwarz.com is a website that informs users about crypto-related topics. Recently, it showed that hashrates for Bitcoin, Litecoin, Ethereum, Monero, Zcash, Ravencoin and a host of others were near lifetime highs or were higher than their historical numbers.
Also read: Energy guzzlers: Many countries ban bitcoin-mining to keep the lights on, sign of an impending energy crisis?
While Bitcoin's hashpower was at over 200 exahash per second (EH/s) in the first month of 2022, Ethereum's hashpower surged to over 1 petahash per second (PH/s).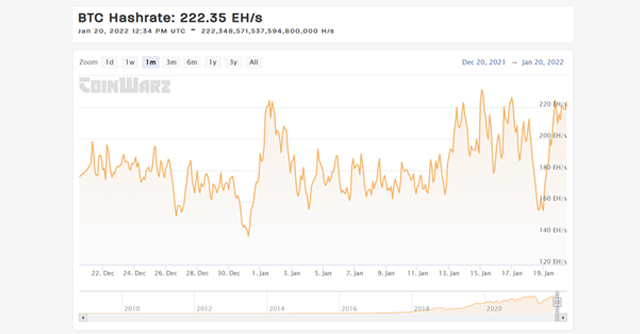 However, a few lesser known mineable digital asset networks saw a decline in their hashrates from their all-time highs, due to an estimated reduction in processing power behind the protocols, which has not returned to the highs that was showcased in the past.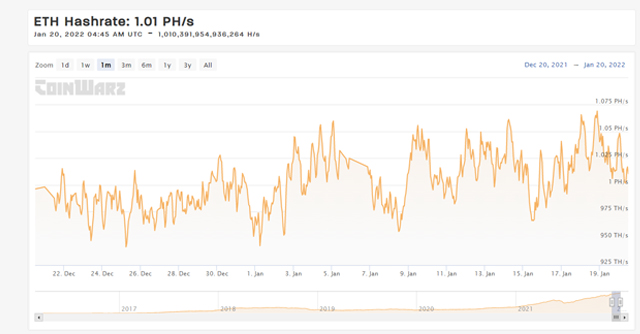 Which countries have banned crypto-mining?
A November 2021 report by a cryptocurrency news website The Law Library of Congress showed that about 51 countries had taken up the task of absolutely or implicitly banning cryptocurrencies.
The list of companies that have banned crypto-mining includes China, Iran, Kosovo, Egypt, Iraq, Qatar, Oman, Morocco, Algeria, Tunisia and Bangladesh, among others. About 42 out of the 51 countries have implicitly banned crypto by placing restrictions on how banks deal with the same.
Many countries feared that cryptocurrencies were being used to funnel black money, and could potentially destabilise the country's financial systems, others, like Kosovo and Iran, placed a temporary ban after it was found that crypto-mining required large amounts of electricity around the clock.
In India, the process of printing a note is illegal, however, there has been no strict regulations on digital currencies. Since digital currencies are considered as non-legal tender, Indians are allowed to mine for them. But the entire aspect of crypto-mining still remains unregulated at the moment.
---