Automation is no longer just a choice but a dire necessity for surviving in this digital-first world. Traditionally, enterprises have prioritized cost optimization through shared services models, offshoring to low-cost base, global and lean process adoption, and digitalization. But these interventions yielded an average of 15-20% efficiency. With automation initiatives now being combined with AI/ML technologies, enterprises can achieve higher efficiency in a shorter amount of time. Gartner forecasts that "by 2024, organizations will lower operational costs by 30% by combining hyper automation technologies with redesigned operational processes."
This year is pivotal in driving automation, mainstream. Here's what to expect.
Converging automation technologies to full-stack offerings
Hyperatuomation is clearly blurring the boundaries of technologies. It involves orchestrated use of multiple tools, platforms, and technologies such as AI/ML, process mining, robotic process automation , chatbots, low-code/no-code application development suites, event-driven software architecture, iPaaS, and decision automation software. This year, we will continue to harness cross-pollination of technologies as full-stack offerings to solve operational challenges and deliver value at scale.
Gartner reports that the market for software that enables hyper automation will reach nearly $860 billion by 2025. Automation platform vendors will go beyond their core offerings to deliver full-stack solutions. Therefore, enterprises must actively invest in interoperability and easy integrations across automation platforms and tools.
Automation-as-a-Service model will evolve
With more businesses going cloud-native and absorbing automation into their digital core, Automation-as-a-Service operating models will find wider acceptance. Such services will adopt secure cloud-based offerings with pay-as-you-go subscription models. This will be of immense use for small and mid-size companies, looking to lower upfront cost.
Automation-as-a-Service helps an enterprise to quickly move to reliable and highly automated processes within a matter of a few hours or days. When combined with RPA and business process automation, an enterprise will witness a marked improvement in how processes are conceptualized, managed, and delivered.
The major functions to be impacted are IT, sales and marketing, operations, finance, and human resources. These functions usually see a massive influx of repetitive tasks and can anticipate a significant reduction in effort-wastage.
Accelerated adoption of automation
Today, the role of automation is changing and expanding. It is now a key component of any digital transformation journey. 2022 will be a year where enterprises will move beyond their pilot phases to full-scale production.
Forrester says that automation is causing a paradigm shift. Digital transformation capabilities will no longer be limited to application development and distribution or be the sole right of people with specialized skills. Automation will make digital transformation reach business users and non-coders to help them build customized workflows and functionalities using low-code tools and RPA applications, thus accelerating the adoption of automation technologies.
IT and business to work in tandem
Automation will be more context-focused this year with enterprise-wide consumption across functions. We can expect a surge in strategic partnerships between business functions and IT to respond to broader vision-specific tasks. IT will enable scale by building the right infrastructure to support automated processes and capabilities while businesses will help in identifying the right use cases. This will further help a business rapidly pivot to meet new challenges and trends while intelligent automation and process orchestration platforms will support IT teams to rapidly integrate, orchestrate, and deploy new processes in response to changing market conditions.
Automation will encourage technology-centric strategic roles to absorb additional operational responsibilities. Gartner predicts that by 2024, 25% of traditional large enterprise CIOs will don the "COO by proxy" hat and will be held accountable for digital business operational results.
To infinity and beyond
The automation platforms and tools that we know today will keep evolving and shape-shift into new hybrid solutions. Automation in combination with various technologies will usher in a generation of autonomous enterprises that can think, learn, and act with minimum human intervention. And will be capable of intelligently configuring, monitoring, and maintaining business processes and operations. With automation being widely adopted and imbibed into core business processes, we are set to step into this future state of intelligent enterprises.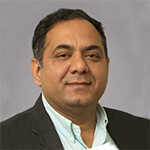 Nikhil Kumar
---
Nikhil Kumar is the co-founder and chief business officer of Enquero, a Genpact company.
---