Hangouts to Google Chat: The story so far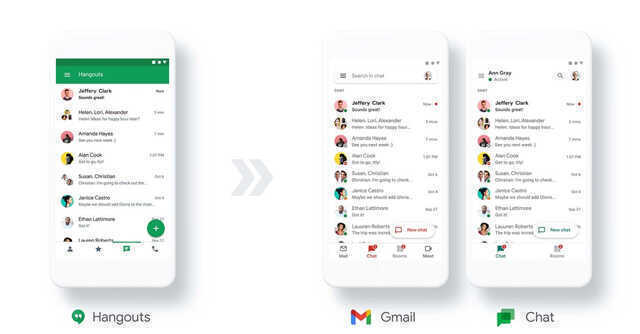 On Monday, June 27, Google announced that it is beginning the final transition phase where all conversations through its Hangouts app would be migrated to the new Google Chat app. The move, which began back in October 2020, is part of a phased discontinuation of the legacy Hangouts app – as Google sought to establish a unified communication suite experience. With this move, Google will start prompting those still using Hangouts on their phones to switch to Google Chat – both in standalone app form and within the Gmail app – before Hangouts is eventually discontinued by the end of this year.
Google's move comes as a way to unify its communication services, and leverage its email client Gmail's popularity to gain more users for Chat and its video conferencing service, Meet. In its new avatar, both Chat and Meet are integrated into Gmail's suite of services. Interestingly, Chat was rolled out as a communications tool only for enterprise customers using its Workspace suite of apps, but was later rolled out as a free app for all customers worldwide.
Google's rollout has continued for nearly two years now, and here's how the plan has progressed.

October 2020
About 20 months ago, Google announced the decision to introduce Chat as a free app for all users – and not just a part of its enterprise apps suite. During the announcement, Google said that Chat would become accessible for everyone "next year", i.e. 2021. However, Google's official blog post on the matter announced that the company would not be prompting users right away, and the switch from Hangouts to Chat would be a voluntary one.
"To ensure a smooth transition, we will help automatically migrate your Hangouts conversations, along with contacts and saved history," the post said.

August 2021
In July last year, Google announced August 2021 as the time for when its official transition efforts from Hangouts to Chat would begin. The change was applicable to both paying enterprise users, and free personal users. For enterprise users, Google announced that Hangouts would be discontinued by the end of 2021, which led to a mandatory shift from the old app to the new one for Workspace users.
For personal users on web, Android and iOS, Google started offering a prompt on the Hangouts app, urging users to migrate to Chat. Accepting the banner prompt led to users being signed out of Hangouts, and redirected to Chat or the then-new Gmail app to use the new service.

However, Google kept a backdoor open for those who wanted to continue using Hangouts – users could simply open their Hangouts app again, add their Gmail account and use the legacy service alongside Chat.
June 2022
Earlier this week, Google finally announced the end of life timeline for Hangouts, stating that the latter would be phased out and discontinued entirely by the end of 2022. Ravi Kanneganti, product manager of Google Chat, wrote in a blog post that users of Hangouts on Android, iOS and the latter's Chrome extension are being immediately prompted to switch to Chat. The transition can be completed by users on either the integrated Gmail app, or through Chat's standalone app and browser extension.

For Gmail's web users, the transition between the two apps will begin in July. The blog post also added that while all data from Hangouts would be auto-switched to Chat, any user wanting a copy of their old chat app data can get the same by using the Google Takeout data transfer service.
---