Twitter Blue relaunched: Apple users to pay premium, accounts to be 'reviewed' before verification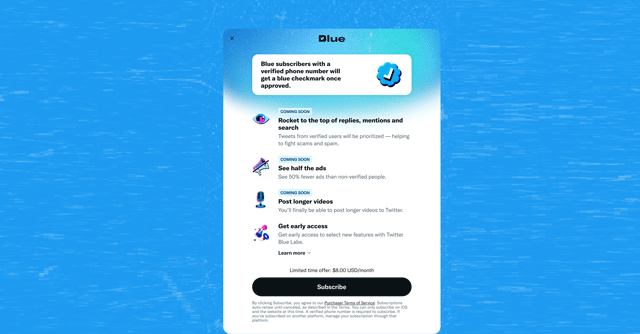 Twitter has announced that it is relaunching Twitter Blue, its paid tier of usage, exactly one month after the service was suspended following widespread abuse of the service by users. The new version of Twitter Blue is now rolling out to global users, although it is unclear as to how its India pricing and rollout will take place. As part of the new offering, Twitter Blue will cost $8 for all users except for those on iOS — for whom the service will cost $11, a premium of over 37%. The platform will also review accounts applying for the paid service, before assigning the 'blue tick' of verification to its users.
Subscriber-only features of Twitter Blue include the ability to be prioritised in terms of how they appear on tweet replies, mentions and search on the platform. Prioritising paying users, according to the platform's owner and chief executive Elon Musk's tweet from November 1, would be "essential in fighting spam". Other benefits include users seeing half as many ads on the platform as non-paying users, the ability to edit tweets, get a 'reader mode' for text content posted on Twitter, the ability to upload and post "longer" 1080p videos, "and a blue checkmark after your account has been reviewed".
"Subscribers will be able to change their handle, display name or profile photo, but if they do they'll temporarily lose the blue checkmark until their account is reviewed again," a tweet from Twitter's official handle read. The thread of tweets also stated that the platform will replace the present 'official' label with a grey tick for government officials and bodies, and a gold tick for businesses. The 'official' badge, to be sure, will be entirely done away with.

In a tweet on November 1, Musk had stated that the platform will also look to offer ad-free reading on publications that are "willing to work" with Twitter. However, there was no mention of this feature as of now.
The initial rollout of Twitter Blue in early November, which premiered in India at ₹719 per month, was met with widespread issues — which included parody accounts paying to verify their accounts, and subsequently posting content that eventually led to Musk suspending the service.
Twitter has since been working through a host of changes in what has been a tumultuous period under Musk, which include efforts to revamp its search, and battling issues with content moderation and filtering. While Musk, a self-proclaimed "free speech absolutist", has held steadfast about Twitter's user count rising, companies around the world have pulled out of advertising on the platform, leading to a revenue drop for the platform.

Twitter's charging of a premium for Apple smartphone users also comes in the aftermath of Musk accusing Apple of anticompetitive market practices. The executive has claimed that Apple has even threatened to remove Twitter from its iOS App Store, but neither Apple and nor Musk have since offered any clarity in terms of how the issue played out — or was resolved.
---