There's an old saying: you can't manage what you can't measure. So, to start with, organizations need to take stock of their current, historic, and projected data system and act towards the future readiness of their business.
Even with most business practices having gone digital, many Indian organizations continue to adopt manual processes to perform infrastructure capacity planning and forecasting. There is a need for an automated planning and forecasting model that enables businesses to maintain on-demand capacity and lets them keep a rolling forecast for their supply chain.
Indian businesses need to start creating their capacity forecasting model by looking at what their systems are doing and what they predict they'd do down the road. They need to look at organic growth over time plus internal business growth and work with their business segments to understand what they're looking toward doing. The next step is to convert that data into a demand forecast so that the businesses can signal increases or decreases in capacity requirements across stakeholders.
As businesses map their forecasting strategy, they will realize the need for a standard measurement of their infrastructure use to track current and future capacity based on how users consume IT resources rather than on individual infrastructure components.
Forecasting with T-shirt sizes
A unique and simple infrastructure planning model can be derived through increasingly popular and friendly measurement technique based on T-shirt sizes. T-shirt sizing is a capacity planning tool in which you assign each project or task a T-shirt size—from extra small to double extra-large (XXL)—to represent its scope or scale. For example, an extra small T-shirt might be a sandbox or proof-of-concept environment. An extra-large T-shirt would be a full-scale, full-size production series of databases for a major project.
This planning measurement approach lets forecasting strategy to be tied to how the team members consume IT infrastructure. Leveraging that data, businesses then can use AI and ML algorithms to help them spot trends and create forecasts.
Each size takes up a defined space and has an associated cost, which is essential to staying within budget from a Capex perspective. A T-shirt could be any number of infrastructure products including virtual machines, containers or even functions as a service. Each of the business segments have unique ownership of a business' internal applications, and once the businesses understand the behaviors of those applications- how they break down into T-shirt sizes- they can start to better understand the future.
Data storytelling
Data always gives us a clear picture. Analyzing data from multiple sources and looking beyond centralized assessments will help a business understand current needs and address upcoming demands. Analyzing this data and looking beyond their previous incremental growth assessment, businesses will be better prepared for any urgent demands for storage and compute capacity. Adopting a planning and forecasting strategy backed by data will vastly improve businesses' visibility on their IT capacity needs, supply chain projection and provide better consumption insights and metrics.
The planning goal should seek to balance enterprises' facilities, network and power usage and make sure that they are building in resiliency plans. Capacity planning is not just looking at application requirements but looking at the overall health of the environment. And that could be everything from space, power and cooling to racks, software-defined storage, compute, and networking.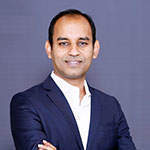 Manish Gupta
---
Manish Gupta is the Vice President and General Manager, Infrastructure Solutions Group at Dell Technologies India.
---